Kadowaki-Fleming Century Leads Japan to Victory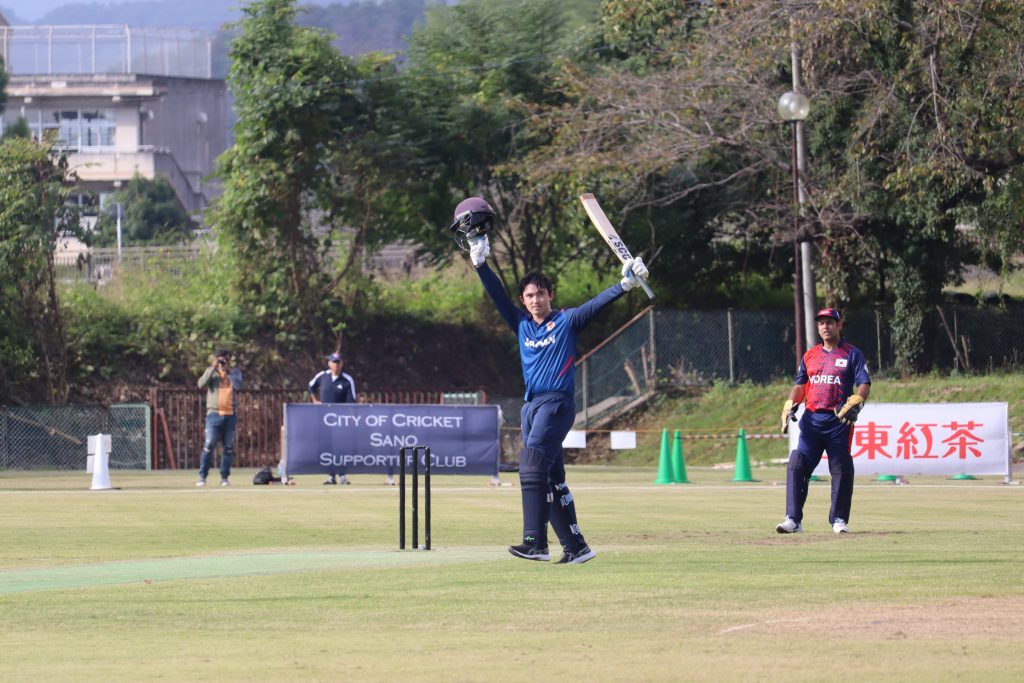 2022-10-15
News & Articles
National Team (Men)
An astonishing century by captain Kendel Kadowaki-Fleming led Japan to a 48-run win over South Korea at the Sano International Cricket Ground today. 
In a sensational start to the Japanese campaign to qualify for the 2024 T20 World Cup in the USA and West Indies, Kadowaki-Fleming struck 10 sixes and 10 fours in a 40-ball century that sits sixth on the list of fastest T20 International hundreds of all time. 
His first fifty came from 21 balls, but in the 10th over he hit five sixes in a row off the bowling of Kuldeep Gurjar to have the crowd in raptures, which only increased when he went 4,6,6 in the 12th over to become the first Japanese batter to ever score an official T20 International hundred. 
In partnership with Sabaorish Ravichandran (24) 88 runs were added in 41 balls until Kadowaki-Fleming finally mistimed one to be caught for 114 (46) in the 14th over but the Japan batters continued to be aggressive.
A 7-ball 17* by Vice-Captain Reo Sakurano-Thomas lifted Japan past 200 and the innings eventually closed on 218/8 which, even with some small boundaries due to the wet outfield, was still a daunting target.
View this post on Instagram
There was only one way for Korea to approach the run chase and they went hard right away as Amir Lal hit his first ball for six, the first of four he would strike in his entertaining 12-ball 34. 
His dismissal became the first of three quick wickets for Japan, but Korea captain Jun Hyon Woo (26) held things together before Mudassir Iqbal (46) and Muhammad Shoaib Raja (40*) really tried to make the game interesting with some huge strikes. 
In total there were 28 sixes struck in the match, many of them going into or even over the stands at the SICG but the Japan team maintained their discipline in the field by taking good catches and showing real athleticism in the field. 
Kohei Kubota (two for 28) and Piyush Kumbhare (one for 19) were the pick of the bowlers for Japan as they kept Korea to 170/6 to win by 48 runs and put down a marker for the rest of the tournament.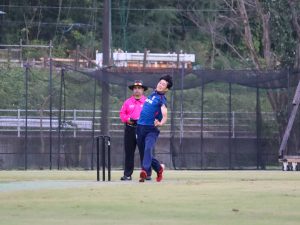 Speaking after the game the captain simply claimed it was nice to get a few out of the middle but was happier about the support at the ground for the team and hopes that more people will be through the gate on Sunday. 
The match against Indonesia on Sunday 16th October will start at 13:30, and will represent a good test after Indonesia followed up their maiden T20 International victory last week by defeating Korea in the morning match by 64 runs. 
They were indebted to Padmakar Surve who made a 45-ball 61 to carry his team to 130/7 before Maxi Koda with three for 15, and Kekut Artawan (two for one) picked up where they left off in the series against Japan to bowl Korea all out for just 66. 
That win means Indonesia top the group on net run rate after today's games and put extra spice into the game on Sunday.
Match Summaries: 
Japan 218/8 (Kadowaki-Fleming 114)

Korea 170/6 (Iqbal 46)

Japan win by 48 runs
Indonesia 130/7 (Surve 61)

Korea 66/10 (Koda 3/15)

Indonesia win by 64 runs