The JCA Mission and Values of Cricket
MISSION
To enrich lives and broaden horizons by building bridges between people and communities within Japan as well as overseas.
Values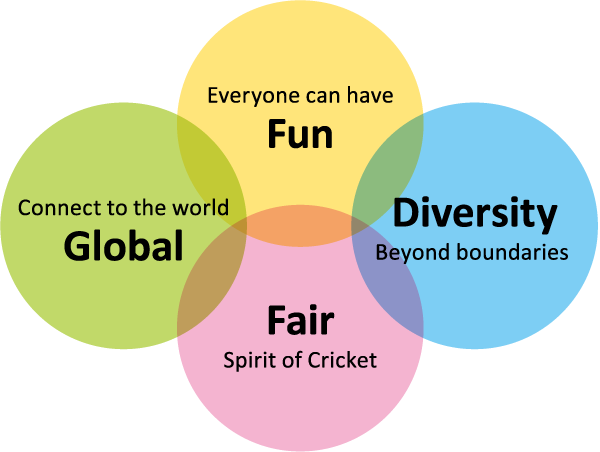 "Cricket is a sport…"
[FUN]
…puts the team first but still celebrates individual success. It embraces different skill sets and provides opportunities for all types of people and players.
[Diversity]
…age, race, gender and religion do not matter. The game is open and welcoming to all abilities and breaks down boundaries to enhance harmony in the community.
[Fair]
…is run by a unique code where the 'Spirit' of the game is more important than the laws. Players are held to a higher moral standard and must respect opponents, teammates and officials. The Spirit of Cricket teaches valuable life lessons applicable to young and old.
[Global]
…is played in more than 100 countries around the world and connects over a billion people. We celebrate this shared passion and are part of the Global Community.