JCA Strategy(2023~2027)
Vision 2027
KAIKA – Time to Flourish
"By 2027, Cricket will be recognised as a sport flourishing in Japan, attracting new fans, participants and partners, through: Competing on the world stage, Reaching new audiences, Creating social value for all, and Providing professional opportunities."
*Please click here to download the full strategy document.
Our previous five-year strategy for 2018-2022, "Building a Brighter Future" brought man successes including; qualifying for the U19 World Cup, redeveloping the Sano City International Cricket Ground, a first professional contract for a Japanese cricketer, the formation of a cross party Parliamentary Group to support Cricket and many more.
We have also been able to take the "City of Cricket" model to two places outside of Kanto and are excited to see the growth in the Kansai and Tohoku regions through their centres in Kaizuka City, Osaka and Watari Town in Miyagi.
Our latest strategy states, "By 2027, Cricket will be recognised as a sport flourishing in Japan, attracting new fans, participants and partners, through: Competing on the world stage, Reaching new audiences, Creating social value for all and Providing professional opportunities."
We believe that by focusing on providing a positive impression of cricket for people new to the game, as well as positive experiences for everyone, we can continue to grow the budding Japanese cricket community. We will work hard to bring more participants, fans and partners to the game by holding powerful events that bring a sense of excitement and fun to all who are involved.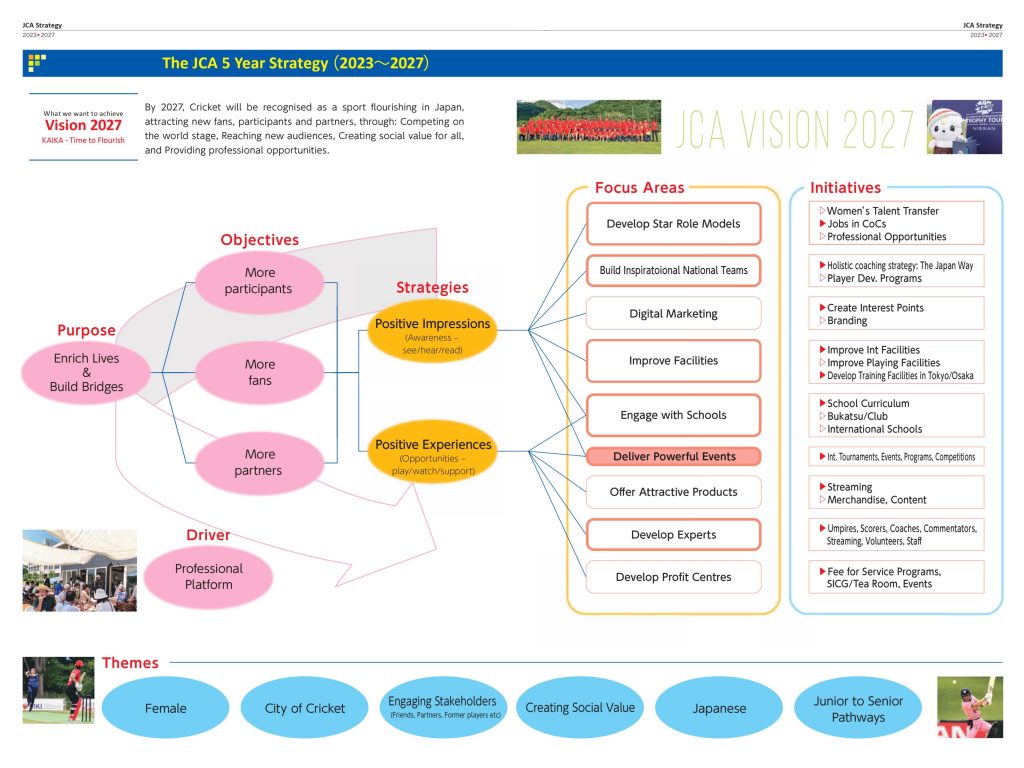 The Mighty Tree of Japan Cricket
For a sport to develop it must be in the public eye. There needs to be touch points where people can experience it for the first time and these must be suitable for all abilities, ages and genders.
Additionally there must be facilities, fans, leaders and sponsors in order to sustain development. Using the example of a tree, the players begin at the roots and travel up the trunk, but it is the branches that create a healthy tree.
In the JCA strategy for 2013-2017, A Shining Sport of Choice, we focussed heavily on the roots of the tree, debeloping junior origrams that would provide s solid base for a mighty tree. The focus was predominantly in the Kanto region and creating regional hubs.
The next strategy for 2018-2022, Building a Brighter Future, focused on nurturing the trees that had been planted and supporting them to grow, while also looking to plant new trees in strategic areas that could fasttrack the development of a forest.
During that time we planted trees in the Kasai and Tohoku regions, as well as experiencing many other successes on and off the field which are outlines in the following page.
In this new strategy for 2023-2027, KAIKA – Time to Flourish, the focus will be on nurturing the trees so that the flowers will bloom by the end of 2027, attracting the eyes of many and providing enjoyment for all. The blossoming successes on and off the field will put Japanese Cricket on the map.
2027 Goals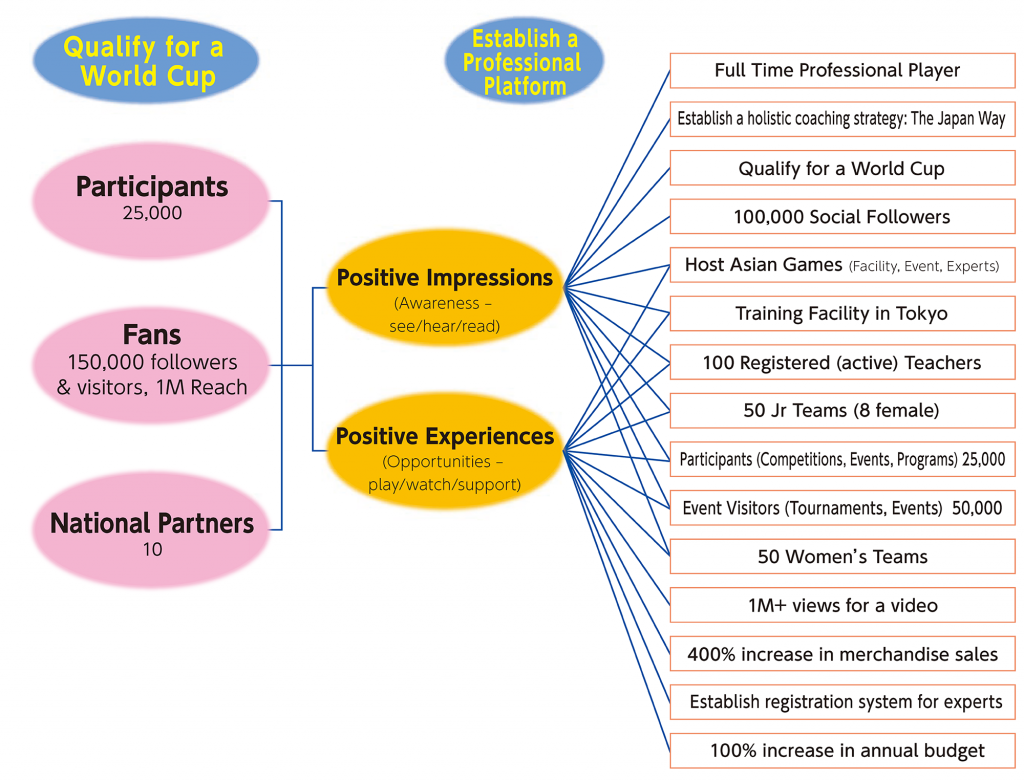 Future of Cricket in Japan