Panasonic Wild Knights Partner with JCA for Cricket Experience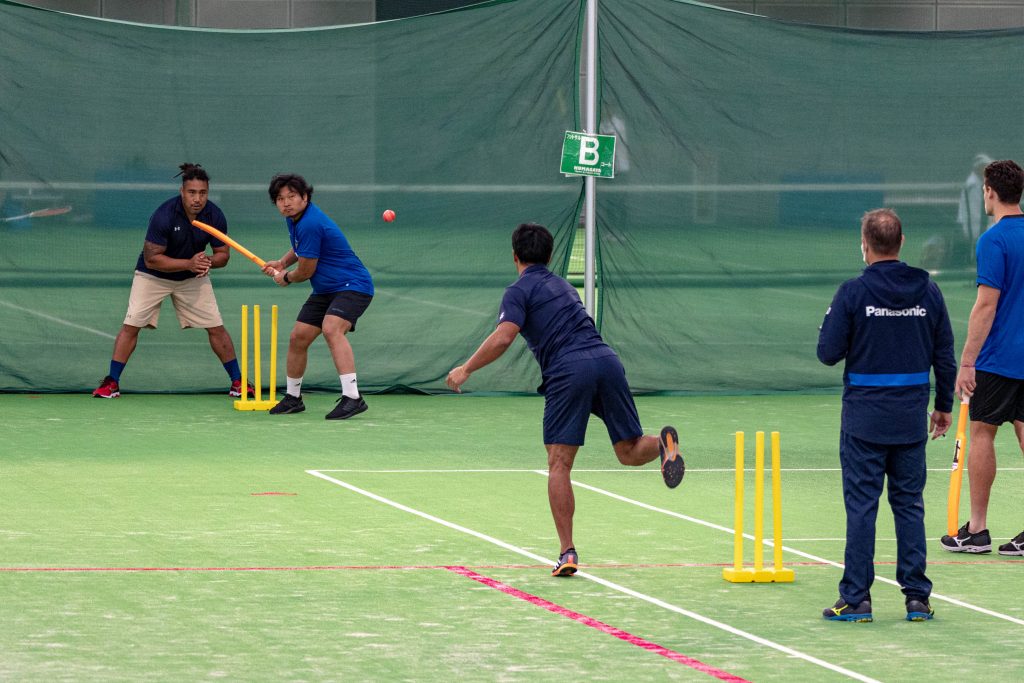 2020-10-12
News & Articles
We were delighted to assist the Panasonic Wild Knights rugby team in a team building cricket experience on Friday 9th October.
Cricket and Rugby have often shared links around the world with cricket the summer sport and rugby played in winter. The Panasonic Wild Knights coaching staff were keen to utilise cricket as a socially distanced sport with plenty of transferable skills to help keep their team competing during a long break from matches during the COVID-19 Pandemic.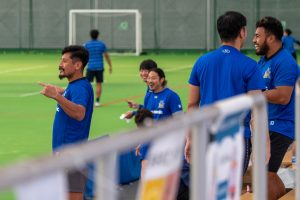 The event, originally due to be held at the Sano International Cricket Ground, was held indoors at Sainokuni Dome in Kumagaya due to rain, and featured four teams made up of the Wild Knights players and staff and included several players who represented Japan in the Rugby World Cup last year.
Marcus Thurgate, who captained Japan Under 19s at the World Cup in South Africa earlier this year, assisted on the day and had only positive things to say about the players.
"They really did not need any explanation of the rules and the standard was better than I expected! Keita Inagaki told me he had played a bit in Melbourne, and you could tell. They all seemed keen to play again too, which is great, and I hope we can get them to the SICG sometime."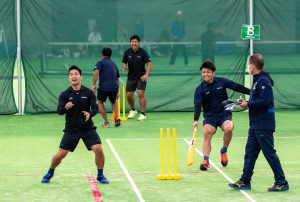 Almost 60 players took part in total and the standouts were Brave Blossom prop forward Asaeli Ai Valu who was awarded best bowler prize, while Sho Furuhata took the best batter and MVP awards after losing a ball in the roof of the dome. His prize was a Japan Cricket shirt from the recent Under 19 World Cup in South Africa.
There were plenty players from the Japan National team involved, and in the final, the team featuring Rikiya Matsuda and Taiki Koyama came out on top in a close finish against the team which included Keita Inagaki, Jack Cornelen and Kotaro Yatabe, thanks to a four off the last ball struck by a jubilant Kein Yoshiura (the team S&C assistant coach and interpreter).
It is not the first time Panasonic have had some cricket involvement, with Coaching Coordinator Tomokazu Soma working with all the Japan National Squads in 2019 and Head Coach Robbie Deans played for the Australia & New Zealand Embassy team in the 2018 Embassy Cup.
Deans, a keen cricket fan, hinted at another cricket outing in the future by saying his players will be better prepared for the full outdoor experience after their session.
Photos of the event can be seen on the JCA Facebook page and a short video on our YouTube Channel with more extended highlights to come, so please subscribe to see those. Thank you to all those who took part and we were happy to see our values of cricket as an fair, fun and international sport all on display.