JPL Match Day 3 Roundup: Hurricanes Storm into Final, Super Kings Smash Lions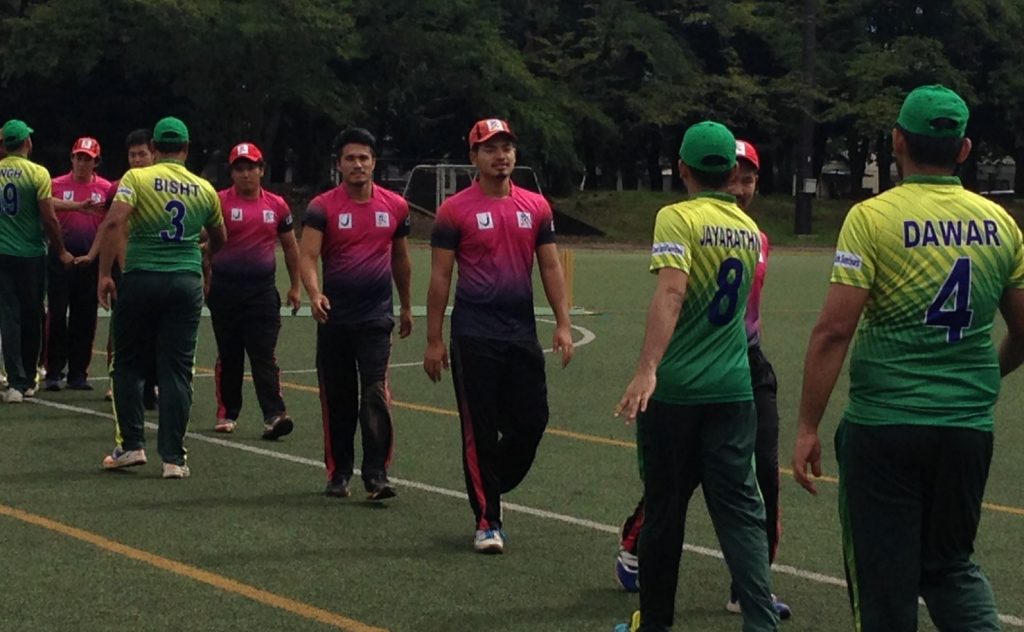 2017-09-27
Other news
News & Articles
The impressive West Kanto Hurricanes booked themselves a place in the JPL final by twice beating a determined East Kanto Sunrisers team at Akishima on September 23rd.
In match one Sunrisers captain Navin Jinasena interestingly chose to bowl first in a match reduced to 14 overs due to heavy overnight rain. The outfield was at times treacherous and defending boundaries proved difficult.
Despite the conditions the Sunrisers managed to take regular wickets before Rinsei Sawada (21) and captain Tomoki Ota (36*) teamed up with some late hitting to guide the Hurricanes to 121. One lucky crowd member won a prize by managing to cling on to one of Ota's towering sixes. In reply, pinch-hitter Vivek Singh blasted 30 off 16 balls at the top of the Sunrisers order but the innings never really got going,medium pacer Shodai Yamada's four wickets helping his team to a 26 run win.
In game two the Hurricanes chose to bat first again. Several players got starts, including Bebe Miyaji (30), who anchored the innings. Captain Ota (24) again provided some late fire works as the Hurricanes registered 153 off their 20 overs. Kuldeep Bisht came out firing for the Sunrisers, hitting four sixes on his way to 43 off just 20 balls. After his dismissal the Sunrisers could not keep up the momentum, spinners Raheel Kano, Makoto Taniyama and Miyaji sharing seven wickets between on the way to bowling out the Sunrisers for 126.
Meanwhile, over at Sano the South Kanto Super Kings continued on their merry way by making short work of the once feared North Kanto Lions.
In match one captain Hanif Khan made an enterprising start for the Lions with a quick-fire 30 before Super Kings spinner Devendra Dhaka pegged them back with a spell of 3/10. The Lions middle order failed to fire as they were bowled out for 91 in the 18th over. Prashant Kale's 38 off 19 balls ensured the Super Kings would make light work of the chase, Japan captain Amigo Kobayashi (26*) guiding his team home with nine overs to spare.
The Lions batted first in match two and a fiery spell of 3/18 from speedster Gurman Singh soon had them on the back foot. A brief cameo, including four sixes, from veteran Naeem Qureshi briefly got the crowd off their seats before Dhaka again put the brakes on with 3/8 off his four overs, the Lions all out for 107. This time Richie Bracefield was the aggressor for the Super Kings, hitting three sixes in a row on his way to 37.  Rahul Koul (28*) finished the job for his team as they cruised to victory two wickets down in the 15th over.
The South Kanto Super Kings will face the West Kanto Hurricanes in the JPL final on Sunday October 22nd, 13:00 at Sano River Ground 3.