Tigers Retain Japan Cup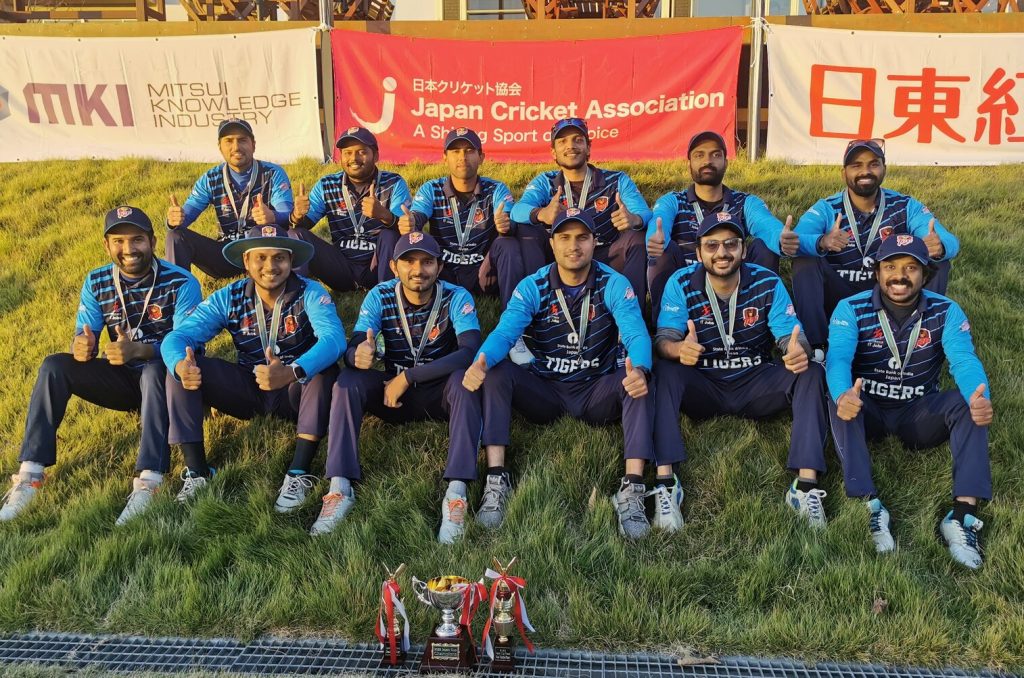 2023-10-23
News & Articles
The Tigers are Japan Cup champions for the second year in a row after easily defeating first time finalists Kawasaki Knight Riders by nine wickets in the Japan Cup Final on Sunday October 22nd at the Sano International Cricket Ground.
The 68-team Japan Cup T20 tournament was spread across six regions, with 12 teams qualifying for the finals which were played over the weekend of October 21st and 22nd in Sano.
In the Japan Cup Final Knight Riders captain Vinay Iyer chose to bat first but his team got off to a horror start when Puneet Kumar and Gurman Singh claimed early wickets and, despite a fighting innings of 54 not out from Lav Singh, his team were restricted to a below-par score of 86 for nine.
Raman Tanwar claimed a wicket with the first ball of the innings to give Tigers some nervous moments but an assured 80 run partnership from Sachin Thakur and Sabaorish Ravichandran guided the Tigers home with six and a half overs to spare.
In a carbon copy of last year, Ravichandran was named man of the match for his all-round performance and also took home the Tournament MVP award for his 114 runs and seven wickets.
Earlier in the day Kawasaki Knight Riders had booked their place in the final with a narrow win over 2021 champions Tuskers in the semi final, with Ashish Sharma's death bowling proving the difference.
Tigers had made it through with a 16 run victory in an oddly low-scoring semi final against last year's runners up Tsukuba, left arm spinner Piyush Kumbhare breaking Tsukuba hearts with a devastating spell of four wickets for just nine runs. It was the first time the same four teams had made the semi-finals in successive years, and the first time a team had retained the title since the Tochigi Three-peat of 2014-2016.
In a thrilling Shield Final Kobe Hawks claimed victory for a second year in a row by just seven runs over the Ceylon XI, left arm spinner Abdul Samad claiming the Final MVP award for his all round performance.
In the Plate Final first timers Saitama United won an entertaining match against Wyverns. Japan's  Wataru Miyauchi's 98 blasted the Wyverns to 180 for two but it wasn't enough as Ghufran Mir smashed 91 not out to guide Saitama United to the win with just three balls to spare.
Final Standings
Japan Cup champions: Tigers
Japan Cup runners up: Kawasaki Knight Riders
3rd place: Tuskers
4th place: Tsukuba
Shield winners (5th): Kobe Hawks
6th place: Ceylon XI
7th place: Alpha Quashers
8th place: Kyoto Super Lions
Plate winners (9th): Saitama United
10th place: Wyverns
11th place: Tokyo Falcons
12th place: Serendib Leos
Award Winners
Japan Cup Finals MVP: Sabaorish Ravichandran (Tigers)
Japan Cup Finals Best Batter: Malinda Dissanayake (Tuskers)
Japan Cup Finals Best Bowler: Piyush Kumbhare (Tigers)