Japan Men Win First Official T20 International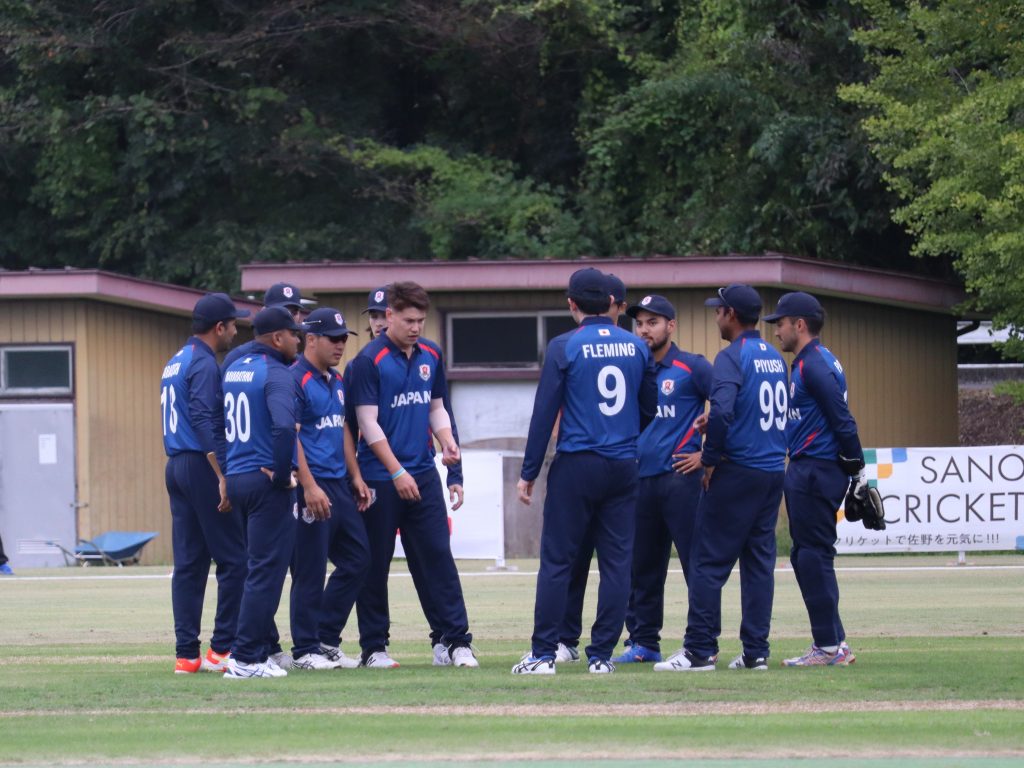 2022-10-10
News & Articles
National Team (Men)
The Japan Men won their first ever official T20 International match after defeating Indonesia by 65 runs at the Sano International Cricket Ground, after a gap of 1,401 days since their last fixture. 
Since their last match in December 2018 the International Cricket Council has given official international status to all matches between its members, thus making it the first full international for both teams. 
Captain Kendel Kadowaki-Fleming, one of eight debutants for a much changed Japan side, won the toss and elected to bat, however his dismissal off the final ball of the fourth over left Japan 17 for two and looking a little unsteady. 
A 26-run partnership between Ibrahim Takahashi and Declan Suzuki (both 14) helped recover some of the momentum before an even better partnership of 46 from 31 balls between Sabaorish Ravichandran (40) and Alex Shirai-Patmore (25) took the game to the Indonesians. 
Ravichandran in particular was outstanding in the middle-order for Japan, striking two impressive sixes as he looked to make his mark on the game before eventually being run out.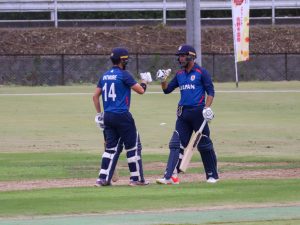 For Indonesia Rojerio Maxi Koda (one for 17) and Danielson Hawoe (two for 19) were the pick of the bowlers as they hit a nagging line and allowed for some uneven bounce to cause the batters trouble. 
A final first innings score of 143 for seven represented a solid first effort, and it quickly looked much better as Japan swarmed all over the Indonesia top order in the powerplay. 
A run out in the first over was the best start Japan could have hoped for, even if it did come from a dropped catch, but Suzuki has the awareness to throw to the correct end to send back Agus Priandana before Piyush Kunbhare collected his first wicket in international cricket with just his second delivery as Anjar Tadarus holed out to Ravichandran at long on. 
It was the sixth over where the wheels really came off however, as Reo Sakurano-Thomas finally got reward for his excellent lines as he grabbed three wickets in four balls to leave Indonesia reeling at 13 for five. 
There was no way back from there as the Japanese bowlers continued to keep things tight, Makoto Taniyama collecting the wicket of Padmakar Surve who top scored with 19, and Ibrahim Takahashi removed Gede Arta for 17 to collect his maiden international wicket. 
The final word went to the Japan vice-captain however, as Sakurano-Thomas returned to bowl the final over and collected two more wickets to finish with the outstanding figures of five for 17 which duly earned him the MVP award.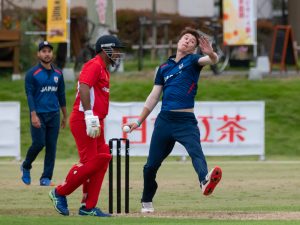 Match Summary: 
Japan: 143/7 (Ravichandran, 40)

Indonesia: 78/9 (Sakurano-Thomas, 5/17)

Japan win by 65 runs 
The second match of the three match series will commence at 13:30 on Monday 10th October and can be watched live on the JCA YouTube Channel.