Report|JCL Round 12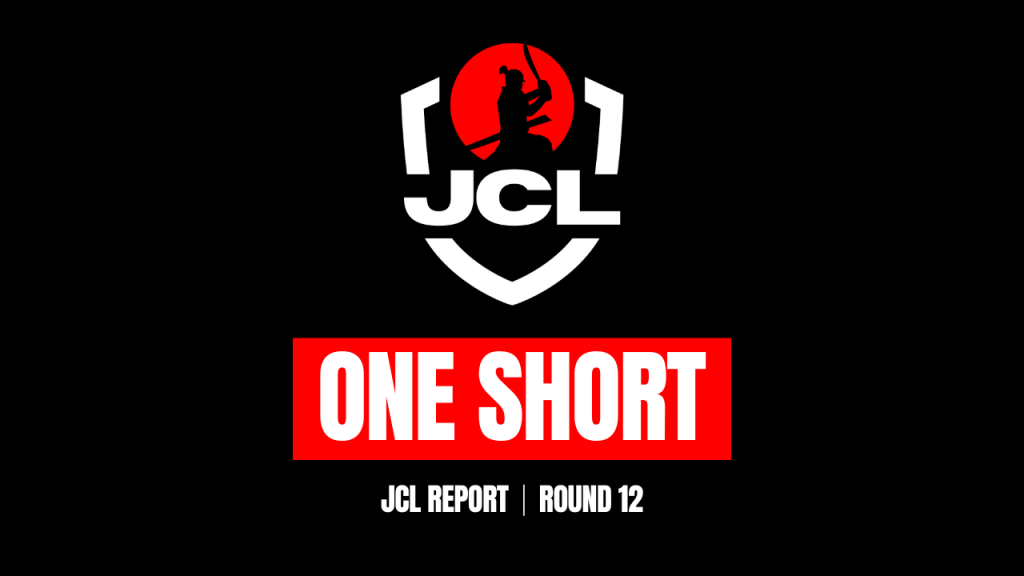 2022-09-29
One Short - Cricket Reports
Only two games commenced in round 12 of the JCL due to inclement weather, nonetheless, big games this weekend affected the overall points table as some teams are now out of contention for the semi-finals.
Nothing can stop the Falcons as they have won five games in a row racing their way up to third on the JCL table. This week they took on the Paddy Foley's who were on a winning streak of their own closing in on the top four. 
Ashiq Hussain and Muhammad Jawad were the main contributors to Paddy Foley's total, as they both scored 47 as part of a 96-run fourth-wicket partnership. Conversely, the Falcons used seven bowlers to bowl out the side for 198 in the last over. Last week's hero Karthik Vellingiri, doing it on the bowling end this week, taking figures of three for 34.
Falcons were wasting no time as big hitter Safraz Petkar was in his usual hurry making a quick 45 before being dismissed. Despite the Falcons being well ahead of the run rate, they were losing wickets in a hurry down seven for 133 after 21 overs. It did not help that Paddy Foleys bowled 39 extras in the innings which came to bite them as an incredible eighth-wicket partnership between Kuldeep Bisht (30*) and Abhi Telang (30*) chased the total with ease. This secured a big bonus point win for the team leapfrogging into third place.
The Wyverns were needing a big bonus point win if they were to be in the top four as they played their last game of their JCL 2022. 
A perfect start for the Wyverns as Yusuke Wakuta (38) and Shogo Kimura (43) had an 84-run opening partnership to launch their team. In a game that was reduced to 28 overs, The rest of the Wyverns batters had to score rapidly to ensure a difficult chase, Oshantha Nanayakkara added a quickfire 32 at the end of the innings including three sixes to push the total to 166.
Rising Stars' batsmen struggled to build partnerships in the chase despite Rakibul Hasan Shimul being an anchor. Shimul scored 48 while around him, too many batsmen were getting out quickly and cheaply. Tomonoshin Oki and Raheel Kano shared three wickets to bowl the Rising Stars out for 130 winning by 36 runs. Unfortunately, this did not end in a bonus point win for the Wyverns meaning they will just fall short of going into the semi-finals.