Report|JCL Round 10 & 11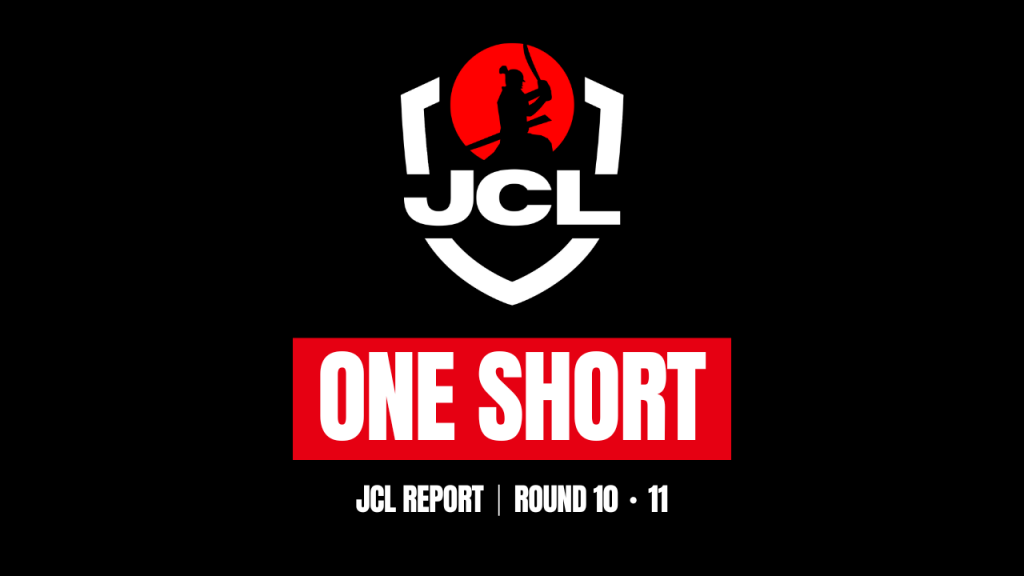 2022-09-20
One Short - Cricket Reports
Round 10 and 11 brought exciting finishes and near centuries as we near the end of the round-robin stage where every result matters.
Round 10
It was an all-around masterclass performance for Tigers' Sabaorish Ravichandran as he led his team over the Rising Stars. Sunny Rahman and Md Alamgir got the Rising Stars off to a promising start with a 40-run opening stand. The match turned on its heels when the first change bowlers of Piyush Kumbhare and Sabaorish Ravichandran came on. Together, the pair cleaned out the top and middle order while giving up minimal runs restricting the Stars to 130 all out. Ravichandran would finish with impressive figures of four for 22 off just six overs.
The Tigers were in early trouble as the openers got out cheaply putting them in a hole. Just like in the bowling innings, Ravichandran came to the rescue as he single-handedly took apart the Stars' bowlers scoring 70* off just 48 balls. With not much support around him, Ravichandran had himself one of the best all-round performances in the JCL taking home a four-wicket win.
Men in Blue's Rahul Koul was ever so close to scoring a century in a dominant batting display against Max 1st XI. 
Captain Supun Navarathna, got Max off to a hot start as he went bang from ball one. Hitting 14 boundaries including seven sixes, Navarathna was dismissed on 86 from 61 balls putting Max in a good position of 111 for three at the halfway mark. Despite the great start, it all went downhill as the Men in Blue's bowlers turned it on. The second and third change bowlers turned the game as they were able to take consistent wickets with Vikash Ranjan being the pick of the bowlers taking four for 36 of his eight as they restricted Max to 165.
Rahul Koul ripped apart Max's hope of defending their total as, like Navarathna, he went off from ball one. Koul hit an astonishing 10 sixes on his way to scoring 97 off 68 balls just falling short of what would have been a very impressive century but a great batting inning nonetheless. When Koul fell, most of the work was already done as the Men in Blue just needed another eight runs to win as they cruised to a seven-wicket win chasing it down in under 22 overs giving the team a big bonus point win.
Round 11
Karthik Vellingri had himself a match-winning performance in a one-wicket thriller between the Tokyo Falcons and the Chiba Sharks. 
Batting First, it was the story of everyone making starts but no one cashing in, as eight of the 10 Sharks batters made double figures. Unfortunately, no one went on to make any big total with captain Dhugal Bedingfield, the top scorer with 45. The Falcons did a great job of restricting runs and only allowed 10 extras in the innings, Sanket Pandhari the best of the lot taking three off just four an over.
The Falcons had a nightmare start as they were two wickets down early. Safraz Petkar and Siddarth Cb dug their team out of a hole with a 68-run partnership to revive the chase. But things turned bad again when there was another quick succession of wickets. Needing over 90 runs and being seven down that's when number nine batsmen Karthik Vellingri came to the crease. Vellingri, number 10 batter Dev Mistra, played a very important inning by staying in and rotating the strike facing 39 balls. When Mistra fell, the Falcons still needed 21 from 17 balls and this is when Vellingri put his team on his back and denied defeat. Vellingri scored the last 21 of his 56* runs off eight balls hitting the winning runs for his team with an over to spare. This massive win keeps the team in the hunt for the top four with only a couple of rounds remaining.
It was the Wombats batting that was enough in their win against the Alpha Quashers over the weekend. The Wombats scored a very competitive 247 off their 40 overs in the first innings thanks to openers Richie Bracefield and Shirai-Patmore. The pair put on an opening stand of 79 before Bracefield fell at 50. From there, JCL's second top run scorer Shirai-Patmore went on and scored 82 to give his team a very good platform to allow his team to come in with no pressure. The total of 247 was going to be competitive but was it going to be enough against a firepower lineup that the Quashers have?
The Wombats got off to a great start by taking four wickets within the eight-over mark dismissing key batsmen. Leo Joseph did everything he could for his side notching up 71 runs on just under a run a ball to give his team hope but was lacking support around him. When Joseph fell, the mountain was too steep to climb as the Quashers were all bowled out for 193. Credit to the Wombats bowlers who all took a wicket with Muhammad Forzan Aziz taking the most with figures of three for 29 taking home a 54-run win.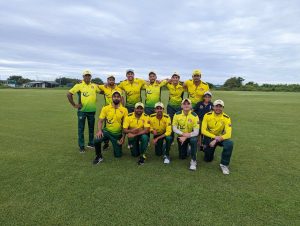 The Paddy Foleys had a dominant win over the Rising Stars as their hopes of reaching the JCL finals are still alive. 
In back-to-back rounds, we have had two players dismissed in the nervous nineties as it was Paddy's, Rashidrafiq Rana. Despite falling just short of his century, it was still a terrific innings scoring 96 off 80 balls. Around Rana, Pankaj Chand (43) and Khan Abdul Jabbar (47) provided more runs to get their side to a very competitive total of 258 after 40.
Just like their batting, Paddy's bowlers were dominant giving the Stars' batsmen no hope from the beginning. Coming off scoring 96, Rashidrafiq Rana had himself a day as he also added three wickets to his name. All wickets were shared around amongst the team as they bowled out the Stars for 140 giving them a bonus point win hoping to keep the momentum in the remaining rounds.