Report|South West Asia Cup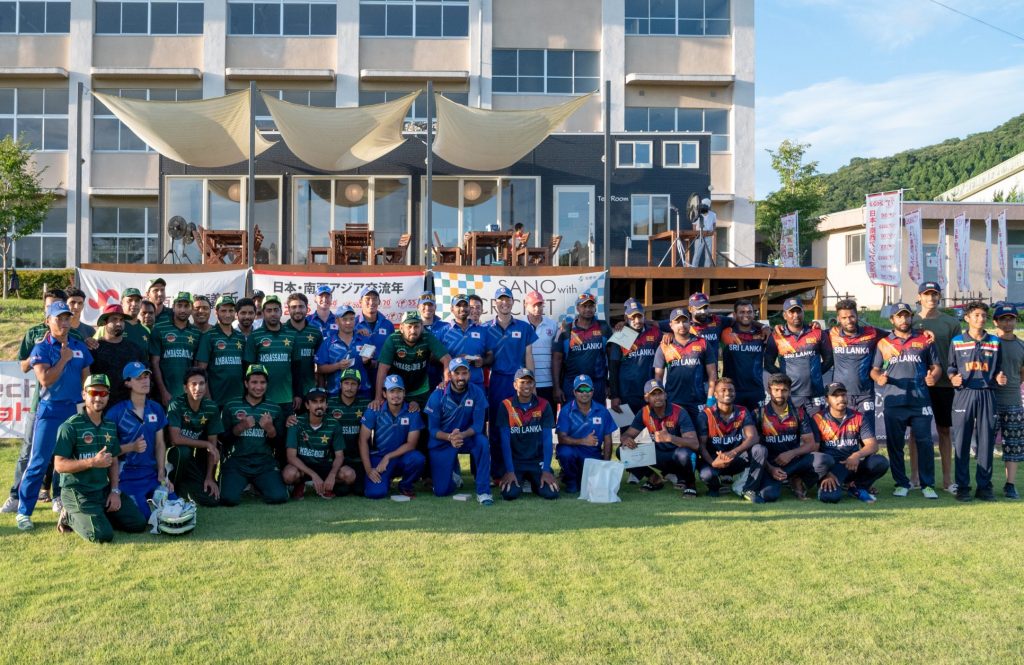 2022-08-16
News & Articles
The South West Asia T10 Cup took place on the 11th of August to commemorate 70 years of diplomatic relations between Japan and South West Asian Countries. 
Six teams; Japan XI and the Embassy XI's of India, Pakistan, Sri Lanka, Bangladesh and Nepal took part in a 10 over tournament which was split into two groups. Group A featured; Japan, Pakistan and Nepal while Group B featured; India, Sri Lanka and Bangladesh. The top team from each group would play each other in the final in hopes to win the South West Asia Cup.
Round One:
Japan began with a bang, crushing the Nepal Embassy XI. Batting first, opening batter Vinay Iyer in an unbelievable batting display, scored 113 off just 38 balls to get Japan to a total of 173. In reply, Japan continued their dominance, bowling Nepal out for 32 and winning by a huge 141 run margin. Captain Reo Sakurano-Thomas the standout, taking five for five off his two overs.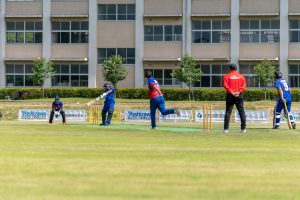 On the other field, Bangladesh had a tight victory over India. Bangladesh posted 113 off their 10 overs thanks to a quickfire 44 off 25 from Tawfiqur Rahman. India made it close starting well with opener Noor Mohammed Ibrahim scoring 45 off 26. Bangladesh pulled it back with some nice bowling and left India needing 25 off the last over, and fell short losing by 10 runs.
Round Two:
In the second round of games, Japan took on Pakistan and came out on top. Making 80 in the first innings, Pakistan was not able to defend the target thanks to openors Wataru Miyauchi and Souta Wada beginning with a 43 run partnership. This left Shogo Kimura to come in at three, whacking 38 off just 10 balls, including finishing the chase by hitting 32 runs of a single over.
In the other game, Sri Lanka rolled through Bangladesh in quick succession for just 29 runs with four out of the five bowlers taking two wickets each. Losing only a couple of wickets, Sri Lanka chased the total in ease in just the fourth over.
Round Three:
In the last games of the round robin stage, Sri Lanka won a tight one against India. Batting first, Sri Lankan opener Supun Navarathna started with a bang hitting 42 off just 16 balls, later in the innings, Harindu Hasintha scored 56 off 21 balls to set a competitive target of 121. India's innings started well but fell short with regular wickets falling as they lost by 18 runs. Malinda Dissanayake was the pick of the bowlers with two for six off his two overs.
Pakistan restricted Nepal to 66 runs in the first innings, as opening bowler Mian Muneed Siddique was the head of the bowling attack, taking three wickets for just eight runs in his two overs. In the chase, Ibrahim Takahashi scored most of the runs scoring 51 off 19 to chase Nepal's total in just over six overs.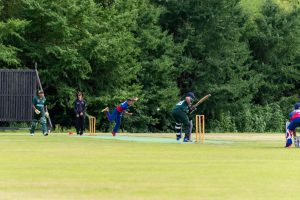 Final
The two unbeaten teams Japan and Sri Lanka faced off in the final. Winning the toss, Japan elected to bowl first, Sri Lanka got off to a good start but then regular wickets hurt them as they fought their way to a total of 78/9. Three players took two wickets but Piyush Kumbhare, the best of them only going for six runs off his two overs.
What looked like to be a tricky target against a strong Sri Lankan bowling lineup, Japan made the chase easy as openers Sabaorish Ravichandran (40) and Marcus Thurgate (33*) started with a 63 run partnership to make it a comfortable chase with three overs to spare, winning by nine wickets. Thus, Japan came on top unbeaten in all three games, winning the South West Asia Cup.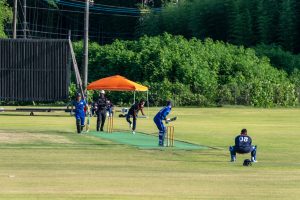 In the closing ceremony, the cup was handed to the Japan XI as well as each games MVP and other awards such as; most runs, wickets, best catch and biggest six.
This concludes what was a very successful tournament in hot sunny conditions. All embassy teams who played will be competing in a month's time in the Embassy Cup on September 10th – 11th.