JCL Restart Round Three: Semi Finalists Confirmed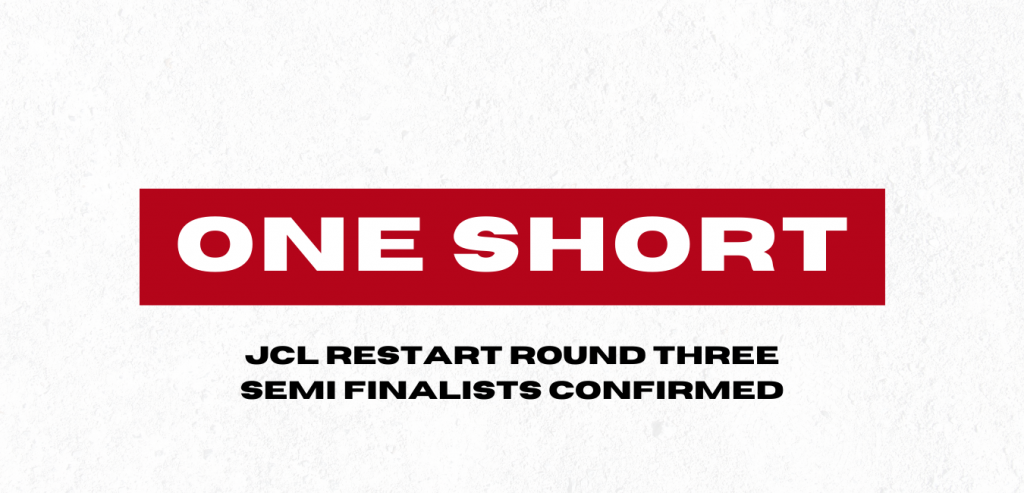 2021-11-18
One Short - Cricket Reports
After a much truncated season, we have finally reached the play off stage with the semi finals confirmed across all three JCL Divisions. 
In the end the four qualifiers from Division One confirmed their spots with room to spare. MAX CC were virtually there already and completed a 100% record in the league with a 25-run win over Men In Blue, who were chasing an upset and unlikely play-off berth. 
The win was set up by battings stars Vinay Iyer (52) and Supun Nawarathna (67) who put on 96 for the second wicket to lay the foundations for a 216/9 total. Vivek Singh continued his good form with three for 36 for the Men in Blue. 
Three wickets in the opening five overs set MIB back but Naveen Negi (55) and Ankit Panwar (41) rebuilt the innings with a 95-run partnership. They departed within the space of three balls to effectively end the contest, although a 19-ball 40 from Deepak Singh had MAX worried before Takuro Hagihara returned to collect his third wicket for 30 runs and wrap up the match and unbeaten league campaign. 
The Tokyo Falcons recorded a best-ever league finish, stepping up from 4th last year to 2nd this time around. They recorded two wins in the final round to make themselves serious contenders. Firstly they brushed aside Sano CC, after Souta Wada's 56 had taken the home side to 202 all out, Nilesh Shahane (56) and Pankey Pandhari (89*) added 97 for the fourth wicket after the top three all fell without scoring to Reiji Suto (three for 39).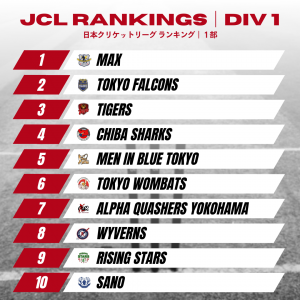 A four wicket win in that game preceded a much tighter affair against Wyverns, who needed a lot to go their way to make the finals…and nothing did. Despite a patient 85 from Shogo Kimura, Abhi Telang grabbed four for 41 to limit Wyverns to 211/9 after their 40 overs. Wyverns then looked in control as the league's leading wicket-takers Kohei Kubota and Tomonoshin Oki (three for 24) ran amok with the new ball to have Falcons five down with just 50 on the board. 
No total is safe however, as long as Sarfraz Petkar remains at the crease. He played one of the great JCL innings, bringing up his century off 66 balls, and his second 50 off a ridiculous 19. The next highest score by his teammates was 16 and although Kubota returned to dismiss him and claim career-best figures of five for 27, the final pair were able to scramble home for a one-wicket win in the final over. 
Defending Champions Tigers cricket club have not played a match since 9th October, but were relieved to have done enough to finish third, while Chiba Sharks managed to hold off the Rising Stars to book their place in the final four. After a disappointing title defence in 2020, Ibrahim Takahashi has started in all formats to make the Sharks contenders once again, and confidence is high after a surprise 2nd place finish in the Japan Cup Finals. 
Even without captain Dhugal Bedingfield, who looks a doubt for finals, the Sharks had too much as Takahashi top scored with 51, his third half-century of the season, as Sharks posted 172/9. He then took four for 27 to help dismiss the Rising Stars for 156, earning a 16-run win which secured fourth place.
The two biggest disappointments of the season have been the Alpha Quashers and Sano CC, and these two teams met in the first midweek fixture in the JCL on Wednesday 3rd November, a game that will be remembered for the breakthrough innings of Aditya Phadke, whose unbeaten 65 was almost more than Sano CC managed entirely. 
Quashers posted 235/7 thanks to the young starlets maiden half century, and then rolled Sano over for just 69 with the wickets shared around. That win by 166 runs gave a big boost to their net run rate and was enough to ultimately lift them out of the bottom two and into seventh. 
The Quashers reverted to form in their final game however, as the Men In Blue finished with a flourish. Prashanth Manvi took three for 26 to bowl the Quashers all out for 111 before Naveen Negi struck a career best 61* to see his side home with nine wickets to spare. 
So the Semi Finals are confirmed as below: 
Semi Final 1: MAX CC vs Chiba Sharks

Semi Final 2: Tigers CC vs Tokyo Falcons
These matches will be played on Sunday 21st November. 
In Divisions Two and Three the Semi Finalists are as follows:
Division Two (1) Paddy Foleys vs (4) Men In Blue
Division Two (2) Tokyo Falcons vs (3) Tokyo Rangers
Division Three (1) Tigers CC vs (4) Men In Blue

Division Three (2) Tokyo Rangers vs (3) Tokyo Falcons
Thanks must once again go to all our umpires across these matches, they were: Chris Thurgate, Amit Phadke, Prashant Kale, Pankaj Chand, Girish Deshpande, Mumtaz Alam & Uddika Pradeep
Lastly, the October Player of the Month Award goes to…Ibrahim Takahashi. Ibby has been in incredible form this season and was vital in the Chiba Sharks firstly reaching the Japan Cup Finals and then carrying the team all the way to the Grand Final. In his last five matches he has scored 247 runs and taken 10 wickets; a deserving winner of the award.
View this post on Instagram