Tuskers Win Japan Cup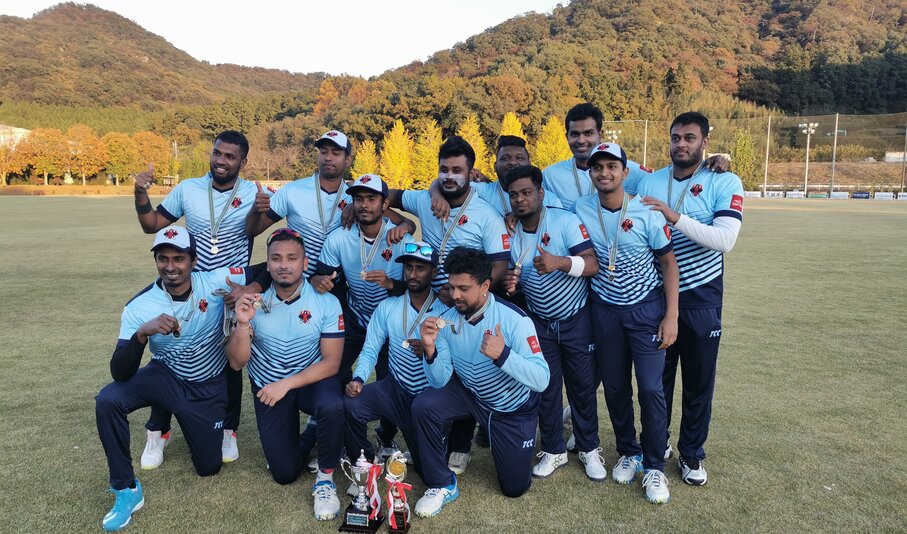 2021-11-07
News & Articles
Tuskers defeat Chiba Sharks to win Japan Cup
58 teams took part in the Japan Cup T20 tournament this year but by the afternoon of November 7th just two remained at the Sano International Cricket Ground, the Chiba Sharks and the Tuskers, both of whom had qualified for the finals through the East Kanto region.
The Tuskers, in their first season of Japan Cup cricket, were too strong for the Sharks in the final, chasing down the Sharks total of 106 with nine balls and nine wickets in hand.
Japan national squad player Supun Nawarathna was the star for the Tuskers in the final, scoring an unbeaten 50 runs to guide his team to victory.
Earlier in the day the Chiba Sharks had booked their place in the final with a hard fought win over Wyverns, the number one ranked team in Japan, in the semi final.
The Sharks had veteran Dhugal Bedingfield to thank, his 49 runs and two wickets influential in the narrow semi final win.
Tuskers had booked their place in the final through an impressive seven wicket victory over two time Japan Cup champions Ceylon XI.
An outstanding 134 run partnership between Don Bhanuka and Nawarathna was key to the Tuskers' run chase.
In the Shield Final Sultans of Japan were too strong for the Kobe Hawks, cruising to a comfortable seven wicket win, Zahid Gondal claiming the man of the match award for his all round performance.
In the Plate Final Osaka Lions overpowered the Roaring Tigers, compiling an impressive 172 on the way to a 78 run win, Dillen Buultjens' brutal 15-ball 43 the highlight of the match.
Final Standings
Japan Cup champions: Tuskers
Japan Cup runners up: Chiba Sharks
3rd place: Wyverns
4th place: Ceylon XI
Shield winners (5th): Sultans of Japan
6th place: Kobe Hawks
7th place: Tigers
8th place: Tsukuba
Plate winners (9th): Osaka Lions
10th place: Roaring Tigers
11th place: Nagoya Bengal Tigers
12th place: Kyoto Super Lions
Award Winners
Japan Cup Finals MVP: Don Bhanuka (Tuskers)
Japan Cup Finals Best Batsman: Ibrahim Takahashi (Chiba Sharks)
Japan Cup Finals Best Bowler: Asanka Edirimanna (Chiba Sharks)