Round Five: JCL Thrown Wide Open By Upsets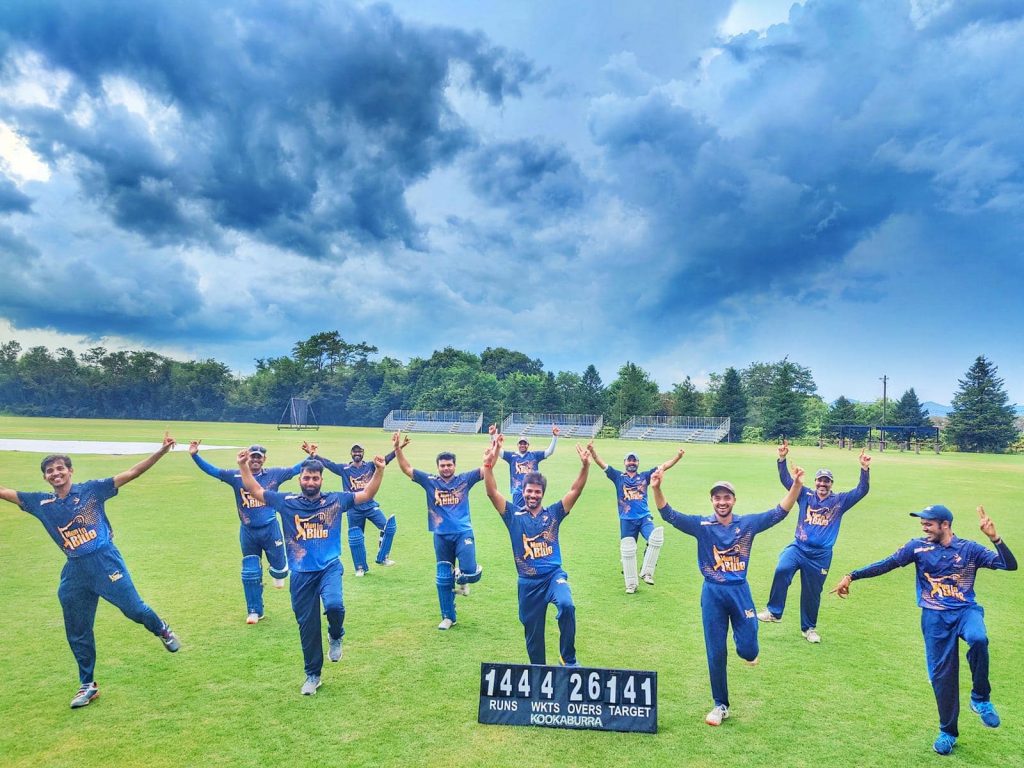 2020-09-09
One Short - Cricket Reports
Other news
It was moving weekend in JCL Round Five as Men in Blue and Tokyo Falcons recorded their most significant victories in the top flight to date.
Falcons, whose struggles in 2019 have been well documented, look a new team with Naveen Negi opening the bowling. His 3/22 was pivotal in dismissing Wyverns for just 112, despite a battling 56 from Wataru Miyauchi at the top of the order. 
Negi was well supported by Ankit Chawla who also collected 3/42, while Ankit Panwar grabbed 2/22. Panwar was to play an even more impressive role with the bat however.
Defending 112 was always going to be a tough ask, but when Wyverns reduced the Falcons to 23/4 they were right in the hunt as Nozomi Tomizawa (3/19) and Kuhei Kubota (2/23) ripped out the top order. 
Panwar's 51* from number six in the order made the difference, and in a game where the third best score was just 13, represented a fantastic effort to take his team home with four wickets to spare and claim a vital bonus point.
While that was an impressive victory, perhaps even more surprising was the performance of MIB against Alpha Quashers. Batting first the Quashers were restricted to just 140 as nobody made it passed 20, Gurdeep Dua the pick of the bowlers with 3/8.
A partnership of 69 for the second wicket between Amar Singh (38) and Sanket Pandhari (41) broke the back of the chase before Sarfraz Petkar blazed 28 off 13 balls to make sure there was no allowing the Quashers back in, despite four more wickets for Nikhil Chhajed who now leads the way in the division. 
A win by four wickets puts MIB right in the hunt for a play-off place, a fraction behind MAX CC in Pool Two. Round Six will have MIB and Falcons go up against each other in what could be a decisive match in terms of play off places. 
In a normal week MAX vs Tigers would be top billing, but this one turned into a surprisingly one-sided affair. The Tigers, with five players scoring between 20-30, put on 204 all out with the Divisions leading run scorer Ranjith Mouli once again the top scorer and Makoto Taniyama (3/39) the pick of the bowlers. 
MAX never really got going in the chase, despite 39 from Supun Nawarathna, as spinners Sabaorish Ravichandran (4/24) and Piyush Kumbhare (3/15) ran through the batting to take all ten wickets for just 107 to give Tigers a resounding win by 97 runs, a result that leaves MAX clinging to second place in the group with Alpha Quashers up next.  
Meanwhile Tokyo Wombats at last had something to celebrate, and not just completing a game in what has been a rain ruined campaign for them, but also claiming a win that should keep them off the bottom of their group. 
Their victory over Sano CC was built on 68* from just 54 balls by Zubair Bappi as the Wombats mustered 201/5 from their 40 overs, teenager Reiji Suto's 2/43 the best effort by the Sano bowlers. 
It was Muhammad Ali who then struck the key blows for the Wombats in defending their score, Alex Patmore stumping both Sano CC openers off his bowling and picking up two more soon after as he dismissed four of the top five for just 35 runs. Himanshu Bugalia (3/15) then finished things off as Wombats bowled Sano all out for 151 to win by 50 runs.
The final match of the round was a routine win for Chiba Sharks, who knocked over the win-less Rising Stars for 113 with four wickets for Muneeb Siddique. Marcus Thurgate (23), Dhugal Bedingfield (36) and Neel Date (31*) had the Sharks going at almost ten an over up to 95/1 before losing a few quick wickets but still easing home with six men left and a bonus point earned. 
All five matches in Round Six take place this Saturday in what promises to be the key day of the JCL season.