Japan Win East Asia Cup!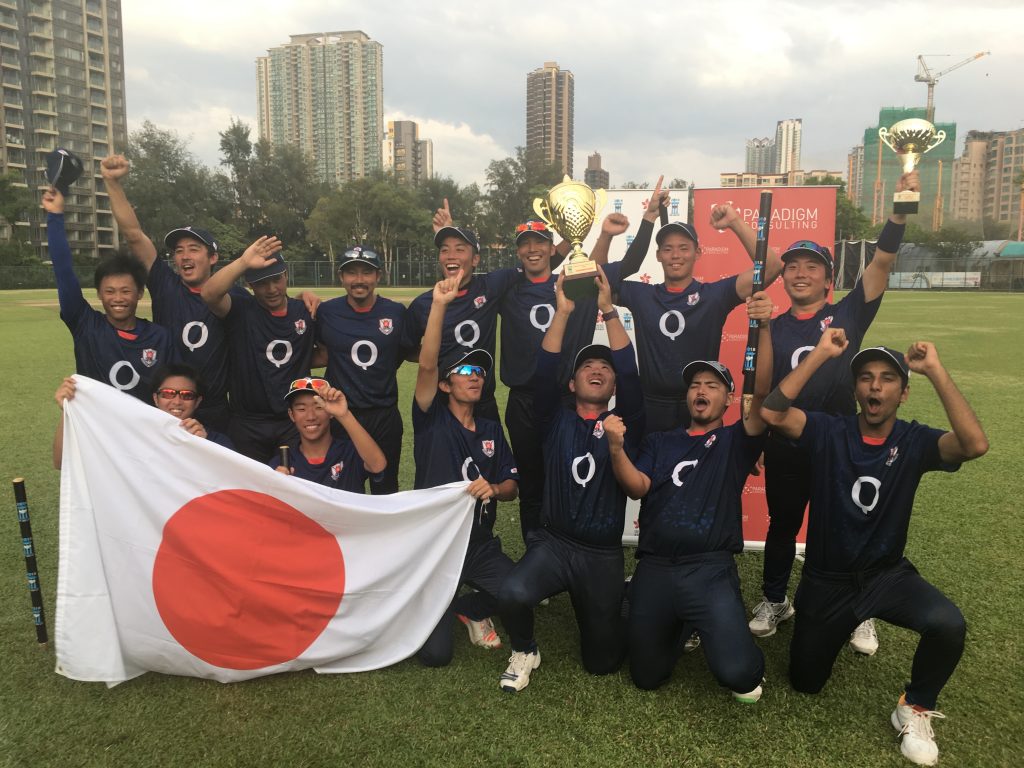 2018-09-16
Other news
National Team (Men)
Japan won the East Asia Cup for the first time ever after a comfortable victory against Hong Kong Dragons in the Final on 15th September at Tin Kwong Recreation Ground.
While Japan entered the Final with three wins in three, the Dragons were there after a stunning victory over Korea in their last group match left all three other teams with one win each and the Dragons going through on net run rate.
Upon winning the toss captain Masaomi Kobayashi chose to bat first but Japan lost wickets early and looked in trouble at 32/3. However Tomoki Ota counterattacked brilliantly, hitting 42 from 34 balls in a partnership of 58 in just five overs with Makoto Taniyama (34 off 25).
The Dragons continued to take wickets however, Henry Siu finishing with 4/29 and Japan were all out in the final over for 160, most batsmen contributing boundaries along the way.
In the chase everything was centered around Jason Lui, who would later be named Player of the Tournament scoring more than 200 runs in his four matches, and hitting 19 sixes along the way.
Although Japan struck early through Rui Matsumura and a direct hit run out from Ota, Lui was starting to look ominous as he struck a huge six off Taniyama in the eighth over to take the score to 49/2. That was as good as it got as Taniyama got his revenge three balls later, Matsumura taking the catch as Lui tried to go big again and got a top edge.
That wicket started an enormous collapse as Japan took six wickets for just five runs, Tsuyoshi Takada taking three in an over and finishing with figures of 4/13, while Taniyama ended with 3/11.
The celebrations began when Jun Yamashita clean bowled Ka-U Lynn leaving the Dragons all out for 74 and giving Japan the victory by 86 runs.
Takada was named as Man of the Match for his wickets and useful 19 runs at the end of the Japan innings, and was delighted with his success.
Enormous credit must go to Cricket Hong Kong for managing to rearrange the competition and managing to get the final played before Typhoon Mangkhut hit Hong Kong on Sunday, the day the finals were scheduled.
The East Asia Cup, created in 2015, has now been won by a different nation every year and all four countries have won it; China and Hong Kong have won the women's tournaments in 2015 and 2017, while Korea won the inaugural men's tournament in 2016.