JCL Round Two: MAX & Tigers remain unbeaten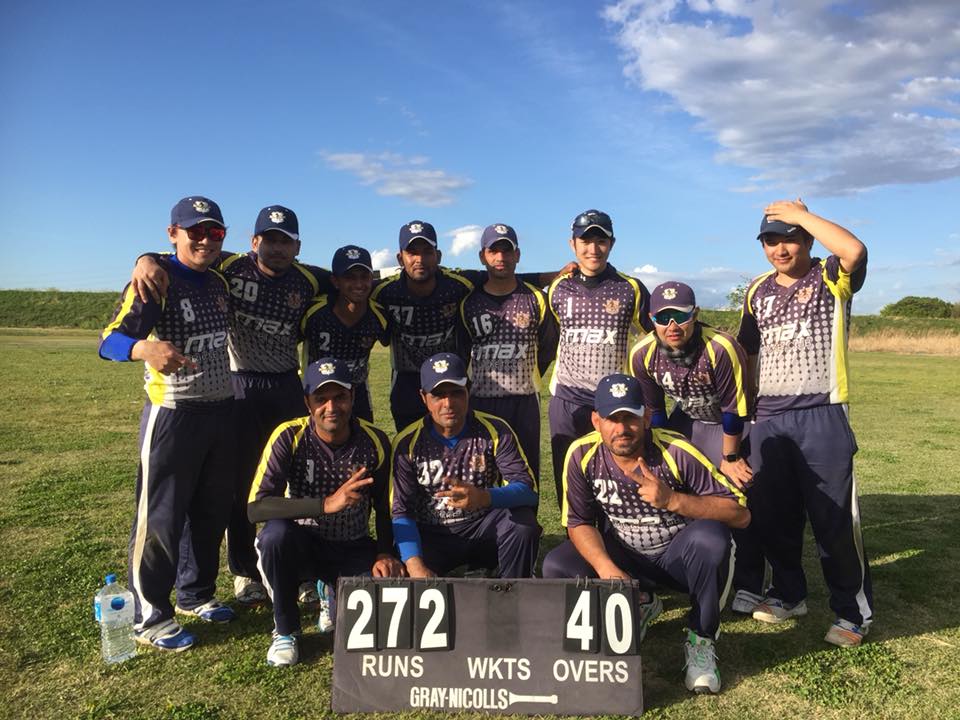 2018-04-18
One Short - Cricket Reports
Blog
Two rounds played and just two unbeaten teams remain in JCL Division One as both MAX and Tigers recorded victories to keep pundits guessing as to how the season will turn out.
MAX CC go top of the table thanks to earning a second bonus point of the season, this time with a comfortable 126-run win over Paddy Foleys.
Batting first there were runs throughout the order for the powerful MAX batting line up, led by Hanif Khan (56) and Salman Khawaja (67) who grabbed half centuries, and Makoto Taniyama (45) who registered his highest score in two seasons as MAX reached 273/8 in the 40 overs. For Paddy's only Raman Tanwar went at less than a run a ball, picking up 3/46.
The Paddy's innings never truly got going, and the fall of Prashant Kale for 39 prompted a steady fall of wickets with only Vishhal Patel contributing an earnest 33 before demolishing his own stumps. All out for 147 in 29.5 overs with three wickets for both Talha Tanveer (3/28) and Sachin Sererath (3/26) meant the bonus point and a weekend to celebrate for last years deposed champions.
2017 was all about Sano and Wyverns who went head to head having both lost their opening fixture of 2018. It was happy revenge for Wyverns, thanks to a gritty career best 38* from Shodai Yamada batting at number seven. The determination of Yamada showed his more illustrious colleagues how to bat properly and hauled Wyverns to 176/8 from 40 overs with 2/12 from Prabath Sankalpa the best return for Sano.
Sano made a solid start to the chase only for Wyverns to steadily chip away and then take the last five wickets for just eight runs with Naotsune Miyaji (3/13) claiming an unofficial hat-trick (with a couple of wides punctuating the wickets). A top score of 21 by Thukanidu Thirimanna and all out for 88 in 23.3 overs illustrate the issues Sano have with their batting. A win by 88 runs for Wyverns, and much to ponder for both teams.
Tigers maintained their 100% start thanks to a tight win over Alpha Quashers. Batting first Tigers rustled up 190/4 in their allotted overs with Man of the Match Manoj Bhardwaj registering a JCL career best of 53*, typically supported by 64 from Sabaorish Ravichandran.
A cunning decision to open the bowling with Piyush Kumbhare (3/19) then gave Tigers a great start as he snagged three wickets in his first spell to leave the Quashers reeling. The ever smiling Nandhakumar Rangasamy (37), whose two wickets in the first innings made him the pick of the AQCC bowlers as well, battled hard but Ravichandran's leg-spin (3/33) precipitated the end as Tigers bowled Quashers all out for 138 to claim a 52-run win.
The closest tie of the round took place at Fuji as the unpredictables of Chiba Sharks and Tokyo Wombats battled it out in testing conditions. Batting first the Sharks managed 169 all out in 35.5 overs, helped by a couple of 40s from Sanjay Anugula (48) and Pavethynath Velusamy (40) while Luke Eyes took a JCL best of 3/35.
The chase was always likely to focus on "Anxious" Alex Patmore, whose recent revelations about translucent hands and batting in mirrored nets gave his opposition plenty to talk about. At 77/1 with Patmore (29) and Jarrad Shearer (19) going well it looked like a straightforward win was on the cards, especially with frequent rain breaks and the Sharks quicker bowlers struggling with the wet run ups.
A Wombats collapse left them 160/9 with 10 runs still needed and Augustine Jacob (16* off 30) and Vikram Ragunathan (1* off 16) showed sheer bloody mindedness to drag the Wombats over the line for a nervy single wicket win. The Sharks were left to rue the conditions, and the 60 extras given away out of a total of 170, which was comfortably the highest scorer.
A break now until May 5th in the basement clash between Sano and Paddy Foleys, before the other six teams all play on May 12th and 13th.