JCL Round One: Sakura Centuries Start Season in Style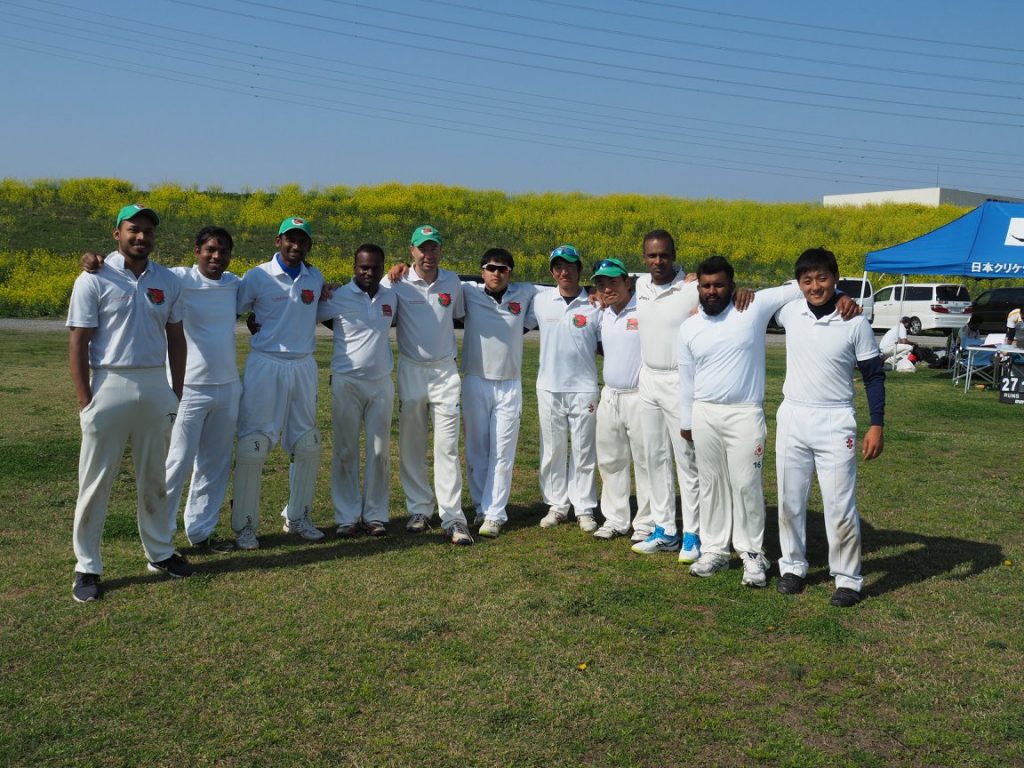 2018-04-04
One Short - Cricket Reports
Other news
Blog
The Japan Cricket League returned with a bang last weekend with two players recording centuries for their teams, although in differing circumstances.
For Chiba Sharks captain Dhugal Bedingfield it was a first JCL century since the opening day of the 2016 season as his run a ball 116 took his team to a match-winning score of 271/6 vs Paddy Foley's. Aided along the way by two debutants, firstly Sanjay Anugula (28) in an opening stand of 62, and then the newest name in the Japan National squad Arata Ueda crashed 45 in a partnership of 136 before being run out.
Bedingfield, modest as ever, said after the game: "I think that was a pretty good knock from me, setting the standards for what I expect from the boys this year. It was a fast outfield and the fact I keep the ball on the ground more than most players probably helped me a bit."
The captain was also quick to heap praise upon the new boy: "Ueda looked fantastic and should be a great acquisition for us. He was quick to pounce on anything short and looked really mature for such a young kid. Of course, he is here learning from the best."
Paddy's lost both openers to Rui Matsumura (3/25) and never really recovered, dismissed for 147 in 31.4 overs as Pavethy Velusamy (3/13) mopped up the tail to give Sharks the bonus point win by a massive 124 runs.
The other century also came from a captain and opener as Alex Patmore (103) registered a long-awaited maiden hundred in the JCL after countless near misses. Unfortunately, his Wombats teammates did not quite provide the support he needed, with only Narendar Madhavan (24) making double figures as Wombats posted 208/8 in their 40 overs against the Tigers, for whom their own captain Ragesh Nair bagged the best figures of the round with 4/35.
In the chase the Tigers rock Sabaorish Ravichandran scored his first half century of the season, but it was 60 from 36 balls for Ranjith Mouli that rushed the team home to a four wicket win, also in 31.4 overs, to secure the bonus point despite 3/43 from Madhavan.
In the Sunday games there was much interest surrounding the debut of Shogo Kimura as Wyverns took on MAX CC. Batting first the former Baseball pro smoked his first ball to the boundary and climbed into a few others before being dismissed for 19 from 13 balls. That was as good as things got for Wyverns, who slumped to 72 all out as Makoto Taniyama collected 3/3 in five overs with Raheel Kano (19) the only other player to make double figures.
Although Wyverns dismissed both MAX openers without scoring to give them hope of an unlikely defence, Supun Navarathna quickly ended that hope with a swashbuckling 57* to see his side home to a bonus point win by seven wickets inside 12 overs.
Finally, Alpha Quashers from Yokohama knocked over last year's champions Sano by bowling them out for just 104. Five Quashers bowlers chipped in with Devendra Dhaka taking the best figures of 3/17. Hasantha Ishara, so reliable for Sano 2nds last year, top scored with 30.
Sano fought hard to defend the paltry score and were right in the game when they took the first five Quashers wickets for just 40, only for Anees Thyrantakath to take it away with a counter attacking 47 from 26 balls coming in at number seven to give his side a three wicket win and a great start to the season as they became the fourth side to register a bonus point win this weekend.
There was just the one game in Division Two as the Men in Blue made their bow in the JCL with a convincing win over the Wyverns 2nd XI by 151 runs which certainly laid down a marker to the other teams in the division. The rest of Division Two will play out Round One this weekend, as Division Three also gets underway, so the top flight will take a rest and return on 14th/15th April.
*A footnote for the season; One Short always provides links to the CricHQ scorecards in our articles, unfortunately CricHQ scorecards can only be accessed by registering your email address. The JCL page on the JCA website still gives access to fixtures and tables, but registering for CricHQ is quick and easy and you will not be flooded with junk mail (or so we are told).
**The quotes in this article may or may not be word for word accurate…