Alpha Quashers Win the Japan Cup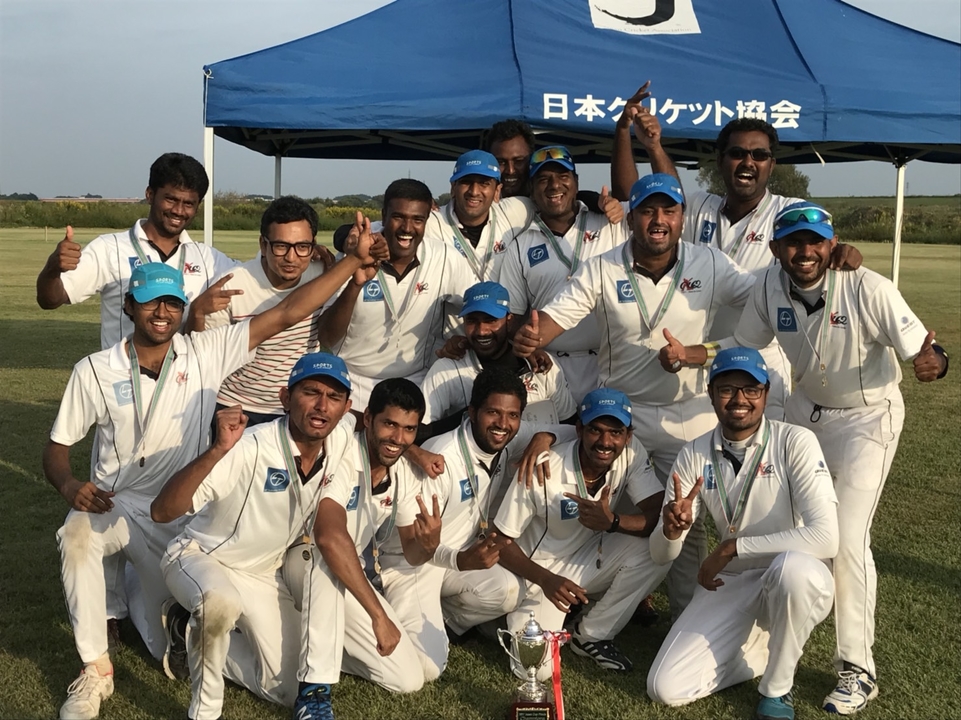 2017-10-10
Other news
News & Articles
Last year's runners up Alpha Quashers Yokohama yesterday went one step further by winning the 2017 Japan Cup T20 Final against the Wyverns Cricket Club.
The South Kanto champions went through the finals tournament unbeaten to become Japan champions for the first time.
The Quashers had contributions from several players throughout the tournament and this was evident in the final.
Captain Nandha Rangasamy was awarded player of the final for his 35 runs and 2 catches while Anees Thyranthakath clubbed 29 off 15 balls as the Quashers posted an imposing 164 off their 20 overs.
Karthik Vellingiri finished the job for the Quashers with 4/11 as the Wyverns were bowled out for just 92.
Earlier in the day the Alpha Quashers had comfortably beaten the East Kanto champions Men In Blue by 63 runs in the first semi final while in the other semi final the Wyverns caused an upset by defeating the highly rated North Kanto champions Samurai by seven runs thanks largely to the bowling of Shodai Yamada (3/26) and Makoto Taniyama (3/11).
In the play-off matches Kinki chased down Tokai's 168 on the last ball of the match to claim 5th place and the University XI recorded an easy 10 wicket win against Tohoku to claim 7th.
The Japan Cup T20 competition continues to grow and the JCA and its regions are currently accepting applications from new teams to join next year.
Please contact us for more information: https://cricket.or.jp/en/about-jca/contact.
Final standings
Champions: Alpha Quashers Yokohama
Runners up: Wyverns
Equal 3rd: Samurai
Equal 3rd: Men In Blue
5th: Kinki
6th: Tokai
7th: University XI
8th: Tohoku
Japan Cup Finals Awards
MVP: Shodai Yamada (Wyverns)
Best Batsman: Souta Wada (Kinki)
Best Bowler: Makoto Taniyama (Wyverns)