Sano Claim Historic Double Victory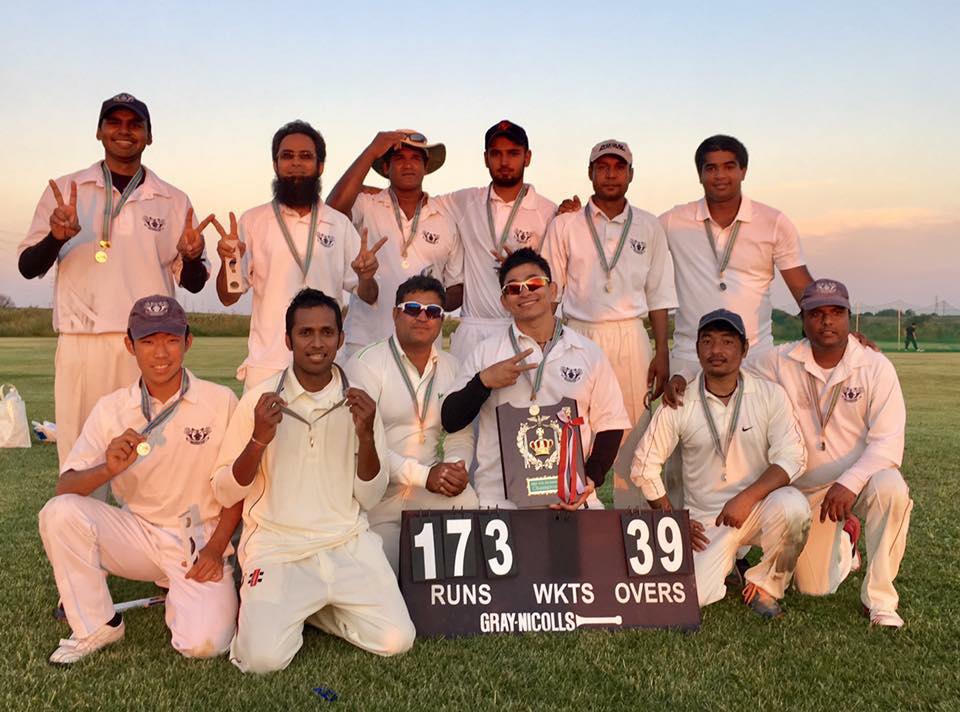 2017-10-03
One Short - Cricket Reports
News & Articles
Blog
The Japan Cricket League season ended with Sano Cricket Club completing an historic double victory, claiming the titles of Division One and Division Two.
It is the first time any club in Japan has won both divisions in the same season and credit must go to both individual teams.
The Division One title was claimed in a tense win against Wyverns CC, who cruelly miss out on their first ever title and must settle for a fifth runner's up placing.
Batting first Sano lost early wickets as former Sano player Shodai Yamada (4/29) got amongst the top order. However Sano were held together by 41 from Rashid Rana and 33 from Uddika Pradeep, while another Sano old-boy Raheel Kano grabbed 3/29 to dismiss Sano for 173.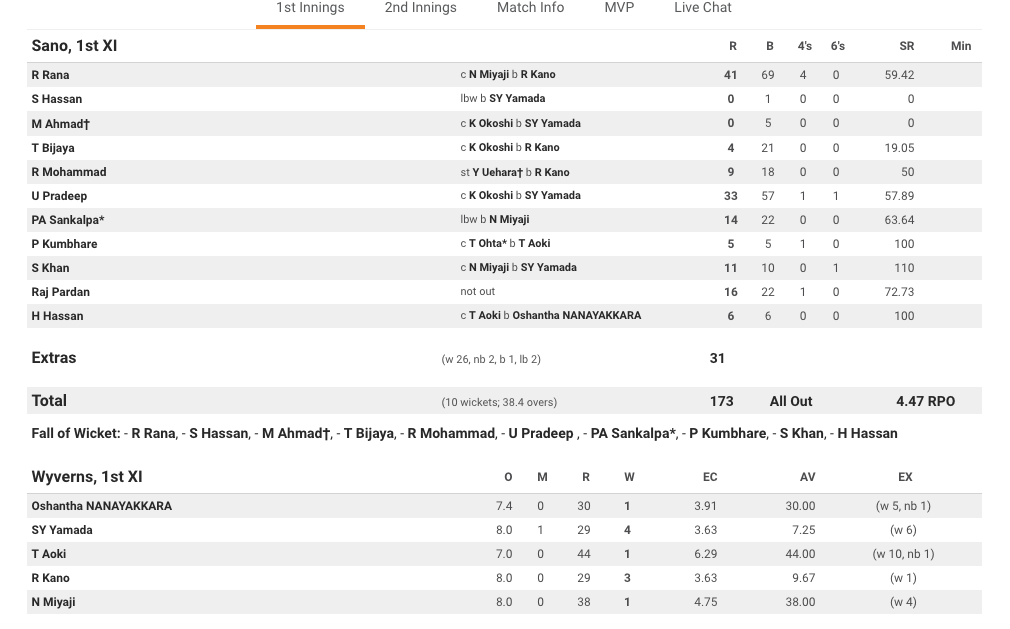 Wyverns chase began poorly as early wickets fell before Kano (58*) and a third ex-Sano player Naotsune Miyaji (42) combined for a strong partnership. However once Miyaji was dismissed the lower order was not able to contribute as captain Prabath Sankalpa ran through the tail, taking a decisive 4/33 to restrict Wyverns to 160/9 and earn his side a 13-run victory to claim the title.
If the Division One Final was always expected to be close, the Division Two contest had Alpha Quashers of Yokohama as firm favourites having registered a huge 123-run win over Sano in the final round of league matches a month ago.
Batting first Sano built their innings around an excellent 89 from opener Hasantha Ishara, who was well supported at the top of the order in partnerships of 90 with Mai Yanagida (25) and 75 with 14-year- old Kazumasa Takahashi (31). The final over of the first innings was truly remarkable, with five wickets falling including a hat trick for Manivannan Maruthamuthu (6/31), and a run out off the last ball as Sano finished 187/9 from their 40 overs.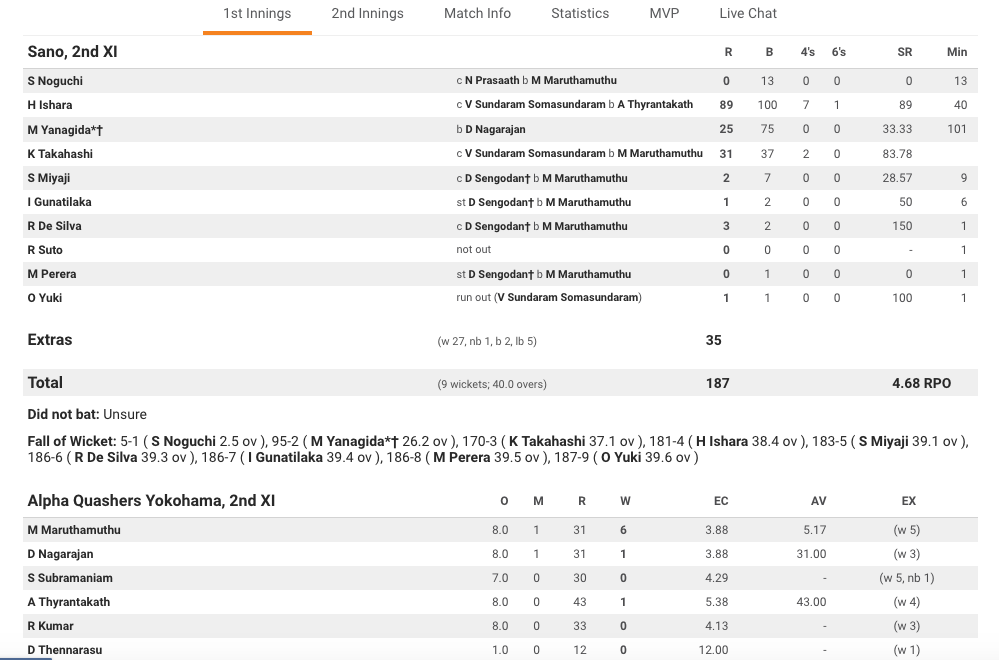 While this was a promising total, the memory of AQCC scoring 238 against Sano so recently would have been fresh in the bowlers minds, but rather than caving into the pressure the two 14-year- old opening bowlers, Takahashi and Reiji Suto, responded magnificently. Suto grabbed the first breakthrough before Takahashi (4/16) went one better than Maruthamuthu and claimed a double hat trick to leave AQCC 14/5 at the end of five overs.
After that the result was a foregone conclusion as Sano dismissed AQCC for just 60 in 21.2 overs to claim their first ever Division Two title by 127 runs.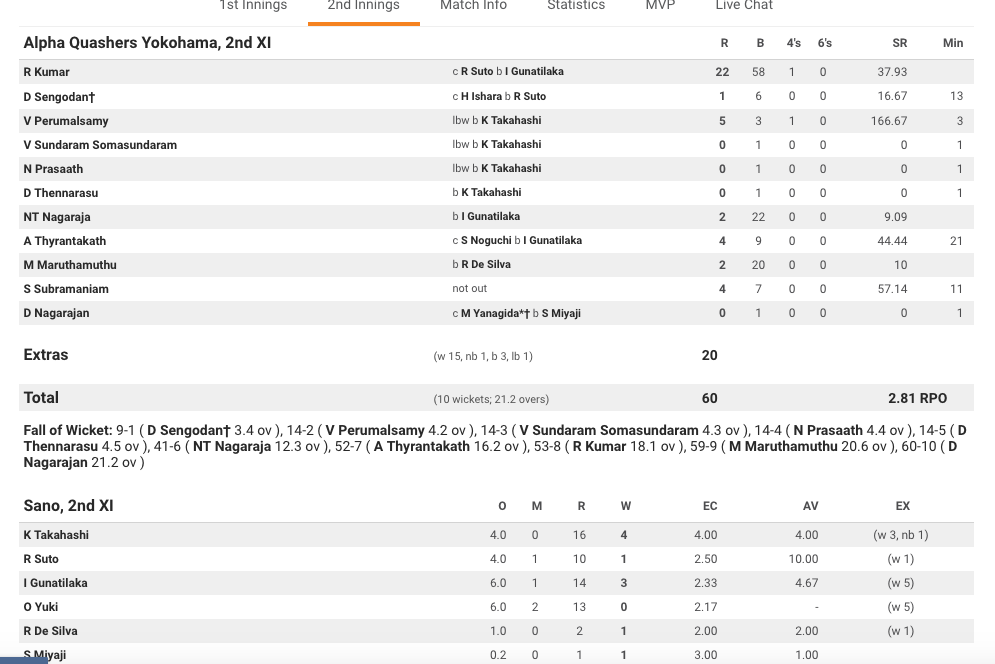 Congratulations to Sano CC and to all other teams who made the 2017 season such a memorable one.