Captain for the World T20 Qualifier Announced
The JCA are happy to announce that Kurumi Ota has been appointed as captain for the forthcoming Women's World T20 Qualifier due to begin in Sano next week.
Assisting Kurumi will be Mai Yanagida, who has been appointed as vice captain for the tournament. The captain and vice captain will lead the team until the completion of the tournament.
Newly appointed captain, Kurumi has high hopes for the young team she will be leading saying, "We have a very young team that may lack experience, but the young players are showing great potential. We will be playing against the best teams in the region, so I think the key to our success is whether we can allow our young players to express themselves."
She also called for support for the team by saying "We will bring all our strengths together as a team and aim to win each match at a time. We greatly appreciate the kind support we continue to receive and  would like to ask the cricket community in Japan, our friends and family to come and support us again."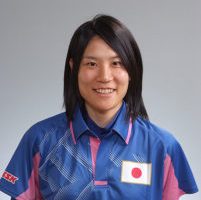 Kurumi Ota
Vice captain Mai Yanagida said, "I'd like to support the captain and ensure team spirits are high so that we can play to our strengths. Playing at home is a great opportunity for people to show support. I'm sure the players will perform beyond their best with a strong home crowd."
Mai Yanagida