JCL Round One: Opening Fire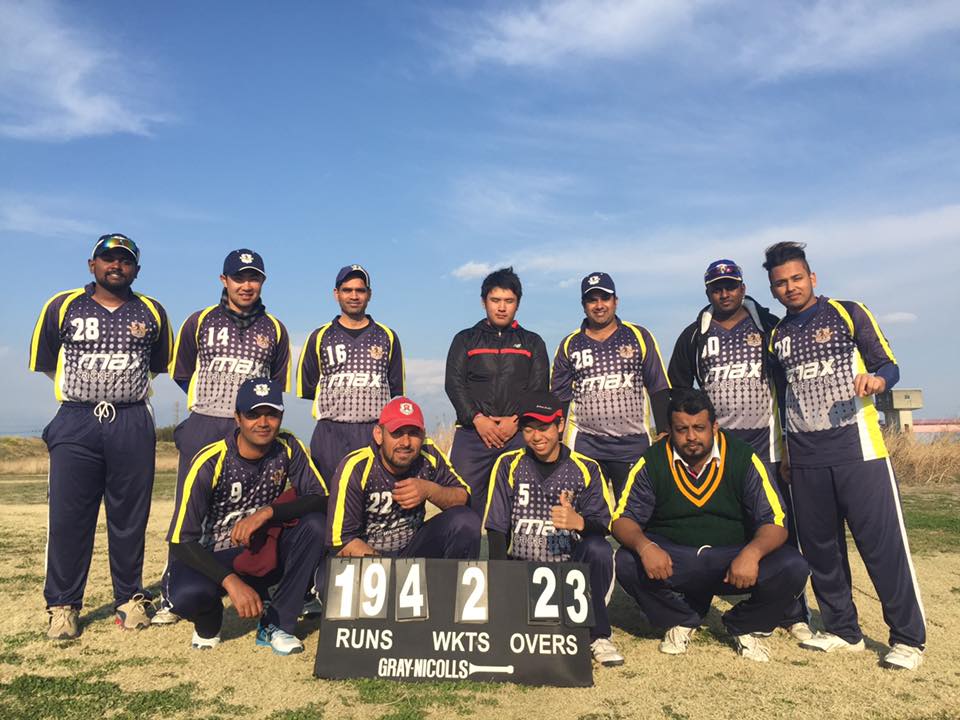 2017-04-03
One Short - Cricket Reports
Other news
Blog
The Japan Cricket League roared back into action last weekend with teams desperate to start on a strong note and set the standard for the season.
Sano CC registered the biggest win of Round One with a seven wicket destruction of the Tokyo Wombats, who last season were so quick out of the blocks.
Raj Pardan was the tormentor in chief as his leg-spin collected four wickets for just 12 runs as the Wombats managed a meagre 82 all out in 31 overs. Sano had little trouble knocking those runs off in 12.3 overs as Cathuta Aravinda guided the team home with an unbeaten 27*.
Two balls knocking over the stumps in succession for Alex Koolhof gave Wombats something to smile about, but the batsmen will need to come out of hibernation if they are going to live up to the standards set last year.
There were no such problems for the other pace-setters last year with both MAX CC and Chiba Sharks registering big wins.
Early season favourites and defending Champions MAX displayed their batting power with an eight wicket mauling of the Tigers thanks to a bruising century from Hanif Khan.
Batting first the Tigers did well to get to 190 all out having been struggling at 120/8 before Ashik Chowdury (41 from 20) and Imtiaz Khan (15* from 7) both partnered with Anil Kumar (22) to set a target that might have been defendable on a different day.
Wickets for spinners Makoto Taniyama (3/28) and Vinay Iyer (2/18) backed up the early good work by Kekeru Ebisui (2/18) before Khan took over the show.
Only 123 more were needed when Khan entered the fray at 68/2, yet he managed to strike 104* from just 46 balls with 11 sixes. No bowlers were spared and many others around the country will be hoping not to run into him in this mood.
The Sharks meanwhile, without four frontline bowlers, proved that experience of playing 40-over cricket counted for a lot as Alpha Quashers became Alpha Quashed.
The foundations of an 86-run victory were laid by the Sharks top order of Dhugal Bedingfield (77) and Dave Lollback (32) before Yosuke Higashimoto blasted 52* from 24 balls at the end to propel the total to 224/6; the highest of the round.
Devendra Dhaka with 3/27 was the pick for the Yokohama-based outfit, but none of their bowlers could match the display given by the Sharks young openers Rui Matsumura and Nozomi Tomizawa.
Dismissing four of the top five between them and having AQCC 23/4 in next to no time effectively killed the contest and, despite some battling at the end, a total of 138 all out in 33.3 overs will represent a disappointing start for the new boys, while the Sharks proved they have plenty of bite in store for all comers this season.
The final matchup of the round was between the two basement teams of 2016, Wyverns and Paddy Foleys; the latter without a league win since 2015. That run was finally ended, thanks in the main to the batting of Prashant Kale, who led them to victory by seven wickets.
Speaking after the match Tomoki Ota, Wyverns captain, lamented the inability to get rid of Kale early on and noted his ability to clear the boundary regularly is what proved the difference between the sides.
Round Two will take place over two weekends 15/16 and 22/23 of April and the tie of the round for sure will be Chiba Sharks up against MAX on Saturday 15th at Sano Ground 1.
*Please remember that if you have any good photos from matches we would love to see them and share them here on the blog, so just send them in to a-curr@cricket.or.jp (and he will pass them on to the mystery author of this blog) or get them up on your Facebook Pages.
**We would also love to have a Japanese version of our roundups so any budding writers out there keen to try their hand please do get in touch.