Chuo Take Double Crown at Champions Wicket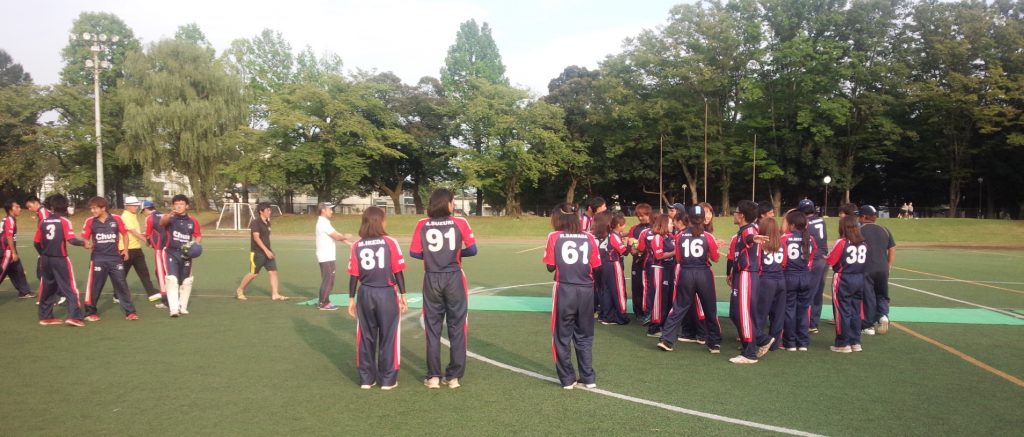 2016-09-30
Important news
Other news
News & Articles
For the second year in a row Chuo University have achieved the glorious Champions Wicket double at Akishima as firstly their Women overcame a gritty Waseda University and then the Men overcame a star-studded Shitennoji.
Women's Final
Chuo won the toss and batted and despite losing regular wickets were able to maintain a steady run rate throughout. Riding their luck with some aggressive running between wickets, Chuo did not let a couple of run outs deter them, compiling a competitive 117/9 off their 20 overs.
Chuo set about defending their total with some tight bowling and even tighter fielding. The Waseda girls never quite got going with the bat and despite a determined innings from Rio Endo fell 13 runs short, handing Chuo their first win of the day.
Could Shitennoji become the first team from Kansai to take out the Champions Wicket? They certainly had enough talent in their line up to do so.
Batting first Chuo were in early trouble when speedster Kohei Wakita removed big hitters Nozomi Tomizawa and Makoto Taniyama. However Ken Okoshi was able to capitalize on some loose bowling, hitting 16 boundaries on his way to a match-winning 85, Chuo racking up an imposing 150/6.
On the small ground Shitennoji gave themselves every chance of reeling in the total. Opener Shinya Yagura was forced off the ground early with a leg injury but number 3 Kohei Kotani asserted himself on the contest with five boundaries and a six on the way to 36. But when he departed his team began to collapse and it was left to Japan leg spin sensation Taniyama to finish off the innings with 5/15.