JCL Round 1: Japan Cricket League Commences With Sharks Double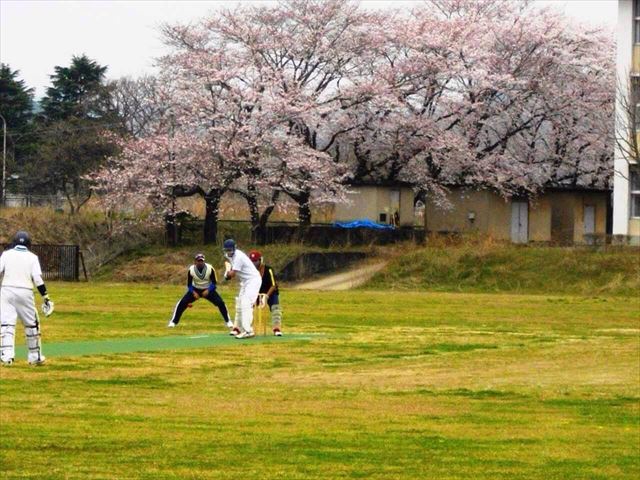 2016-04-05
One Short - Cricket Reports
Blog
The Japan Cricket League Division One and Division Two began on the first weekend in April with the sakura in full bloom.
It was the Chiba Sharks who had the most productive weekend with both their 1st XI and 2nd XI returning to home victorious with wins over Max CC and Wyverns respectively.
In the 14-run win over defending Champions Max CC it was Dhugal Bedingfield who ruined Makoto Taniyama's first match as captain with a 95-ball hundred and three wickets. He was ably supported by Paul Grant (4/41) and Varun Sanchetti (33).
Elsewhere in Division One the Tokyo Wombats prevailed by two wickets in a tight contest against Wyverns 1st XI. After a poor start, Tomoki Ota (51) and Kazuyuki Ogawa (39) steadied things enabling Wyverns to set a target of 210. The Wombats opening pair of Jarrad Shearer (67) and Alex Patmore (48) got their team off to a great start with 93 on the board before a late tumble of wickets set up a tight finale.
In the final match Sano CC registered a comfortable win over newly promoted Tigers, their 278/7 underpinned by a fine 111 from Rashid Rana and 64 from Chathura Aravinda while Tigers struggled to deal with the bowling of Prabath Sankalpa as his 6/15 helped dismiss the Tigers for just 125.
Division Two featured one match between the second XIs from Chiba and Wyverns, with Sharks two wins over the weekend in sharp contrast to Wyverns two defeats. Runs from Tsuyoshi Takada (39) helped the Sharks to a total of 221 in their 40 overs and ultimately a comfortable win by 44 runs as Wyverns were dismissed for 177 despite a battling 46* from Kensho Takahashi.
The next round of fixtures is due to be played in 16/17th April in Division One while Round One of Division Two will be completed this coming weekend.