JCL Round 2: Wombats Top Order Too Good For Paddy's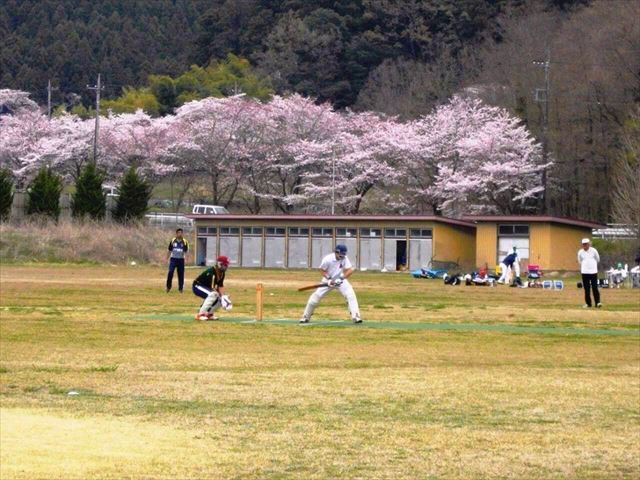 2016-04-21
One Short - Cricket Reports
Blog
In a low-scoring week of fixtures in the Japan Cricket League Division One, the Tokyo Wombats and Chiba Sharks both made it two wins from two while the Tigers grabbed their first win in the top tier.
For the second match in succession the Wombats had a huge opening stand to aid their charge as Alex Patmore (77) this time combined with Mick Lay (57) to put on 165. What remained of the 215 target set by Paddy Foley's in their first outing of the season was comfortably kocked off with seven wickets to spare. Paddy's were restricted in their efforts to set a testing score thanks to Vikram Ragunathan (4/43) and Raskia Ethugala (5/31) sharing nine wickets between them.
In a tense affair at Tanuma the Chiba Sharks inflicted a painful defeat on Sano Cricket Club, defending a score of just 125. Eight miserly overs from Tsuyoshi Takada (2/19) and captain Paul Grant grabbing 4/24 meant Sano fell 30 runs short of a second win in a row and the Sharks earn a Bonus Point.
Much like the Sharks, the Tigers were also able to defend a low score in beating Wyverns Cricket Club by 25 runs. The bowling performance of the week came from big-name transfer Raheel Kano as he grabbed 5/12 in his seven overs, but the batters were unable to back that up, slumping to 119 all out.
The next round of matches will take place over the coming two weekends as the Sharks aim to make it three wins from three against the winless Wyverns, the Tigers will clash with Paddy Foleys and MAX are back in action against Sano following their bye this week.
In Division Two the first round is now complete as Adore took Sano 2nd XI apart by 122 runs. Bhutto Umair led the assault and repeated his century against the same opposition last season in crashing 144 from 116 balls, ably assisted by Shinpei Hagiwara (94 from 67). Adore kept Sano to just 171 in response, 49 from Mai Yanagida, on debut for Sano, the only resistance.
In the final match Paddy Foley's 2nd XI were victorious against Tigers 2nd XI by a narrow margin of just eight runs. Defending 222 after runs from Fernando Wewalagamage (66) and Uddika Pradeep (44), it was the bowling of Pradeep (3/21) that enabled Paddys to fend off the Tigers despite 82* from Anil Kumar.
Round Two will also be played over the final two weekends of April.