JCL Round 6: Tigers Roar Shocks Wombats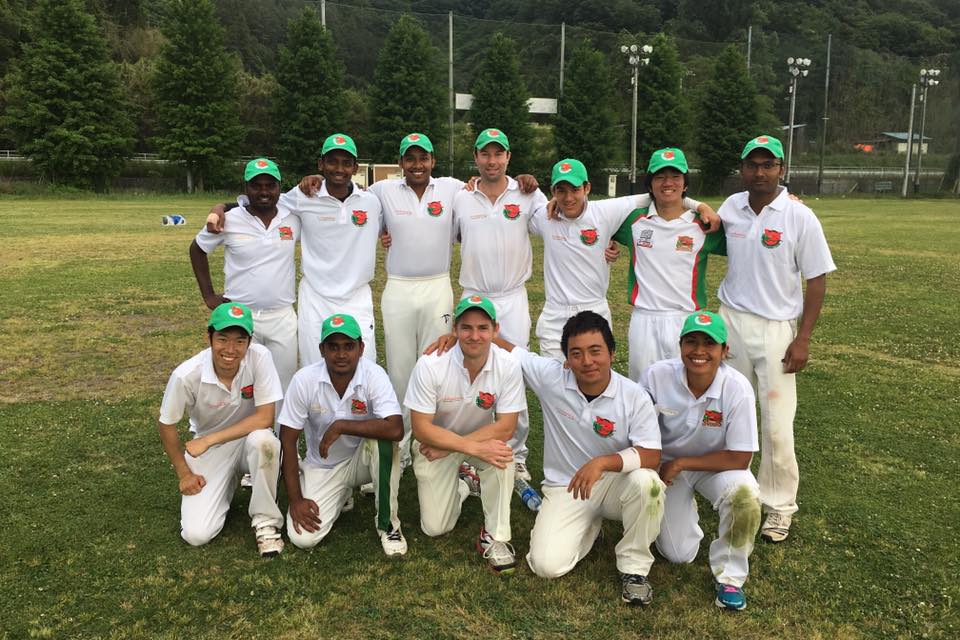 2016-05-24
One Short - Cricket Reports
Blog
Newly promoted Tigers Cricket Club pulled off the result of the season so far with a 64-run victory over Tokyo Wombats, to end their unbeaten start to the season.
Despite the defeat Wombats stay top of the league table, but were left stunned after a brilliant start at Fuji turned sour with some brutal hitting by Tigers lower order.
Batting first the Tigers slipped to 71-5 inside 15-overs, but were rescued initially by Ramamoorthy Balasubramanian, coming in at number seven to hit an enterprising 58 from 56 deliveries.
He was outdone however, by Divyanshu Srivastava whose unbeaten 54 from 35 lifted the Tigers to 258/7 from their 40 overs as they took 94 from the final 10.
In reply a rare failure from Alex Patmore meant that a significant score was needed from elsewhere. However a watchful 49 from Jarrad Shearer was as good as it got as Captain Ragesh Nair dismissed both openers on his way to season best figures of 4/29 and Wombats succumbed to 194 all out.
A third win from five matches puts the Tigers 4th in the table and this is a result that will make the rest of the league look at the newcomers a little differently from now on.
With Wombats dropping points the Chiba Sharks had an opportunity to make up ground after their defeat to the Tokyo-based club last week when they took on bottom of the table Paddy Foley's at the Sano International Cricket Ground.
In a match with freakishly similar scores to the contest at Fuji, the Sharks closed the gap on the top to just 0.5 points with a 64-run win of their own.
Wholesale changes at the top of the order worked a treat for Sharks who had 169 before the fall of their second wicket. Fresh opener Paul Grant (67) put on 123 with former Japan international Prashant Kale, who later became the second player this season to fall on 99.
A score of 257/8 was always going to be a challenge for Paddy's, who were short of two batsmen, but half centuries from two of their own top three kept things interesting.
Ali Raza (51) and Kamran Syed (58) were making a decent fist of things before Samoa Women's Captain Regina Lill'i broke the partnership and Tsuyoshi Takada proceeded to run riot with the lower order grabbing 4/40 as Paddy's folded for 193.
At Sano Three MAX Cricket Club continued their rejuvenation with a comfortable 121-run win over a depleted Wyverns. Although both teams were missing regulars who had inexplicably chosen to represent their University Team ahead of their Clubs, it was MAX who were least affected.
Former internationals Supun Nawarathna (50 from 35) and Hanif Khan (47 from 33) made light of the bowling to lead MAX to 228/8 from their 40 overs, only Raheel Kano causing any issues as he collected 4/52 from his eight overs.
The chase never came to life at Takuro Hagihara again restricted the top order with 2/15 while Vinay Iyer secured the win as he grabbed three of the last four wickets to go down and finish with 3/25 and secure his team a bonus point.
This weekend the JCL will take a well-earned break as the Japan Premier League launches across Kanto, but Round Seven promises much with the Sharks and Tigers clashing in Sano, Wombats and Max repeating the 2015 final, and strugglers Sano and Paddy's looking to improve their season.