Nepal Too Good In Premier Cup Semi-Final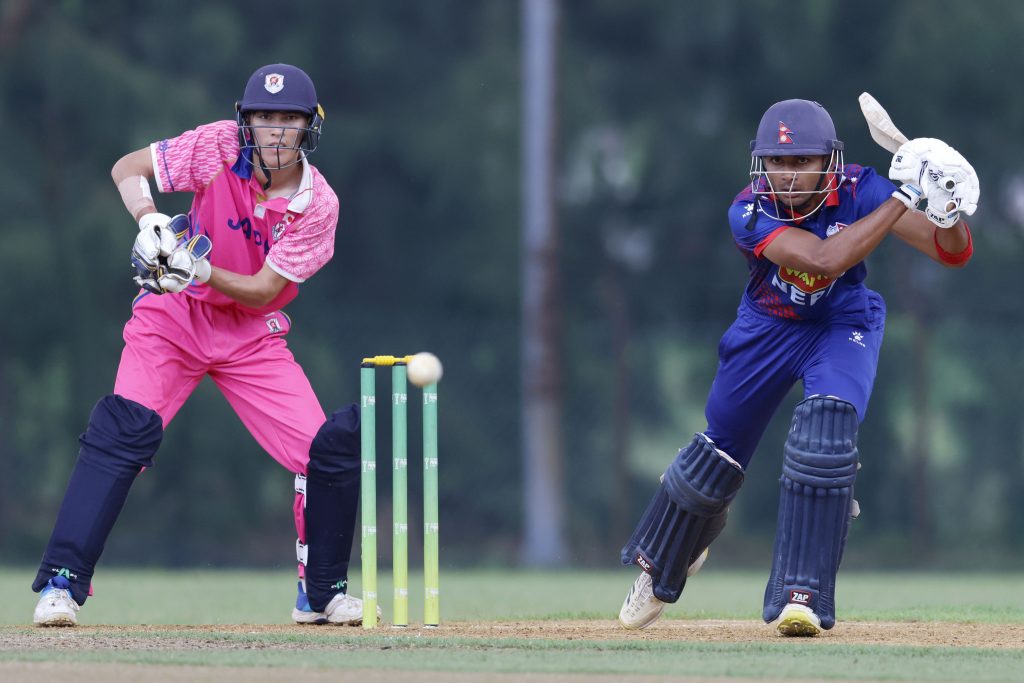 2023-10-21
News & Articles
National Team (Men U19)
The Men's Japan Under 19 Team will compete in the third place playoff at the ACC Premier Cup in Kuala Lumpur, after being second best to an excellent Nepal team in today's Semi-Final. 
After winning the toss and choosing to bowl, Kiefer Yamamoto-Lake removed Arjun Kumal, the leading run scorer for the tournament who had made 143 in his previous match, for just ten and Japan had things under control at 32 for one after eight overs. 
However Deepak Bohara batted excellently for his 79 before Kazuma Kato-Stafford had him caught behind in the 23rd over. Nepal continued on to 140 for two after 25 overs before a five-hour rain interruption changed the whole structure of the game.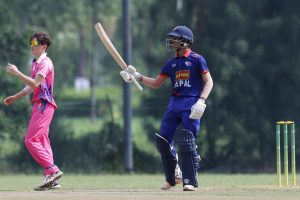 In keeping Nepal to around 5.5 runs per over Japan felt they were doing a decent job of containing the batters, but once the calculators came out to give a revised target of 187 ito win in just 22 overs, Japan had a tough task ahead of them. 
When play resumed around 4pm, Japan had no choice to attack from the start but lost a host of wickets early to Hemant Dhami (three for eight). 
Only Shotaro Hiratsuka (15) with a couple of sixes, and Kiefer Yamamoto-Lake (14) with a couple of fours, showed any real resistance as Japan ended 43 for nine with Rithvik Sivakumar unable to bat, meaning a win for Nepal by 143 runs.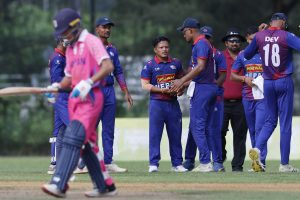 Speaking after the game coach Ardene Ruhode was quick to pay tribute to Nepal, while also ruing the circumstances that ended his teams eight match winning streak. He said: "Nepal are a quality team, our boys have actually enjoyed seeing players their own age be that good, so we congratulate them on making the Asia Cup."
He continued, "that said, we are disappointed we were not able to show the best version of ourselves today. The revised target of 8.5-per-over did not help us. This is a team picked to play 50-over cricket, so 187 in 22 overs was like asking a load of Rugby Union players to go and play League. It's a different game."
The team will now dust themselves down for one last shot at qualifying for the Asia Cup in the playoff against Singapore which will take place on Monday 23rd October. 
Singapore topped a group containing Kuwait, Maldives and Thailand and lost by ten wickets to the UAE in the other Semi-Final.
Remaining Fixture Schedule:
Saturday 21st October: Nepal vs Japan (10:30am JST)

Monday 23rd October: 3rd vs 4th (10:30am JST)

Tuesday 24th October: Final (10:30am JST)
Follow Live: