Captain Sparkles in Victory over Vanuatu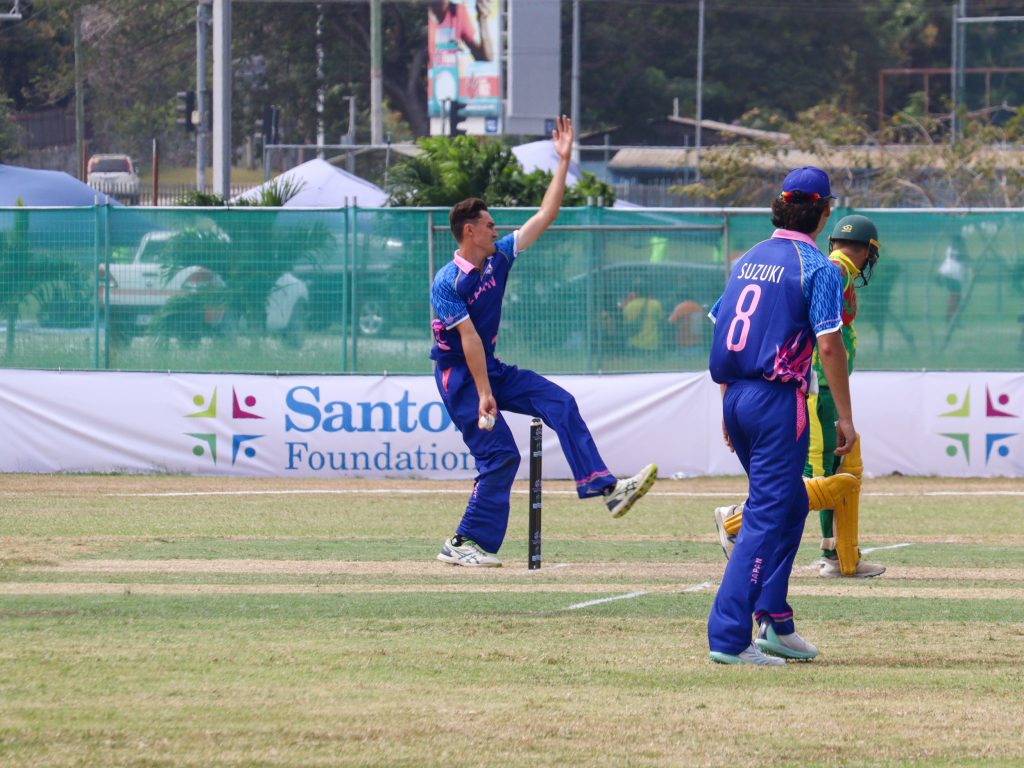 2023-07-23
National Team (Men)
Japan defeated Vanuatu for the first time in 15 years at Amini Park.
The win came thanks to explosive performances from captain Kendel Kadowaki-Fleming and fast bowler Ryan Drake.
After losing the toss, Japan were immediately in trouble as Vanuatu struck three times in the first 14 balls.
"It wasn't an ideal start", said Kadowaki-Fleming after the match. "We know we still have guys who can perform for us down the order, so there was no panic."
Ibrahim Takahashi (20) and Sabaorish Ravichandran (19) played the support roles in partnerships of 48 and 59 as Kadowaki-Fleming continued his form from the previous day with another inspiring half-century.
After becoming one of three victims for his opposite number, Patrick Matautaava, for 65 in the 18th over, the lower order for Japan succumbed to Nalin Nipiko who collected four for 17.
A total of 131 all out seemed a bit below par and would require good bowling if Japan were to win, something coach Dhugal Bedingfield told the press after the match.
He said: "The pitch seemed harder to bat on than yesterday so we had to reassess a little, and although we would have liked a few more we felt 131 was a defendable total."
Piyush Kumbhare took the first and last wickets to fall and ended with figures of two for 23, but it was Ryan Drake who really prised the game open for Japan.
In just his second game for his country, Drake bowled with pace and venom to trouble the batters and spark a collapse of four wickets for 12 runs in 19 balls as he finished with figures of three for 16 with all his victims top
order batters.
Japan was also aided by some fantastic catching, Makoto Taniyama leaping at cover and Declan's Suzuki springing one-handed at midwicket.
With Vanuatu 45 for five in the tenth over, Japan were well on top and just needed to maintain disciple to see the game off.
Reo Sakurano-Thomas and Takahashi provided that control and the good catching proving infectious as Japan ultimately kept Vanuatu to 110 for eight to earn a win by 21 runs and go two wins from two in the tournament.
A rest day is scheduled for Monday 24th July, so Japan will be back in action on Tuesday afternoon as they take on hosts and tournament favourites Papua New Guinea looking to make more history.