Under 19s Finish Second at World Cup Qualifier as Phenomenal Phadke Steals Show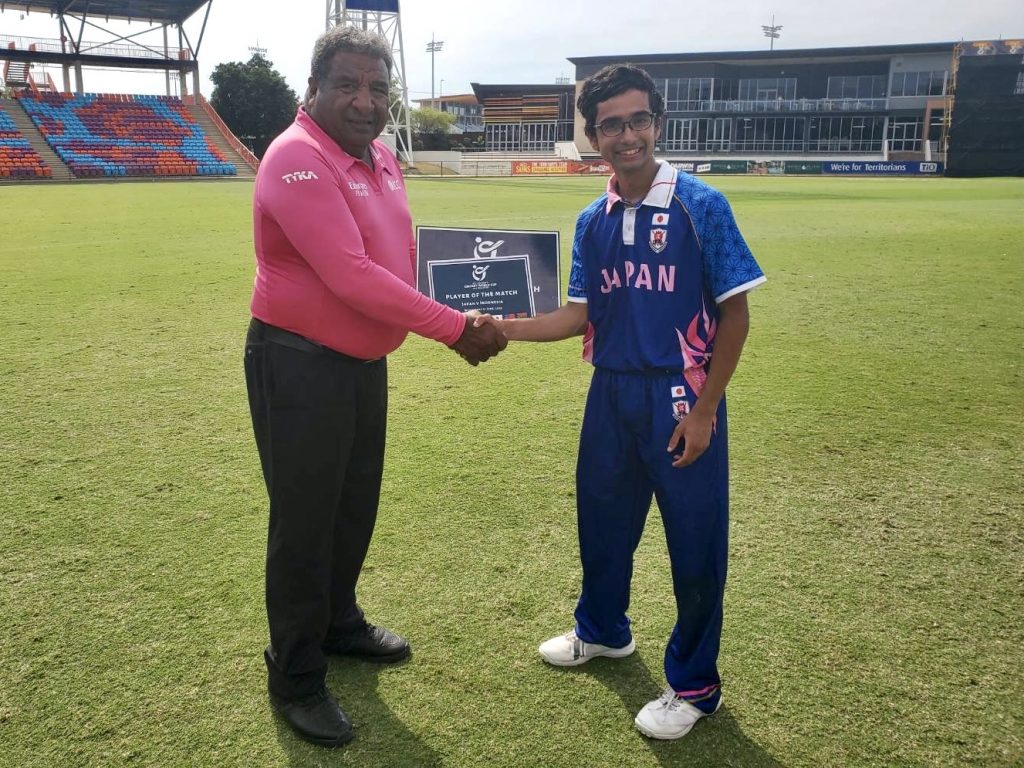 2023-06-21
National Team (Men U19)
Under 19s Finish Second at World Cup Qualifier as Phenomenal Phadke Steals Show
A hat-trick and 42 not out from Aditya Phadke ensured the Japan Men's Under 19 National Team won a fifth match in succession at the ICC Men's U19 Cricket World Cup East Asia Pacific Qualifier in Darwin to become the people's champions after New Zealand had taken the only spot available at the World Cup courtesy of winning all six of their matches.
Indonesia won the toss and chose to bat and made clear their intention to stay at the crease for as long as possible from the very start. It took excellent deliveries from the Japanese opening bowlers to break through the opening pair as both Kazuma Kato-Stafford and Kiefer Yamamoto-Lake took a wicket clean bowled.
Fabio Rayo was the pillar of the Indonesian batting, making 24 from 101 balls before Kato-Stafford pinned him in front with successive deliveries, the umpires' finger going up the second time, while Yamamoto-Lake also grabbed a second in his second spell.
It was, however, the off-spin of Phadke that would wreak havoc as he sparked a collapse from 80 for four to 94 all out. The chaos started in the 38th over, Phadke's second, as he clean bowled two batters and completed the hat-trick with an LBW that had him and his teammates leaping for joy. Never before has a Japan Under 19 player completed a hat-trick in an international match and his work was not finished yet, ultimately finishing with remarkable figures of four for four in 20 deliveries, and his batting was still to come.
Coach Ruhode opted to promote captain Koji Hardgrave-Abe to open in a move that failed to pay off as he unluckily deflected a pull shot onto his stumps. Phadke had entered at number three with Japan one down and only 11 runs on the board, and with the captain's dismissal, he dominated a 44-run partnership with Rithvik Sivakumar.
In the previous match against PNG, Phadke was not quite able to see his team home, dismissed with four still needed, but this time he kept calm and eased Japan home with seven wickets in hand and a huge 32.4 overs to spare.
Japan ended the tournament with heads held high, knowing that in a normal year, this would have been enough to secure a berth at the Under 19 World Cup. That they are not travelling to the Global Event next year is purely down to New Zealand's non-participation in the 2022 edition due to COVID-19 and the strict border restrictions that were in place at the time. However, the current team have rewritten the record books and provided plenty of inspiration for future generations and will now start planning for the Under 19 Division One contest in 2025 with the aim of making the next World Cup.