Japan Beat PNG for Fourth Win in Succession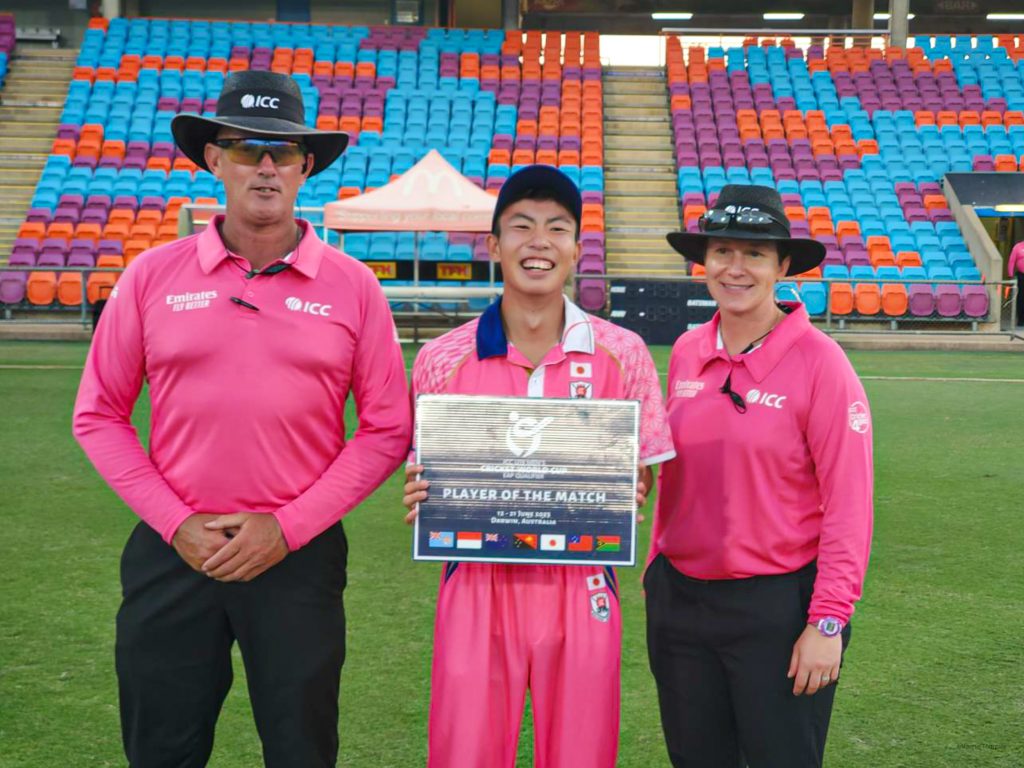 2023-06-19
National Team (Men U19)
History was made at the TIO Stadium in Darwin today, as Japan defeated Papua New Guinea in the ICC Men's U19 Cricket World Cup East Asia Pacific Qualifier.
As a rivalry that stretches back 16 years and, until now, has never yielded a win on the field for the Japan Mens or Under 19 teams; this result was a long time coming.
The win, by five wickets, was the Under 19s fourth in a row at the tournament, matching the achievement of the 2019 team, and was compiled with a minimum of fuss in a day/night game that was over before the lights reached full glare.
After winning the toss and batting, PNG were pegged back early as Kiefer Yamamoto-Lake notched his 13th victim of the tournament.
The dots started to mount up as Japan's close fielders refused to allow the batters to steal singles, but the odd boundary kept the score moving.
Yamamoto-Lake struck again in the 10th over, removing the dangerous Nelson Pate for 13 and suddenly wickets began to fall. From 37 for one PNG were 45 for four as Aarav Tiwari and Shotaro Hiratsuka both struck.
When Nikhil Pol dismissed both James Momo and the big hitting Dauncey Tom, Japan were flying with PNG 67 for six.
The tail wagged, but Hirotake Kakinuma struck twice in consecutive deliveries on his way to figures of three for nine before Yamamoto-Lake wrapped up the innings at 94 all out in the 30th over, and finished with three for 13.
The last wicket, clean bowled, took Yamamoto-Lake to 15 victims for the tournament and top of Japan Under 19s all time leading wicket taker list.
Needing 95 to win, Nikhil Pol stood tall to start, making a steady 24 despite the cheap dismissals of Nihar Parmar and Koji Hardgrave-Abe.
At 48 for three there were nerves among the Japan supporters, but Aditya Phadke and Shotaro Hiratsuka seemed totally calm as they put on 22 to carry Japan close to the target.
Hiratsuka edged behind with 25 still required, but Phadke held on until just four were needed before his resistance ended with a big heave trying to win the match. His crucial 27 was the top score of the day, and anchored what could have been a nervy chase.
A win with more than 17 overs to spare means Japan are now one win away from confirming second place for the tournament, which means a guaranteed place in Division One of the EAP Regional Qualifiers in the next two-year cycle as the ICC restructure the qualifying process for Under 19 World Cups.
View this post on Instagram
Earlier in the day New Zealand booked their place at the 2024 Under 19 World Cup by winning their final fixture to finish with a 100% record.
Japan will play their fifth and final match on Wednesday against Indonesia.