One Short – JCL Round 2 Report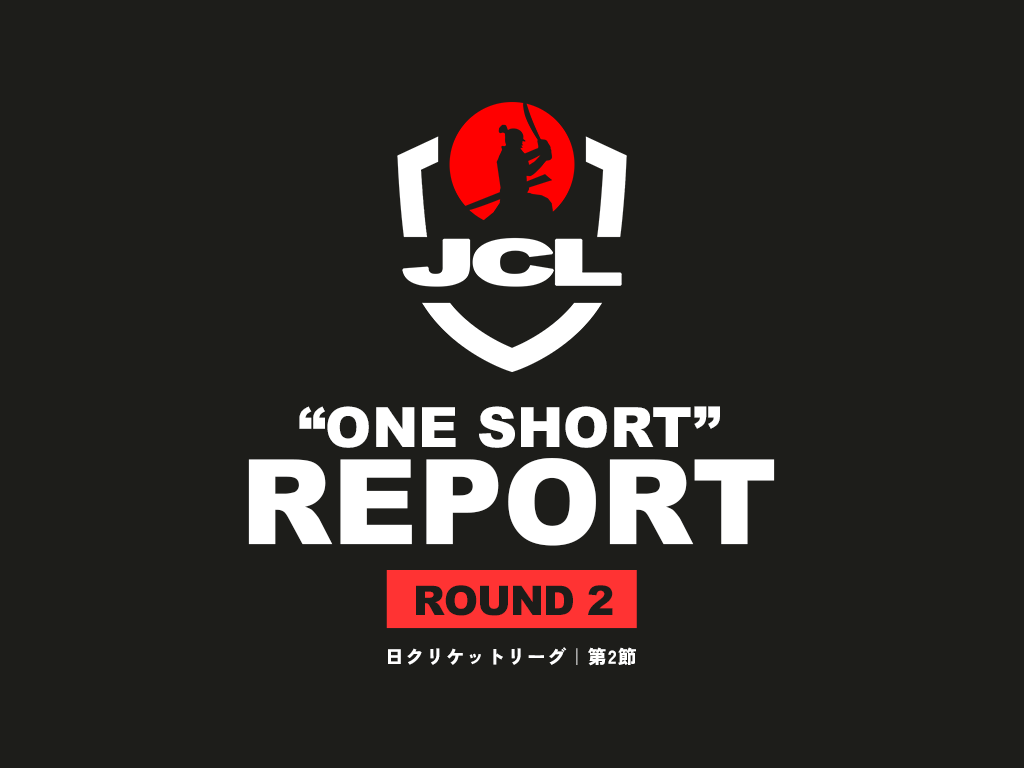 2023-05-19
One Short - Cricket Reports
Despite only three games being played in Round Two,  match-winning maiden JCL centuries were made by Wyverns' Wataru Miyauchi and Wombats' Muhammad Ali. Furthermore, a couple more five-fers as runs and wickets are plentiful early in the season.
The Wyverns won a nail-biter, handing the Tokyo Rangers' first-ever Division One league stage defeat. Against a strong Rangers bowling attack, Miyauchi anchored the innings, batting all 40 overs for a spectacular 115* at almost a run-a-ball. In spite of all the runs made, Rangers' bowler Milinda Sanjaya had success taking four wickets including a late innings hat-trick to restrict the Wyverns to 220 for seven. 
With the batting firepower that the Rangers contain, it was always going to be a hard total to defend. Opener Don Bhanuka set the tone for the chase scoring 80 including a 75-run partnership with Kasun Gamage (55). However, it was an all-round bowling effort, with  all six bowlers used among the wickets. In the end, it was the centurion Miyauchi, with a 10th wicket run out to secure an important win for the Wyverns by a tight 16-run margin.
The Wombats recorded a much-needed win on the back of a strong batting performance over the Alpha Quashers over the weekend. 
Alex Shirai-Patmore (60), as he always does, established the Wombats' innings but it was Muhammad Ali who was the hero, scoring his maiden century which included a 125-run partnership between the pair. Ali hit 18 boundaries on his way to 122 before he was dismissed by Mariaselvan Joseph, who took five for 35 in the only bright spot for the Quashers, as Wombats ended on 250 for seven from their 40 overs.
What started as a promising start, fell flat quickly as the Wombats bowlers kept striking before any Quashers' batters could turn starts into something more substantial. First-change bowler Yohan Alvis took the second five-wicket haul of the game, off just six overs, leading the Wombats to a 54-run victory.
With both teams coming out on top in Round One, Sano and the Men in Blue faced off in hopes of making it  two in two.
After Sano won the toss and chose to bat, it was Men In Blue who got off to a flyer, dismissing the young Hiratsuka brothers early. However, Koji Hardgrave-Abe and Reo Sakurano-Thomas prevented a  Sano collapse and fought back with a 54-run partnership. After Hardgrave-Abe fell for 45, Sakurano-Thomas continued his Round One form, scoring 58 to help his team to a total of 210 for nine. Akshay Hedge was the standout bowler and took figures of three for 37.
The Sano bowlers were on top from the off as the Men In Blue could not string any big partnerships together, despite starts from Sopan Shirdhonkar (24) and Abhipray Dewan (20). Sano's ruthless bowling lineup was too much, bowling MIB out for 124; Kohei Wakita coming to the fore with three for 36 as Sano start the season with consecutive wins.
Points Table: HERE