One Short – JCL Round 1 Report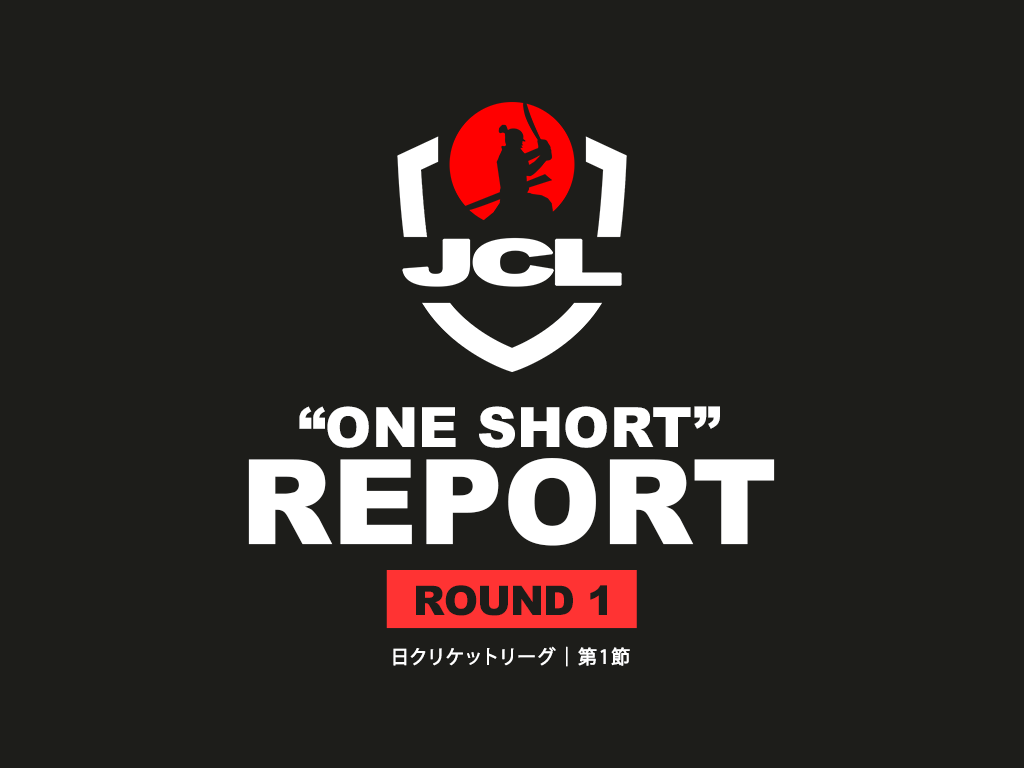 2023-04-13
One Short - Cricket Reports
It was the ultimate homecoming game from Makoto Taniyama as he led Max to victory in the opening round of 2023s JCL Division One.
After spending a season with Sano CC, Taniyama returned with a bang, scoring his maiden century in the JCL. Ending on 111, more runs than he made for Sano in the whole of 2022, Taniyama wasn't alone in the boundary hitting with Supun Navarathna scoring a quickfire 61 off 36 balls.
The pair combined for a 99-run partnership helping Max to a first innings total of 294/8. Despite the massive total, Rashidrafiq Rana found success with the ball taking four wickets for 61.
In what was going to be a tough chase,  Paddy Foleys' Khan Abdul Jabbar, fought and top scored with 53 for his side. But regular wickets took the game away from the Paddys and they were eventually bowled out for 177. Four of Max's bowlers took a pair of wickets to start the season off strongly with a win by 117 runs.
Sano vs Wyverns is always a tight contest and proved so yet again with Sano just edging their long-time rivals.
After an early wicket, Sano's Kazumasa Hiratsuka (43) and Reo Sakurano-Thomas (60) stabilised the innings, sharing a 107-run third-wicket partnership. Sano looked in a strong position at the midway point and a score of 250+ looked feasible, but the Wyverns pulled it back and both Hiratsuka and Sakurano-Thomas fell in quick succession. Kohei Kubota then tore through the lower-order batters claiming figures of five for 28 helping to bowl out Sano for 199.
Wyverns` powerhouse openers Wataru Miyauchi and Shogo Kimura started the innings very conservatively scoring just 33 after 14 overs. The breakthrough finally came in the 19th over when Kimura departed for 25 and six overs later, Miyauchi fell for 39 leaving the Wyverns needing 100 off 15 overs. Sano kept chipping away with regular wickets as they eventually won with 23 runs in credit as they dismissed the Wyverns for 176.
Sano's new fast bowler Zubair Khan, took the best figures of three for 34 helping his team get off to a great start and the match can still be viewed on the JCA YouTube Channel.
Last season's JCL Division One champions, the Tigers, made easy work of the Wombats picking up where they left off.
Wombats' strong top order scored a majority of the runs in the first innings led by star opening batter Alex Shirai-Patmore making 66. Tigers' bowlers were ruthless as they strangled the Wombats to 197/7 after 40. Last year's JCL MVP Sabaorish Ravichandran carried on his form taking four wickets for 26.
Despite a hiccup with an early wicket, the Tigers chased the total with ease in under 25 overs with eight wickets to spare. Opener Sachin Thakur made good early work scoring 60 with Anil Kumar alongside him with a not-out 65*. Off the back of a good bowling performance, Ravichandran finished the chase with a quickfire 47 of 17 to pick up a bonus point win for the Tigers.
The 2022 semi-finalists, Men In Blue, won their season opener against the Alpha Quashers Yokohama, but were made to work for what looked like being a regulation victory.
In the first innings, MIB bowled the Alpha Quashers out in just under 30 overs for just 101. Seventh bowling option Vishal Patel was the destroyer-in-chief, taking five for 20 leaving the Quashers needing a miracle to defend their total.
The Alpha Quashers bowled well to start at had MIB wobbling at 49 for five, but the pressure could not hold as the star of the first innings, Vishal Patel, scored 39* guided them home with five wickets to spare in just over 26 overs, adding a bonus point to their win.
Two teams who had disappointing 2022 seasons and wanting to start the season in a positive manner, battled in a close affair between the Rising Stars and the Chiba Sharks.
Batting first, Sharks' captain Dhugal Bedingfield couldn't repeat his round one magic, being dismissed cheaply as the team was in trouble early. Ibrahim Takahashi came to the Sharks' rescue as he steadied the innings building two 50+ run partnerships with Muneeb Siddique (19) and Hafis Mohammed (21). Takahashi himself made 69 helping his side reach a total of 197 after 40.
In a chaseable total, the Rising Stars had a nightmare start, losing three quick wickets within the first six overs. However, a game turning 129-run partnership for the fourth wicket between Mohammed Alagmir and Ashik Chowdhury turned the match back into their favour.
The Sharks never quit and punched back getting Alagmir (72) and Chowdhury (47) in quick succession and from there, they rolled through the rest of the order taking seven wickets for 22 runs to bowl the Rising Stars out for 169 and win by 28 runs.
This match can also still be seen on the JCA YouTube Channel.
Two of last season's semi-finalists, the Tokyo Rangers and Tokyo Falcons faced off in Round One in a high scoring game.
The Rangers batters took it to the Falcons early despite losing an early wicket, Kodikara Charith (60) and Chanaka Madhushanka (58) put on a 101 run third wicket partnership to get them off to a perfect start. When Madhushanka fell, number four Habib Ahmed continued the onslaught adding 54 of his own. Unfortunately, no one from the Rangers was able to capitalise on a really big score which prevented them making 300 as they finished 266/8 after 40.
The Falcons' chase started well as they reached 50 in the powerplay without loss. Last season's JCL top run scorer Safraz Petkar, made 50 but was dismissed immediately afterwards along with the Falcons hopes of victory.
The difference maker in the innings were the three run outs that killed the momentum as Rangers bowled the Falcons out for 216 earning themselves a 50-run win. Mudhushanka added a couple wickets to his 50 runs to claim MVP as well as the win for his Rangers who are still undefeated in the round robin stage of JCL Division One.
POINTS TABLE AFTER ROUND ONE: https://cricclubs.com/cricketorjp/viewPointsTable.do?league=424&clubId=21278