Japan Reach Regional Final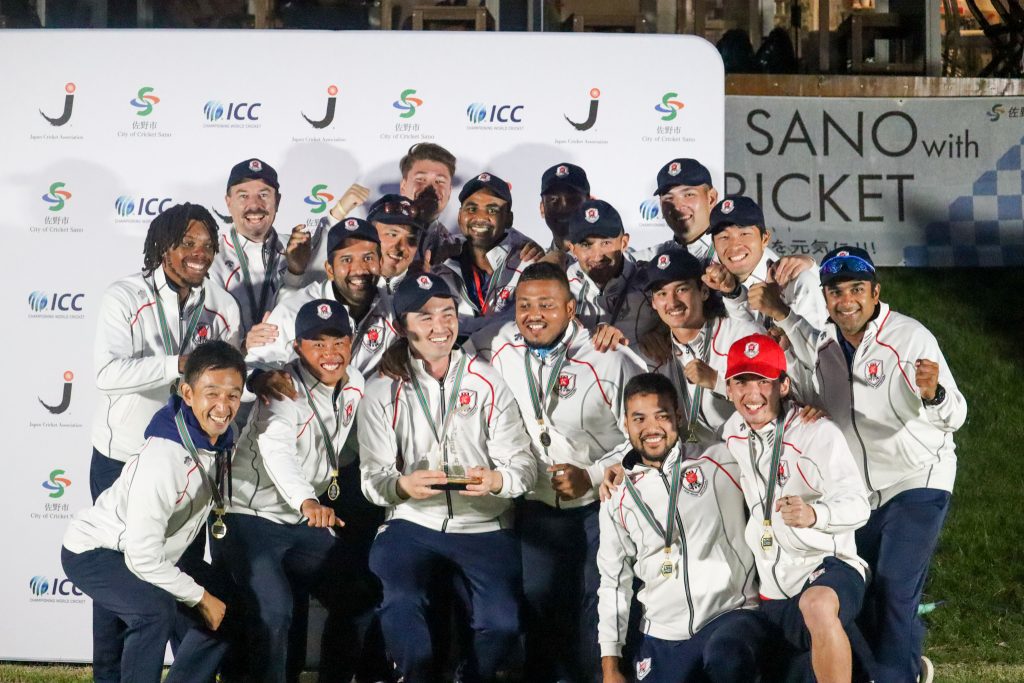 2022-10-18
News & Articles
National Team (Men)
The Japan Men's team have won their first ICC tournament in 15 years after finishing with three wins out of four in the ICC Men's T20 World Cup Sub Regional Qualifier. 
Despite slipping to a six-wicket loss to Indonesia on the final day, Japan had won by such big margins in the previous three matches that they could not be caught at the top of the table. 
Speaking after the tournament title was secured Head Coach Dhugal Bedingfield was already looking forward to the next steps. He said: "I'm excited to see how these players get on at the next level, we came here wanting to win the tournament and we've done that and learned a lot along the way."
Captain and winner of the Best Batter award Kendel Kadowaki-Fleming was equally upbeat during the closing ceremony when he spoke of how the team had come together as a group and how grateful he was for all the support from staff, volunteers, and everyone who attended the matches and supported through the online channels. 
Japan took home a clean sweep of the individual awards with Sabaorish Ravichandran named the Best Bowler thanks to his seven wickets, while Lachlan Yamamoto-Lake was chosen by the umpires as the tournaments Most Valuable Player due to his run scoring at the start of every innings. 
The JCA would also like to formally congratulate the team and thank everyone for their support during the last four days of competition. We will share details of the Regional Final, to be played against Papua New Guinea, Philippines and Vanuatu, some time in 2023.
Tournament Awards: 
Most Valuable Player: Lachlan Yamamoto-Lake (Japan): 109 Runs / Strike Rate 194.64
Best Batter: Kendel Kadowaki-Fleming: 179 Runs / Strike Rate 218.29
Best Bowler: Sabaorish Ravichandran: 7 Wickets / Economy Rate 5.25
Match Summary
Japan 103/10 (Kadowaki-Fleming: 31, Artawan 3/14)
Indonesia 104/4 (Priandana: 42)
Indonesia win by six wickets
Korea 98/6
Indonesia 99/7 (Priandana: 32, Lal 4/35, Nakash 3/8)
Indonesia win by three wickets