Report: Embassy Cup Day Two: India Embassy Retain Embassy Cup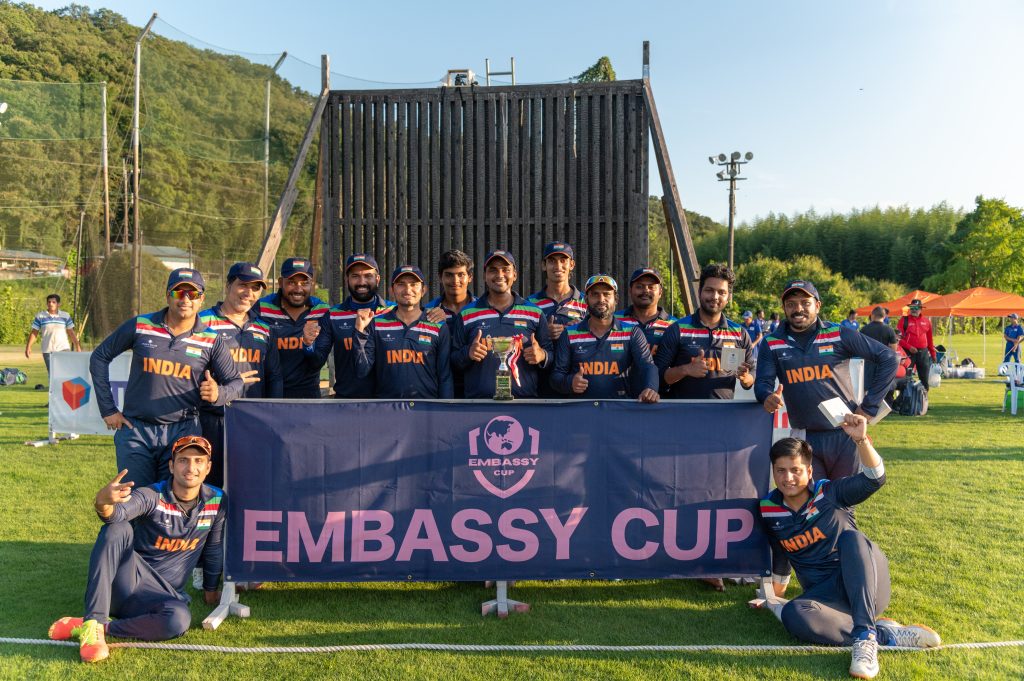 2022-09-11
News & Articles
Group A
India Embassy XI vs Pakistan Embassy XI
The India Embassy XI became the first team to retain the annual Embassy Cup tournament at the Sano International Cricket Ground, defeating the Pakistan Embassy XI by three wickets.
Amazingly this is the first time these two nations have competed against each other in the final and the disciplined bowling of the Indian side made the difference. Bowling first they restricted the Pakistan team to just 96 for six from their 20 overs with Saboarish Ravichandran giving very little away in taking one wicket for eight runs in his four overs, while Vivek Singh took three for 25 and broke through at crucial times.
Hanif Niazi was the only player in the Pakistan team who really got to grips with the pitch, making 36, but it was aggression of Sarfraz Petkar in striking 23 from 13 balls that gave the Indian chase the momentum it needed before captain Piyush Kumbhare and Gurman Singh steered the team to victory to spark huge celebrations and chants of "India, India" for some time afterwards.
Japan XI vs Sri Lanka Embassy XI
Don Bhanuka led the Sri Lanka Embassy XI to third place against a resolute Japan XI who can take some positives from a weekend on the turf wickets.
Bhanuka first top scored with 37 in a total of 110 for eight in difficult batting conditions, and then took three for 11 as his team bowled Japan all out for 76 to earn a win by 34 runs.
Kohei Kubota really stood up for the Japan team in taking three for 16 from his four overs, showing that a tall pacer can be just as effective on turning wickets if able to find the right line and length.
Group B
Australia and New Zealand XI vs Bangladesh Embassy XI
The ANZAC team was thrilled to win their first Group B title since the inaugural Embassy Cup in 2018 with five of the players who enjoyed that success still involved this time around.
This time it was a five-wicket win over a resolute Bangladesh Embassy XI who fought right to the end despite looking in real trouble midway through the second innings. Batting first the ANZACS restricted the team in green to 112 for six from their 20 overs with Robb Zloc taking two wickets and everyone keeping things tight.
The ANZACs then made a flying start as Dhugal Bedingfield (35) and Richard Bracefield set about the attack, and when Bedingfield retired hurt with the score on 74 after eight overs just 39 were needed from the last 12.
Rakibul Hasan Shumul stepped up however, spinning a web that earned him figures of two for eight in four overs, but it was not enough as Ashley Thurgate edged one past the 'keeper for the winning boundary with two balls to spare.
International XI vs Nepal XI
Nepal ended the weekend with something to smile about, despite being deposed as the reigning champions of Group B. A score of 95 for nine looked competitive on an uneven pitch and they had Upahar Raymajhi to thank for contributing 21 of those.
Shizuka Miyaji showed that accurate spin was going to be very effective in taking three for 12 from her four overs, but she was ultimately outbowled by Roshan Dangal and Ashish Shrestha who grabbed six wickets for 13 runs between them as Nepal bowled the International XI all out for 62 to win by 33 runs.