Round Two: Men In Blue Win Again and MAX Find Form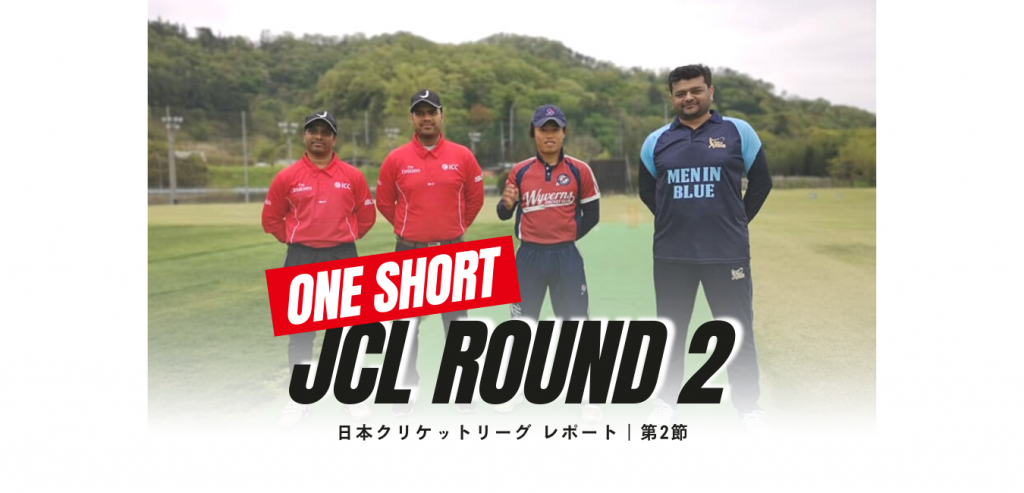 2022-04-20
One Short - Cricket Reports
It says much for the competitiveness of the JCL 1st Division that after two rounds just one team has a 100% record. 
The Men in Blue have a wealth of talent to choose from and there were contributions from almost everyone in their latest win, against a Wyverns team that came into the game on a high off the back of Shogo Kimura's Round One heroics. 
Wyverns made an excellent start as Kimura (33), Kawashima (34) and Miyauchi (51) all contributed before Buddika Nanayakkara smacked four sixes in his 32 to lift Wyverns to a competitive 216/9. Hitesh Akabari was miserly with one for 20 while Manav Natarajan played a key role in dismissing both Kimura and Kawashima.
Although Wyverns took regular wickets in the chase, the traditional fast start from Men In Blue meant that others could build partnerships, which they duly did as all eight pairs at least made double figures. 
Akabari (35*) and Natarajan (10*) were there at the end to complete good all round performances from them and a win by three wickets with 3.3 overs to spare which maintains the Men In Blue spot at the top of the table. 

There was a welcome return to form for MAX CC, who put a spear into the Sharks early season momentum with a comfortable eight wicket win to ignite their season. 
The MAX bowlers had a day out as all six of them picked up wickets, and only Ashley Thurgate with 23*provided any substantial resistance. Vinay Iyer and Prabath Dhanushka then made 44* and 43* respectively to ease MAX to a bonus point win. 
Another team to bounceback was the newly promoted Paddy Foleys who overcame a spirited Wombats side who were indebted to a mammoth innings from Alex Shirai-Patmore. Facing 139 balls in a 40-over match is an achievement in itself, and Shirai-Patmore's career best 122 was well supported by 38 from Richie Bracefield and 46 from Muhammad Ali. 
A total of 248/5 would need some chasing and after losing both openers early things did not look great for Paddy Foleys. Enter Rashid Rana (50) and Ullah Zahid (79*) broke the back of the chase leading to a win by three wickets with 3.3 overs to spare…exactly the same as the MIB match, which is weird. 
View this post on Instagram
Yet another team who righted wrongs from Round One was Sano Cricket Club who toppled the Tokyo Falcons. A 58-run partnership between Reo Sakurano-Thomas (41) and Shu Noguchi (25) gave a good platform for Sota Wada (31) and Kazumasa Hiratsuka (48*) to push the total on in the last ten overs, finishing 194/6 which looked around par. 
At 53/2 in the chase the game looked set for a tight finish before the Sano change bowlers, Shotarou Hiratsuka (three for 17) and Reiji Suto (three for 14), completely tore through the Falcons middle order, taking five wickets for five runs in 4.2 overs. 
That changed the game completely and Sano eventually wrapped up the win by 79 runs in the 31st over to earn a welcome bonus point and lift spirits after the dreadful end to 2021 had been followed by a bad loss in Round One. 
We are two rounds in now, and the points table is as it stands below.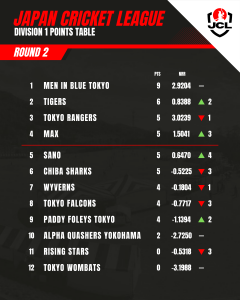 Division One takes a bit of a break for the next few weekends, but is back on the 7th May. In the meantime be sure to subscribe to the JCA YouTube Channel to catch all the action from the Futures League (April 23rd & 24th) and Japan Premier League (April 29th – May 1st).