One Short: 2022 JCL Season Preview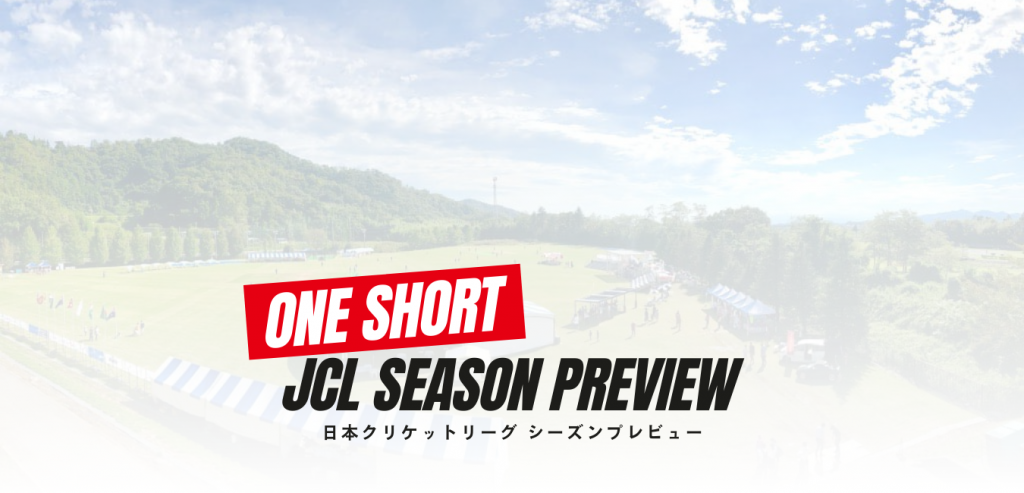 2022-04-01
One Short - Cricket Reports
The Japan Cricket League season 2022 starts this Saturday and the One Short crew are scrambling to get our roving reporters ready to bring you comment on every match that takes place in Division One. 
No time to waste, here's our preview with a massive TWELVE (12) teams competing in the top flight this year. The predictions are not to be taken too seriously, we have only managed to get one right per season for as long as we can remember. 
Here we are, in order of where they finished in 2021.
View this post on Instagram
Chiba Sharks
The 2021 Champions caught everyone by surprise with a strong finish after an iffy start helped them secure 4th place in the final weekend. However the confidence and experience from that run of great results mean they should be well set up this year. The big questions revolve around their youngsters; Can Muneeb Siddique deliver on early promise? Will Ibby Takahashi maintain his form of 2021? And can Marcus Thurgate kick on from that maiden JCL century last season? Plenty of good players, should make finals again. 
Prediction: 3rd
Tokyo Falcons
Runners Up in 2021 both in the league and the grand final. A team with lots of depth and plenty of firepower from the bat of Sarfraz Petkar. He got them out of jail a few times last year so they will be looking for others to contribute a bit more regularly, while Abhi Telang will continue to lead the line with the ball. Expect another run at finals, and still a chance of going all the way. 
Predictions: 2nd
MAX Cricket Club
Unbeaten until the semi finals last year, only to come unstuck quite spectacularly against the Sharks. It remains to be seen how big a loss Makoto Taniyama is, with bat and ball, but MAX have always recruited well and still have a batting line up the envy of every team in the league. Vinay Iyer will likely keep churning out runs while Supun Nawarathna will provide the fireworks. The bowling will be most affected by the loss of Taniyama, but they should get enough runs to win enough games for finals. 
Prediction: 1st
Tigers Cricket Club
A disappointing season for the Tigers as they tried to defend their maiden title won in 2020, yet they still finished 4th. Expect bigger returns from Sabaorish Ravichandran after a rare off season in the JCL, he and Anil Kumar (the only batter to score more than 150 runs for the season) will need more support if their strong bowling line up are going to have a chance. 
Prediction: 5th
Men In Blue
Started well, faded, finished strong – it was an up and down and back up again year for MIB in 2021, but having won JCL titles in Division Two and Three there is a feel good factor around Japan's biggest club. The ended the season in fifth place last year but never really looked like making finals. If they can get Naveen Negi and Vivek Singh out on the park a bit more often, playing finals for the first time in their history is a real possibility. Abhi Dewan remains the leading man with the bat, but needs to improve on a high score of 62 last season if he is going to become a player that bowlers fear. 
Prediction: 4th
View this post on Instagram
Tokyo Wombats
The Wombats possess the most formidable opening pair in Japan in Alex Patmore and Richie Bracefield who scored a phenomenal near 900 runs between them last year (that's the same as MIB's leading eight run scorers combined). Will Patmore average a hundred again? Will he play the full season now he has relinquished the captaincy? How much will they miss Chelsea Moscript's 14 wickets? No team puts more egg on the One Short faces than the Tokyo Wombats, but we suspect they like it that way. 
Prediction: 9th 
Alpha Quashers Yokohama
Another team that found 2021 a tough one to navigate as they struggled to come to terms with the departures of Vinay Iyer and Karthik Vellingiri whose runs took them to the brink of the title in 2020. In Rohit Kesari they have a classy run scorer who should be at the forefront again, while Gurman Singh and Raman Tanwar will keep on delivering what we know they can with bat and ball. Another big club with plenty of players to choose from, and in Aditya Phadke they have one of the most exciting young talents in the land, but they will need to unearth a few more gems if they are going to return to finals. 
Prediction: 8th 
Wyverns
Kohei Kubota and Tomonoshin Oki, Japan Cricket's Little and Large, took a mighty impressive 40 wickets between them last year. That it wasn't enough to take them to finals says little about the batting which, on paper at least, looks very strong. Wataru Miyauchi was wasted down the order while Shogo Kimura needs to bring his Japan Cup strike rate to the JCL if Wyverns are going to push for finals. Raheel Kano has spent his winter in the gym, much will depend on him getting big runs if they are going to break into the top four. 
Prediction: 6th
View this post on Instagram
Rising Stars
A season of progress for the Rising Stars who registered their first win in Division One and shocked the defending champions as well. Although Finals looks beyond them, there are plenty of dangerous players with the bat, especially Ashik Chowdhury and Udaibus Sayeed, while Arman Buyian and Abu Hasnat will trouble teams with the ball. Will need others to step up if they are to stay away from the foot of the table however. 
Prediction: 11th
Sano Cricket Club
Sano endured a torrid time in 2021 as their much vaunted return to the top division hit multiple roadblocks. The bowling looked threadbare even on a good day but the acquisition of Makoto Taniyama is probably the biggest news of the off season. His runs will also help fill the void left by the departure of Musashi Yamamoto, who can now be found swinging golf clubs in Okinawa, while the return of the prodigal son, Kazumasa Hiratsuka to play alongside his brother Shotaro is exciting news. Other useful additions are also in the mix and could see Sano make a play for Finals.
Prediction: 7th
Paddy Foleys
Another returning giant who were JCL Champions as recently as 2014, the Paddy Foleys went through 2021 unbeaten up until the semi final where their luck ran out. An ageing unit, they prefer to hit boundaries than scamper singles and that may get the better of them against the stronger bowlers and better fielders in Division One. Vishal Patel was their star with the ball in 2021 while Salman Khawaja will be a danger with both bat and ball. 
Prediction: 12th
Tokyo Rangers
The new kids at the party, the Tokyo Rangers have been recruiting well since joining the JCL and have plenty of players who have performed well in T20 cricket over the last few years. Malith Neranjan belongs in Division One and will be worth watching with both bat and ball, while Umair Bhutto can also take attacks apart on his day. Milinda took a remarkable seven for 16 in the Division Two Final, which the Rangers lost, but looks well equipped to trouble a few teams in the top flight this year. 
Prediction: 10th