JCL Restart Round Two: Double Win Gives Wyverns Play-Off Hope
2021-10-27
One Short - Cricket Reports
What was looking like a disastrous season for Wyverns Cricket Club was turned around last weekend with two close, hard fought victories that turned them from relegation threatened to play-off outsiders. 
On Saturday on SICG Two against the Chiba Sharks it was two former-national squad players who set them up as Shogo Kimura more than doubled his run tally for the season with a well structured 73 in partnership with Raheel Kano, whose 62 was his fourth half-century of the competition. 
A total of 231/7 (Neel Date three for 42 for the Sharks) looked around average before the Sharks openers got off to a flyer. Marcus Thurgate (49) and Dhugal Bedingfield (32) out on 83 for the first wicket and Ibrahim Takahashi added a rapid 38 to have the Sharks coasting at 156/2 in the 24th over, before things turned dramatically. 
A phenomenal spell of 3.4 overs, five wickets for three runs by Kohei Kubota stunned the Sharks and turned the game on it's head as Wyverns took the last six wickets for just 11 runs to bowl the Sharks all out for 209 in 37.4 overs and win by 21 runs. 
Buoyed by that stunning victory, Wyverns backed it up the very next day with another nervy win, this time against Sano CC. 
Kubota made an impact in his second over, dismissing the dangerous Musashi Yamamoto without scoring, but Noboru Asanaka was already doing the damage on his way to three for 24. Bebe Miyaji provided some resistance with a measured 42 to lift Sano to 136 all out, as Tomoki Ota grabbed three for 21 to wrap up the innings. 
Sano made Wyverns work in the chase, Shotaro Hiratsuka striking twice to reduce Wyverns to 45/4 but captain Wataru Miyauchi anchored the innings with 47* to see his side home with three wickets in hand. 
That defeat completed a disastrous weekend for Sano CC which left them anchored at the foot of the table. After collapsing early against the Tokyo Wombats, Miyaji set up his good weekend with the bat by making 67*, his highest score in the division since 2015. His partnership of 124 for the 6th wicket with Pradeep Roshan (70) reduced Sano as they ended 241/7. 
Tokyo Wombats are blessed with the strongest opening partnership in the league, and they proved it by adding 196 for the first wicket to all but end the contest. Alex Patmore (67) is averaging 106.4 this season, but it was Richie Bracefield who stole the show as he smoked his first JCL century off just 83 deliveries. 
Bracefeild was eventually dismissed for 129, Wombats had already done enough to get home with three overs and eight wickets remaining. A fine way for Wombats to complete their league season with a comfortable mid-table finish; the same cannot be said for struggling Sano however. 
That was not the only century of the Round, as Tokyo Falcons took a giant stride towards the Semi-Finals thanks to an inspired knock by Sarfraz Petkar. Alpha Quashers had totalled 190/9 in their 40 overs, thanks to 60 by Rohit Kesari, and looked in control when they reduced Falcons to 85/6 in the 16th over. 
However, Petkar only knows one way to bat and his first JCL century, from 60 balls, was brought up with back-to-back sixes. He added 91 in 13.4 overs with Sameep Dewar (21) and Falcons crept home by two wickets with seven overs remaining to make them favourites to reach the playoffs in second place behind MAX CC. The Quashers however, have Sano to thank for keeping them off the foot of the table, a far cry from the 2020 Grand Final.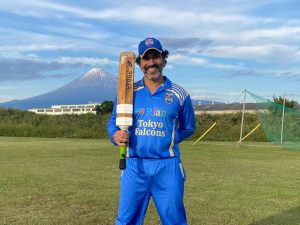 In the last game of the round the Men in Blue went some way to rescuing their season with a six wicket win over the Rising Stars who they dismissed for 160 despite 52 from Ashik Chowdhury; Deepak Singh the pick of the bowlers with three for 18.
MIB were off to a flying start at Naveen Negi whacked 38 from 26 balls before Abhipray Dewan took up the batton to steer his team home by six wickets with a run-a-ball 61*.
Thanks as always to the JCL Umpire Panel: 
Sano CC vs Tokyo Wombats: Shailaj Lal & Sagar Kamble

Wyverns CC  vs Chiba Sharks: Dev Mishra & Amit Phadke

Men In Blue vs Rising Stars: Chris Thurgate & Mumtaz Alam

Wyverns CC vs Sano CC: Natarajan Dhakshinamoorthy & Shrikanth Durairaj

Tokyo Falcons vs Alpha Quashers Yokohama: Darshak Bhuptani & Kris Bayne