JCL Round Nine (Part 1): Hundred, Hundred, Hundred!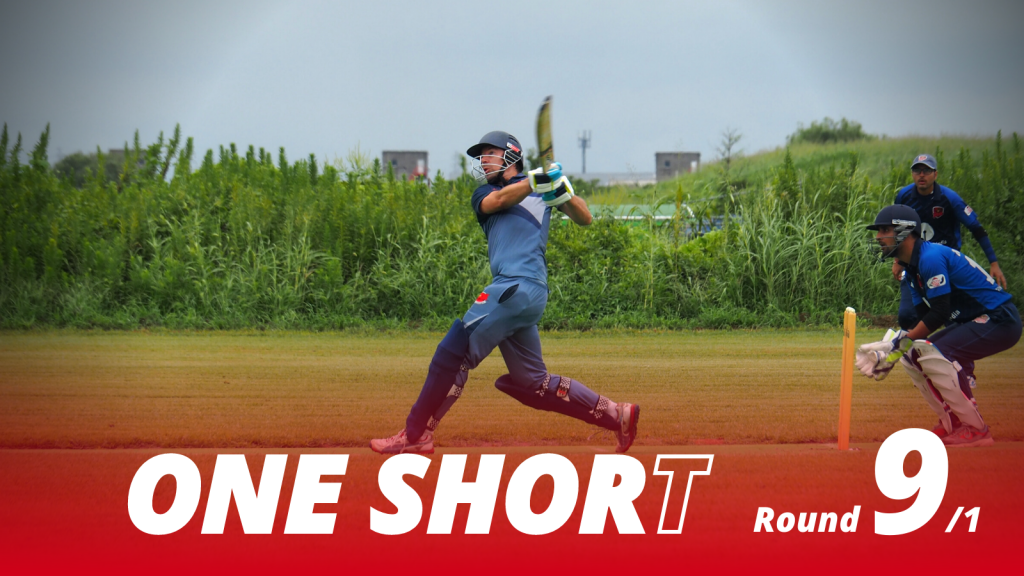 2021-08-25
One Short - Cricket Reports
Changing circumstances may have interrupted Round Nine halfway through, but there was enough action in the matches that did take place to fill us up for quite some time! 
Two Japanese players scored their first Division One hundreds, while there were two other sublime innings in run chases. THe number of centurions in this season's Division One was doubled in a single weekend. 
The SICG One field had three of those centuries scored across two days with the contest between Sano CC and MAX CC providing incredible entertainment. Batting first Sano made a solid start thanks to 51 from veteran Mohammad Rizwan, but the fireworks started when Musashi Yamamoto came to the crease. 
Fresh from his Japan Premier League century in his last outing on the same field, the burly former baseballer took aim at anything loose as he dominated a 139-run partnership with Shotaro Hiratsuka, in which the latter contributed just 16. 
Yamamoto hammered the bowlers to all parts, hitting 14 sixes on his way to a 58-ball hundred, four of those coming in the over he reached the landmark, before eventually being dismissed for 136 off just 71 balls. That display lifted Sano to 266 all out off the last ball of the 40 overs. 
Chasing 200+ is no easy task in Japan, especially in August when the heat at its energy-sapping wors (just ask the Olympians); however, MAX have long boasted the most powerful batting line up in the Division for some time, and in Vinay Iyer they possess the form player of the season. 
Iyer went about building a score while the bigger hitters around him brought the required rate down. First Supun Nawarathna (58 off 32 with eight sixes) and then Hanif Niazi (26 off 18) came and went, all the while Iyer moved serenely on, reaching fifty off 80 balls before accelerating to reach his hundred off 106. 
Ultimately Iyer proved uncontainable for the Sano bowlers, his 137* thought to be the highest score in a successful run chase in JCL history (unconfirmed!), and a personal best for him in a season full of outstanding performances. MAX winners by six wickets with eight balls to spare and looking like they can win from anywhere, while Sano remain at the wrong end of the table. 
Both Iyer and Yamamoto enter the top ten highest scores ever in the Japan Cricket League Division One in what must be one of the league's highest scoring matches. 
The previous day, on the same ground, another young Japanese player began repaying some of the faith shown in him by the Chiba Sharks with his first top flight century. Marcus Thurgate only registered his maiden half century late last season but went one better against Tigers CC who themselves are having a surprising mid-season wobble. 
Opening with veteran Dhugal Bedingfield, who compiled an assured 84 in an opening partnership of 159, Thurgate was the aggressor and reached 50 off 54 balls before bashing his way to a hundred off 92 balls, going 4,4,6 off Abhijith Sash to avoid any "nervous nineties" moments.
That opening stand set the Sharks up to post 282/6 from their 40 overs, Piyush Kumbhare taking three for 52 for Tigers, a tall order for the Tigers and the chase followed a similar pattern to their previous match. 
The defeat to Tokyo Falcons featured a duck for talisman Sabaorish Ravichandran, and resistance from Anil Kumar and history repeated itself when the Tigers captain was pinned in front second ball by Neel Date and despite a defiant 53 from Kumar, the Sharks took all ten Tigers wickets for 160 to wrap up a 122-run win and give themselves a great chance at making the play-offs.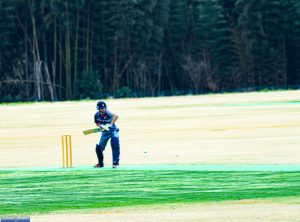 The lowest individual score of these four outstanding knocks was arguably the most impressive. April Player of the Month Alex Patmore anchored his team, the Tokyo Wombats, to victory with 97 not out against the Tokyo Falcons, who were themselves riding high after ending the Tigers winning run. 
Batting first the Falcons were themselves well anchored by Ankit Chawla (52) before Sameep Dawar made a rapid 33 to boost the total to 253 all out with two balls remaining. 
Patmore, having kept wicket for 39.4 overs, then opened the batting and shared another mightily impressive opening partnership, this one worth 122 in 17 overs with Richie Bracefield (81 off 61).
Patmore ploughed on, hitting eight boundaries and doing an awful lot of running, and was grateful to 25 not out off 15 balls from Owen Morris to take the Wombats to victory by seven wickets with an over and one ball to spare. Despite being stranded on 97* Patmore was undoubtedly more concerned with winning the game than the personal milestone. His work was not yet done however, as he then drove several of his teammates back to Tokyo.
Those wins move the Sharks and Wombats into 3rd and 4th respectively, although the top three have all played at least one game more than everyone else and with matches being further delayed, we may be in for a torturous wait to see how this season pans out. 
Thanks as ever goes to the umpires for the round: 
Chiba Sharks vs Tigers CC: Shrikanth Durairaj & Mihindu Perera
Tokyo Falcons vs Tokyo Wombats: Chris Thurgate & Raja Nagarajan
MAX CC vs Sano CC: Rob Newman & Jason Fouracres