New Office and Tea Room Officially Opened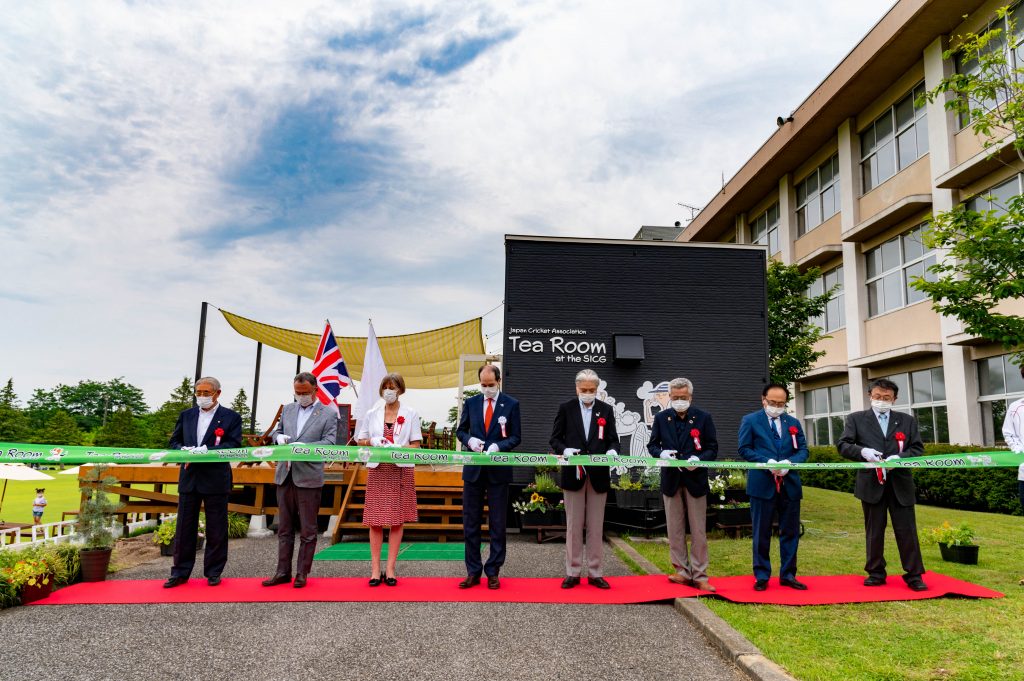 2021-06-28
Important news
News & Articles
We were delighted to open our new office and the Tea Room was officially opened on Saturday the 26th of June at the Sano International Cricket Ground.
The opening ceremony was attended by around 40 guests including the British Ambassador H.E. Julia Longbottom, the Tochigi Governor Mr Tomikazu Fukuda, and the Sano Mayor Mr Yutaka Kaneko. The ribbon was cut by guests to mark the opening of the facility, following the signing of our Tea Partner agreement with Mitsui Norin.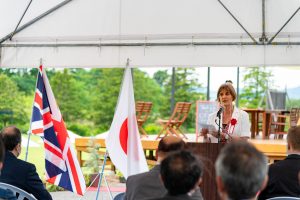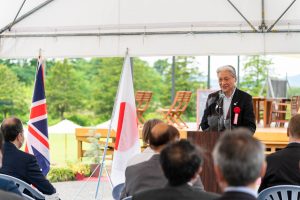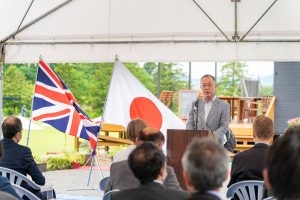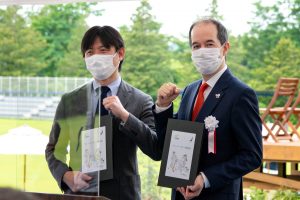 The guests enjoyed tea in the relaxing environment with a Cricket match being played on ground.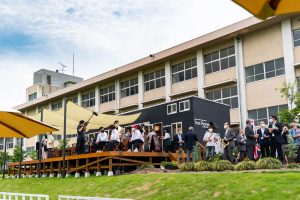 We would like to thank the Sano Chamber of Commerce and Industry for their support to build the large wooden deck which is a great place to enjoy "Cricket with Tea". We would also like to thank Nippon Plaster for their support in furbishing the inner walls of the office/tea room with "Umakunureru", a DIY plaster product.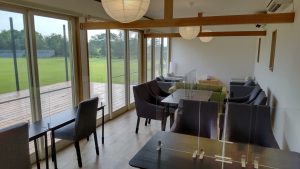 Guests enjoyed the iced tea provided by Mitsui Norin, scones baked by Bakery UnUn using the local brewery, Daiichi Shuzo's Amazake, and the vegan "Sano Muffin" developed by high school students at the local Sano Shouou High School.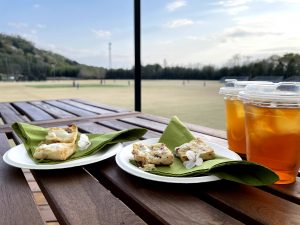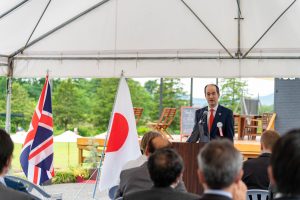 The JCA Chair, Anthony Tatsuya Aram said, "I would like to thank the invaluable support we received in opening our new office and the Tea Room. The JCA's office is not only the head quarters of the sport in Japan but also acts as the bridge with the global Cricket community. The Sano International Cricket Ground ground attracts people from the local community as well as from around the country and beyond. Activities which are enjoyed at the ground range from Cricket to other sporting activities such as ground golf, junior football, running, fitness, school sport days, as well as other pastimes such as picnics, drone training, small scale markets, and outdoor cinemas. We'd like to see more people enjoying a rich and healthy sport friendly lifestyle through Cricket and Tea which has also had a special place with the sport. We hope that, by opening our doors to the wider community as a tea room, we will attract a unique community that brings different people from different backgrounds together and creates new opportunities for all."
<Opening Hours of the Tea Room>
Monday, Wednesday, Thursday: 10:00-16:00 (Last Orders)
Saturday, Sunday, National Holidays: 10:00-18:00 (Last Orders)
Closed: Tuesday, Friday
*We may be able to accommodate reservations outside the above opening hours, so please contact us for any reservations.
<Opening Hours of the JCA Office>
Monday – Friday: 09:00-17:30
*Staff may not always be present due to Cricket activities outside of the office. Please leave us a message here if we are not able to attend to you.