Round Four: MAX Give Reminder of Title Ambitions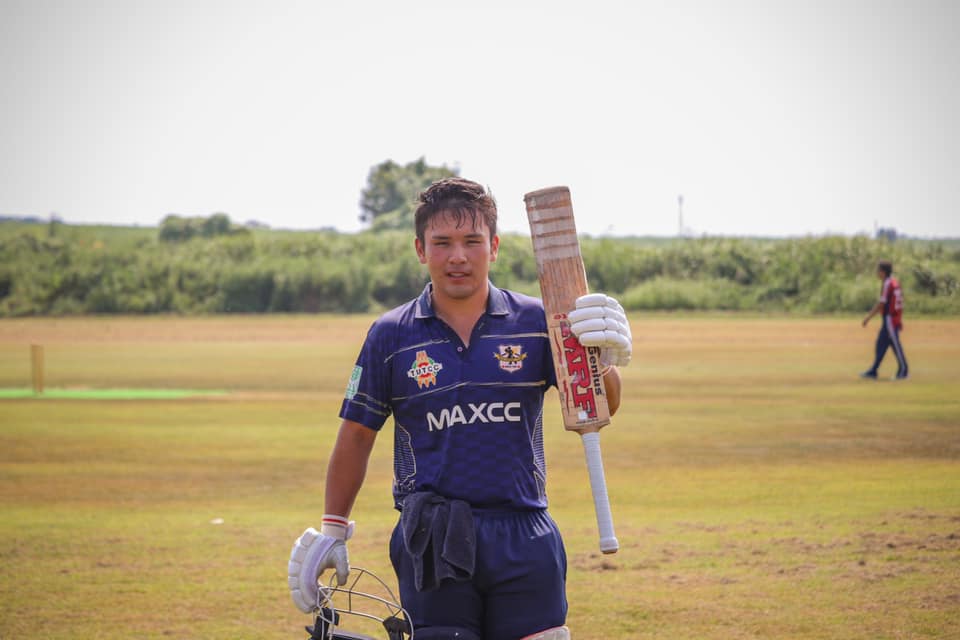 2020-08-26
One Short - Cricket Reports
As the JCL Division One table begins to take shape, it is familiar names at the top of the respective pools.
Pre season favourites MAX CC have been quietly going about their business so far and expected a stern test from fellow challengers Wyverns. Batting first the favourites were off to a flyer as Makoto Taniyama (50) scored his second half century of the season in partnership with a typically aggressive 43 from Supun Nawarathna.
At 102/1 MAX looked set for a huge total only for Wyverns to roar back into the contest courtesy of three for 28 by Buddika Nanayakkara as Wyverns grabbed nine wickets for just 89 to dismiss MAX for 191. 
MAX then made the best possible start as Takuro Hagihara clean bowled form batsman Wataru Miyauchi with the first ball of the chase. Shogo Kimura (24) and Raheel Kano (22) battled to bring Wyverns back from two early wickets but Taniyama ran though their middle and lower order, taking four for 19 from his eight overs, completing a fine individual performance as MAX shot the Wyverns down for just 104 to win by 87 runs. 
Given this was a cross-pool match, it was also a great result for Alpha Quashers who are themselves enjoying a fine campaign. Up against struggling newcomers Rising Stars, Rohit Kesari registered his maiden JCL century (109) during a partnership of 136 with Vasanthan Jayakumar (68).
Quashers' 308/6 is comfortably the highest team score of the season so far and they followed it up by making short work of the Rising Stars batsmen. Again the only bright spot was another obdurate 31* from Kazi Murad, but three wickets apiece for Karthik Vellingiri, Nikhil Chhajed (both three for 20) and Manivannan Maruthamuthu (three for 23) was enough to take all ten wickets for just 95 to secure a huge win by 213 runs for AQCC. 
That win opens up a significant gap at the top of Pool One between AQCC and Wyverns in second place, while a vital win for the Chiba Sharks just about kept their title defence alive. 
Had the Sharks fallen over against Tokyo Falcons they would have almost certainly been out of finals contention, but an opening partnership of 132 between Dhugal Bedingfield (82) and Marcus Thurgate (59) was backed up by 46 from Tsuyoshi Takada and 52 by Neel Date, who along with Thurgate registered his maiden DIvision One half century as the Sharks compiled 268/5.
The Sharks struck regularly while defending the total, although the Falcons showed great intent to score at almost seven an over. Six Sharks bowlers claimed wickets and the eventual winning margin was a comfortable 120 runs as the Falcons were all out for 148, giving the Sharks a crucial bonus point which moved them above their opponents to third in the pool, but still five points off second placed Wyverns. 
Things are tighter in Pool Two as the top three teams pull clear of the bottom two. Men In Blue recorded a routine win over Sano CC. Chasing 200 to win after 54 from Prabath Dhanushka, MIB had Nilesh Shahane to thank for his 74, while an explosive 54 from 28 balls by Sarfraz Petkar took them home by six wickets with plenty of time to spare.
Down at the Fuji grounds rain intervened too late to save the Wombats who, like Sano and Rising Stars, remain winless this season. 
A steady 63 from Ranjith Mouli gave Tigers a solid start, and made him the leading run scorer in the division, before 52* from Manoj Bhardwaj propelled his team to 206/8. Tigers then claimed the key wickets of Alex Patmore and Richie Bracefield to have Wombats 74/4 when the rain came, which was well short of the par score meaning Tigers went home with the points and sit happily in second place in Pool Two with a big match in Round Five against leaders MAX CC.  
As the Japan Cricket League continues to tick over, we take the rare step of acknowledging some outstanding performances in the T20 Japan Cup competition in recent weeks. Firstly Musashi Yamamoto, the former baseballer just one year into his cricket career, struck a 64-ball hundred against Men In Blue, joining Masaomi Kobayashi (2014) and Kendel Fleming (2017) as the only Japanese players to score a Japan Cup century.
MIB themselves then celebrated when Sarfraz Petkar smashed a 39-ball hundred, including 11 sixes, against the Rising Stars, an innings which was quickly proclaimed to be the fastest in Japan Cup history.
That record may well be true, but it did not last long as just a week later Umair Bhutto needed a mere 34 deliveries to bring up his hundred for Tokyo Rangers against the Chiba Sharks, hitting a ridiculous 13 sixes along the way as his team chased down 192 in only 16 overs of mayhem.
It seems like the wait to play has left batsmen eager to make up for lost time, who knows what other achievements are still to be registered this season? Congratulations all and the One Short team look forward to the next landmark.