Fans Guide to the 2019 JPL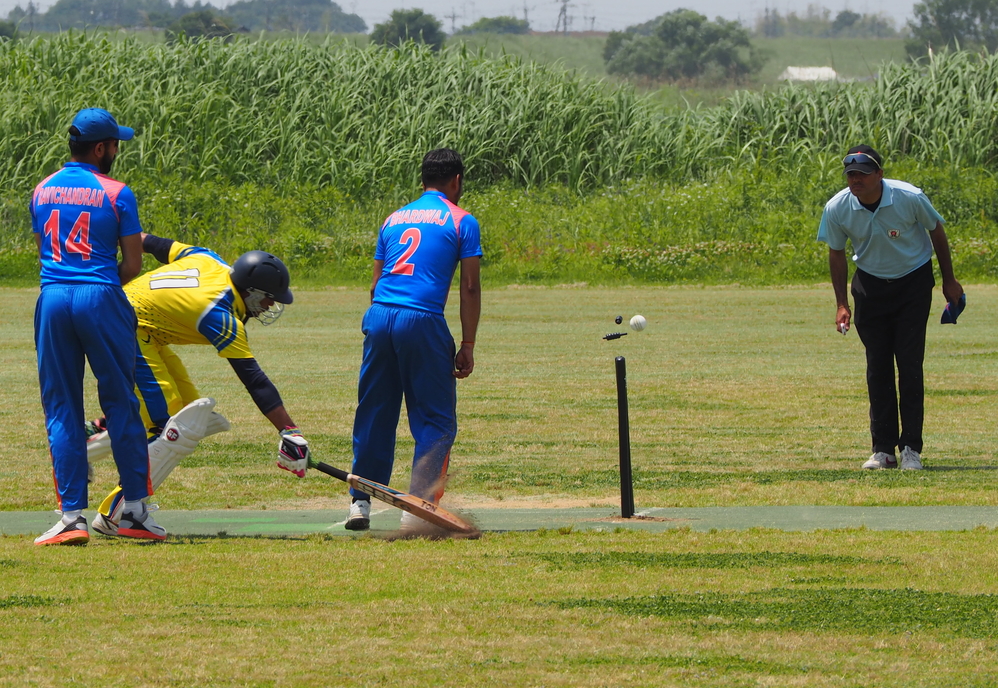 2019-07-18
Other news
News & Articles
The Japan Premier League continues into its fourth season in 2019. North, South, East and West Kanto will again come together to battle it out for the crown.
We've put together a guide to help you follow all the action. It is free to attend matches and those interested watching some quality cricket are encouraged to come.
The four teams competing again this year are South Kanto Super Kings, West Kanto Hurricanes, East Kanto Sunrisers and North Kanto Lions. The teams are made up of the best players from each of the Japan Cup teams in their respective regions.
Full schedule here.
South Kanto Super Kings
Home Ground: YC&AC, Yokohama.
Colors: Blue, orange.
Manager: Manoj Bhardwaj
Captain: Sabaorish Ravichandran
Summary: The Super Kings had another succesful campaign last year and are deserved favourites to lift the trophy again in 2019. As usual there are plenty of headaches for the selectors, trying to fit all of the star batsmen into the team. However, with the other three teams strengthening their squads this year the Super Kings might not have everything their own way.
Player to watch: Arata Ueda. The young Japan batting dynamo from Keio University has had a quick rise into the national team. This year Ueda has exchanged his Hurricanes pink for Super Kings blue and he will be looking to stamp his mark on the JPL with his hard hitting in the middle order and smart fielding skills.
Quote:  "The team looks better balanced this year. We've replaced a few spin options with some fast bowling fire power. We also have better bench strength than last year, in all three departments. The JPL is becoming more competitive every year and any team can beat any other team on a given day. West Kanto Hurricanes are a threat. They were the only team who beat us last year but we definitely believe we can make it four titles in a row." Manoj Bhardwaj, Super Kings manager.
Squad: Manoj Bhardwaj, Richie Bracefield, Nikhil Chhajed, Vinay Iyer, Prashant Kale, Nilesh Kanungo, Masaomi Kobayashi, Rahul Koul, Rohit Kumar, Piyush Kumbhare, Ranjith Mouli, Anas Mohamed, Alex Patmore, Sabaorish Ravichandran, Vishnu Singh Shekhawat, Anuraj Singh, Gurman Singh, Raman Tanwar, Arata Ueda, Karthik Vellingiri, Anthony Winston.
North Kanto Lions
Home Ground: Sano International Cricket Ground, Sano, Tochigi.
Colors: Royal blue, yellow.
Manager: Mihindu Perera
Captain: Prabath Dhanushka
Summary: It has been a difficult time for the Lions in recent years. Squad instability has made it difficult to form a team that can win matches consistently. With the development of their young Japanese players as well as a couple of big signings the Lions will hope they can turn things around this year. As usual they rely heavily on their brigade of Ceylon XI players who lifted the Japan Cup last year.
Player to watch: Kazumasa Takahashi. Although only 15 years of age the young fast bowler has risen to be one of the most dangerous players in Japan. Takahashi's success at the T20 World Cup qualifiers last year was based on his nagging accuracy but he is also a threat with the bat. 
Quote: "We think we have a more balanced squad than last year with a number of players who can contribute with the bat and in the field. We have some very good bowlers; both fast bowlers and spinners; who we think can cause problems for other teams. Our younger Japanese players are progressing well and we think they can perform for us this year. We are definitely aiming to make the final." Mihindu Perera, Lions manager.
Squad: Anushantha Chandima, Lahiru Chinthana, Bharat Chugh, Prabath Dhanushka, Ishara Gunathilake, Ishara Hasantha, Shameera Jayasinghe, Kushal Kamat, Salman Khan, Roshan Madushanka, Hasitha Nayanananda, Shu Noguchi, Amila Perera, Pradeep Roshan, Kanchana Senarath, Shanaka Srimal, Reiji Suto, Kazumasa Takahashi, Ankit Thakur, Sachin Thakur, Musashi Yamamoto.
East Kanto Sunrisers
Home Ground: Sanbu no Mori Ground, Sammu, Chiba
Colors: Green, yellow.
Manager: Vikash Ranjan
Captain: Hanif Khan
Summary: The Sunrisers have failed to elevate themselves from the bottom of the table in any of their three seasons in the JPL but there is a sense that this could finally be the year. Several hard hitting batsman have been added to the squad. This added firepower will boost the Sunrisers' scoring capability but they will also need to improve in the field if they are to be any chance of making the final.
Player to watch: Kendel Fleming. The Australian based Japan international made an instant impact last year scoring two centuries in as many matches for the Chiba Sharks. His classy strokeplay may compliment the Sunrisers' crash-and-bash approach.
Quote: "We have a lot more depth in our batting this year so if we can get off to a good start in matches, we might be able to post some bigger scores. With that in mind, the key to our success will be our ability to contain the opposition with our bowling and fielding. We feel like we can match it with any team in the league this year so we are hoping to appear in the final for the first time." Dhugal Bedingfield, Sunrisers selector.
Squad: Hitesh Akabari, Habib Ahmad, Dhugal Bedingfield, Kuldeep Bisht, Kendel Fleming, Ashish Jaiswal, Dehan Kanishka, Manish Kapil, Hanif Khan, Rui Matsumura, Sanket Pandhari, Sarfraz Petkar, Vikash Ranjan, Muneeb Siddique, Gurdeep Singh, Tsuyoshi Takada, Abhishek Telang, Marcus Thurgate, Amol Vaidya, Sanjaya Yapabandara.
West Kanto Hurricanes
Home Ground: Showa Athletic Ground, Akishima
Colors: Black, pink.
Manager: Shunichi Mamenari
Captain: Tomoki Ota
Player to watch: Shogo Kimura. It was a frustrating first season for Kimura in the JPL but there are signs that the former baseball star may be finding some form in the lead up to this year's JPL. If the big left hander can get it right, he may be capable of destroying bowling attacks within a few overs. 
Quote: "We have lost Nawarathna from last year's squad but Wada is a very good addition and we expect big things from him. The key to our success will be our batting. Not only hitting boundaries, but also getting ones and twos. We are aiming to win the JPL. If we can beat South Kanto Super Kings then we can win it." Tomoki Ota, Hurricanes captain.
Squad: Oshantha Buddhika, Arjun Gautam, Takuro Hagihara, Junmei Hanada, Kota Ikeda, Raheel Kano, Rajam Karki, Masaki Kawashima, Shogo Kimura, Yunesu Koma, Kohei Kubota, Naotsune Miyaji, Wataru Miyauchi, Takuya Ono, Tomoki Ota, Makoto Taniyama, Nozomi Tomizawa, Yoshitaka Uehara, Souta Wada, Yusuke Wakuta.