Nagoya Cricket Challenge – March 30th

2019-03-05
News & Articles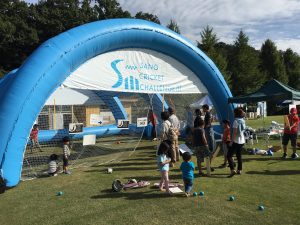 The "Cricket Challenge in Nagoya", an event to promote Cricket in Aichi Prefecture, will be held on the 30th of March, 2019 at "Tonarino – Komorebi Hiroba", Meijyo Park, in Nagoya City.
The event will feature the "Cricket Dome" developed last year, providing a safe and fun environment to introduce Cricket to new audiences. The event is supported by Mitsubishi Corporation and Lawson Inc. Each participant will be given* one Lawson Select snack each for playing the Cricket games.
Last year, the JCA announced its Five Year strategy for 2018-2022 "Building a Brighter Future". The strategy focuses on growing participation through innovative formats that are fun and inclusive, as well as providing better access to the sport in new regions including Tokai where Aichi Prefecture is located.
The event is hoped to increase awareness of the sport in Nagoya City and Aichi Prefecture, where the JCA plans to grow participation and develop playing facilities in the near future.
Please also see the event page and the flyer.
*There will be a limited number of snacks available and conditions will apply.