CRICKET FOR SMILES
Bringing Smiles though Cricket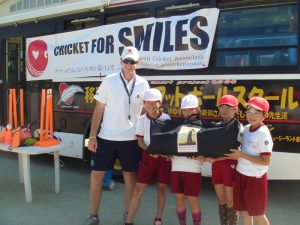 The CRICKET FOR SMILES Programme (CFS) was established in 2011, with the aim to provide smiles, hope and courage through cricket, to the Tohoku region affected by the devastating earthquake and tsunami of March 11.
Since 2011, CFS has brought smiles to school children in the Tohoku region through the donation of Cricket equipment and teacher resources, school visits, and teacher education courses.
CFS is supported by many people from around the world. In particular, it is supported by Shyam Bhatia of Cricket for Care and Kate Cropper of Stephen Cropper Tohoku Education Fund.
Sendai University Women's National Team Challenge
In 2018, CFS started a new initiative, the Sendai University Women's National Team Challenge. This initiative, in partnership with Sendai University, aims to provide playing and professional development opportunities to female students of the University.
The initiative will provide training and match opportunities to the students with the goal of representing Japan and pursuing a professional playing career.
It will also provide professional development opportunities in teaching, coaching, promotion and sports administration with the goal of developing careers in sport and education.
2022-12-09 Watari Ground Development


December 2022, an artificial turf was introduced to the Watari Torinoumi Park, a significant advancement for the local cricket community. This upgrade also makes the ground an attractive destination for clubs and touring teams beyond Tohoku, who would enjoy the added bonus of being in walking distance to a fish market and onsen accommodation and the pacific ocean.
2022-10-08 Kodomo Haku (Sendai Uni Festival for kids)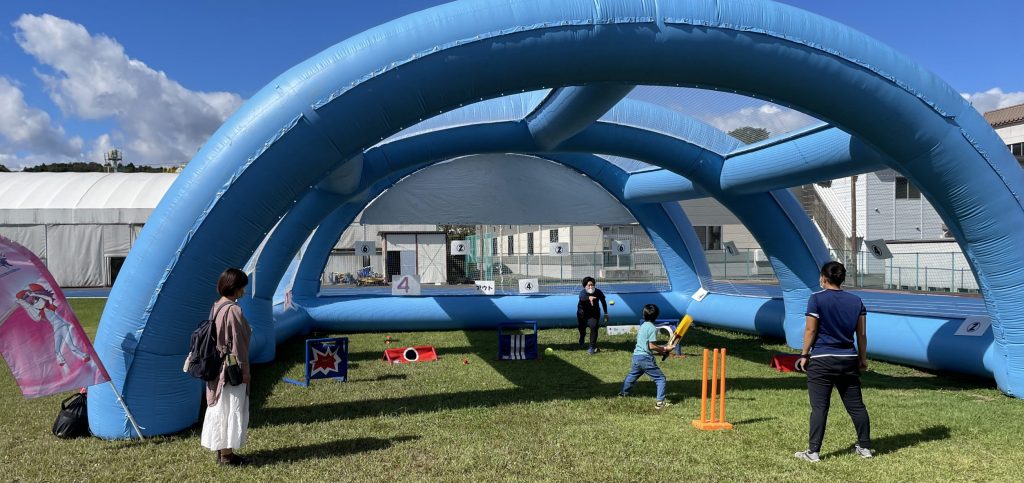 Following the 2011 Great Earthquake, Sendai University established Kodomo Haku with the aim of bringing joy to children through engaging activities offered by local organizations.As part of this initiative, the Japan Cricket Association collaborated with the Sendai University Cricket Club to set up a cricket booth. 20+ families participated in the event and had a wonderful time striking and bowling. On the day, members of the Sendai University Cricket Club support the day as cricket coaches.
2022-10-03 Shibata-machi School visits with Sendai Uni CC
As part of Shibata-Machi Top Athlete Development Program, JCA staff and Sendai University Cricket Club visited five elementary schools in shibata-machi. The players taught the children about cricket and run some fun modified games. This was an excellent opportunity for members to get involved in the community and also for a couple of players who aspire to become teachers to gain firsthand experience. (All schools in Shibata were given Shyam's Cricket for Care cricket Sets) Since Sendai University is based in the town, many of the teachers at the elementary schools were graduates of the university. We hope to establish a stronger relationship between the university and the town and to promote cricket in the region.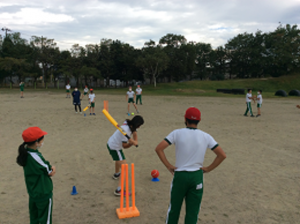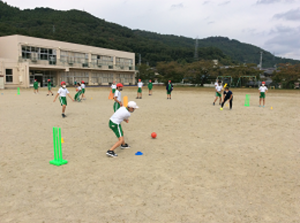 2022-08-05 Teacher course at Watari-Cho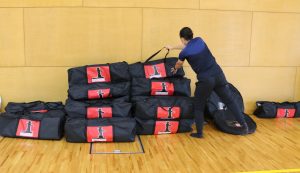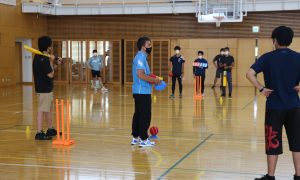 JCA conducted a Teacher's Course on cricket in Watari-cho. The event included a lecture and practical training session held at Arahama Junior High School. Equipments were donated to six elementary and four junior high schools, and the head of the board of education and Watari city officers came to support the course and had eccoraged teacher to take on cricket at their school. By the end of the course, teachers who had no prior experience with cricket, enjoyed the session and expressed interest in incorporating it into their physical education curriculum.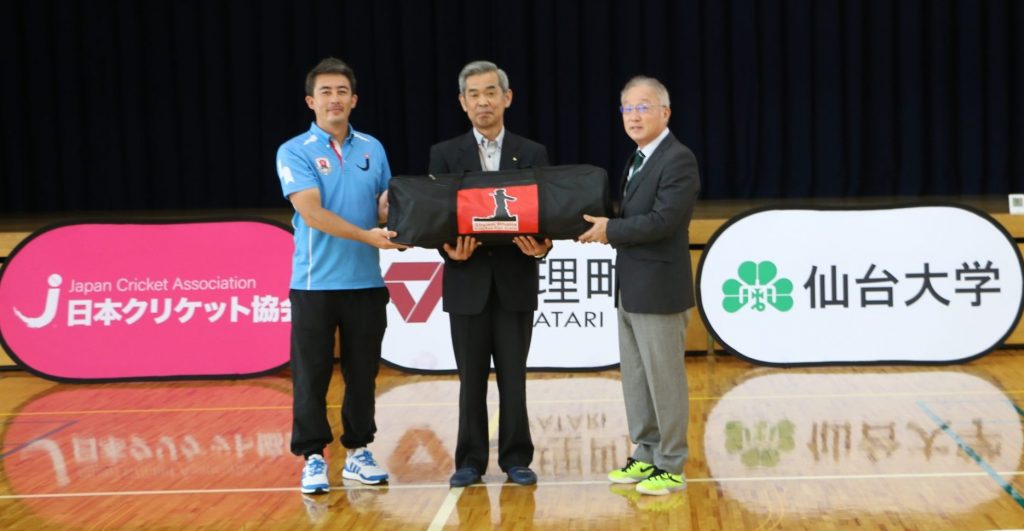 Watari Cho Head of Boad of Education(Mitsumasa Okuno), Head of Sendai University Cricket Club(Takashi Nakano) and JCA CFS Manager (Bebe Miyaji)
2022-03-14 New member&Practice with New net!
A growing interest was see in cricket at Sendai University thanks to two programs J-BASH "Challenge league" and the Cricket in Sendai University class. We hope to see more player this year through promotion and practice opportunity.
In the training on the 14th March, as a preparation for the trials that week, we tried out a baseball net to improve our batting and bowling session.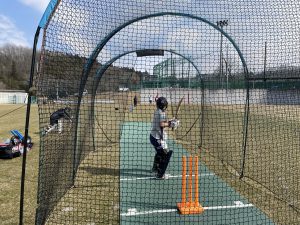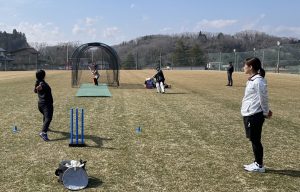 2021-11-16 Sendai University lecture and practical
"World history as seen through the development of cricket"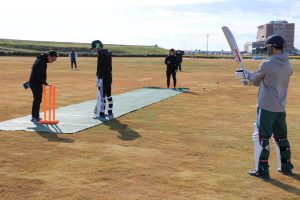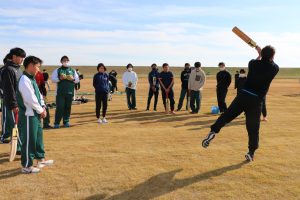 Sendai University offered a new module that focuses on cricket as a means of teaching valuable lessons about world history. The module aimed to spark an interest in the sport while also delving into its fascinating history. JCA President Makoto Yamada and JCA CEO Naoki Miyaji delivered the first part of the course, covering the history of cricket and its significance in the British Empire, while Bebe Miyaji led the practical session where the 39 students who took the class had a chance to try the sport at the new torinoumi ground. The course was well-received by the students jugding by their enthusiasm and smiles on their faces.
Immediately after the Sendai University student education, 20 members of the Watari Sports Promotion Officers came to take part in a cricket come and try session.
The event was assisted by the Sendai University Cricket Club students and played with a tennis ball. Along with basic skill introduction there were also modified batting and bowling games and the session finished with some mini-games to help understanding of the game of cricket.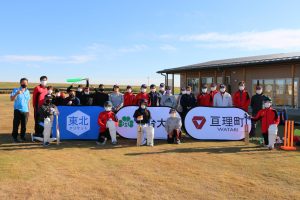 .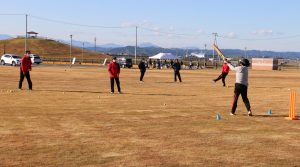 2021-07-20 Watari-Cho becomes City of Cricket

The Watari development moved quickly, with the JCA engaged in discussions with cities around Sendai University area. Watari-Cho showed immediate interest and partnership with Cricket as they had a ground in mind yet to be developed "Torinoumi park". Prior to the City of Cricket partnarship, the Mayor of Watari-cho and approximately 30 members of the town council visited the Sano International Cricket Ground to observe a cricket demonstration and discuss the potential for the sport in their city.
Alex Miyaji explained City of Cricket Sano development and colaboration with Sendai University and had an open descussion in reagards to how cricket can contribute to Watari-cho, including increasing exchange visitors through cricket and promoting international exchange.
2020-10-31 Sendai University CC Win J-BASH Challenge Tournament
On Saturday 31st October the first ever J-BASH Challenge tournament was held at the Sano International Cricket Ground with three teams including Sendai Uni CC.
The tournament was played with six players per team and with six overs, but with rules closer to full cricket rather than the social formats.
Sendai Uni CC team consist with four Sendai Uni players and two guest players who joined in with the great teamwork and spirit. It is their first tournament win and a step towards greater things.
A summary of results is below:
Match 1: Sendai Uni CC: 48 runs, Sano CC 43 runs. Sendai win by 5 runs
Match 2: Sano CC: 61 Runs, Tigers CC 24 runs. Sano win by 37 runs
Match 3: Sendai Uni CC: 64 runs, Tigers CC 16 runs. Sendai win by 48 runs
Final: Sendai Uni CC: 72 runs, Sano CC: 56 runs. Sendai win by 16 runs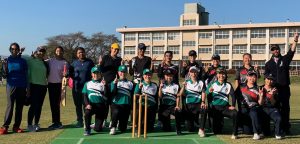 2019-5-3 Cricket For Smiles Produces First National Team Player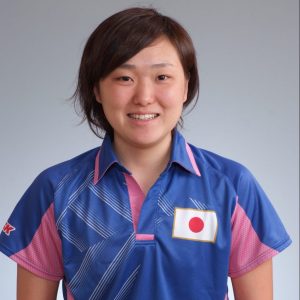 The Cricket For Smiles program, set up in the aftermath of the 2011 Great Tohoku Earthquake to bring smiles back to the faces of the people of Tohoku, can now boast the production of a National Team Representative.
Akari Kano, who attends Sendai University, was introduced to cricket through the 2018 implementing of the project. After being selected in the National Training squad that year, she made it one better in 2019 by making the touring team in 2019.
Akari made her debut in the recent EAP Qualifier hosted in Vanuatu and her coach for the tournament, Duncan Harrison from Cricket Victoria said: "She was a pleasure to work with in every way and is someone who could develop into a high-quality player."
Given how new Akari is to cricket her example should be a great motivation for other players to take up cricket and, with the right amount of hard work and talent, follow in her footsteps.
The next target for Akari will be to cement a place in the best XI, and her next chance will be the East Asia Cup which will be held in South Korea this September.
2018-9-3 Special Training with Cricket Without Borders Alice Johnston
We had Alice Johnston from Cricket Without Borders coaching Sendai University Women's Cricket Club. She had coached them for 5 days(3rd 〜 7th September)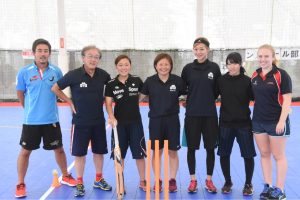 A lot of girls had beginners English but communicated well with Alice with lots of demonstrations and speaking slowly using simple words.
We had a lengthy training sessions mainly focusing batting skills and some Bowling. They are making progress with developing their batting shots and basic bowling skills.
Training schedule for 3rd – 7th September
09:00 – 12:00 morning session, 13:00 to 17:00 afternoon session !!
A lot of focus on Batting practicing (cuts, pulls, drives, sweeps and other more)
Not only there were a lot of improvement cricket wise, but the Sendai girls had a lot of fun with Alice learning about her and were she's from.
The students were curious of cricket in Australia and how & why Alice got into cricket.
As part of Sendai University project it is one of the thing we are working on and would be great if we could make it happen.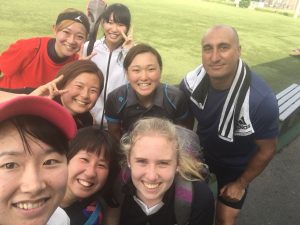 Japan Women's Captain Mai Yanagida also came to help with the training sessions, she had traveled to Melbourne and was able to give an insight of what it would be like to play in Australia.
Finally , We would like to thank Sendai University, all of our Cricket for Smiles supporters and CWoB for making this possible to run this program and unique opportunity.
2018-6-7 Tohoku Broad Cast (with Comedian "Yoshio Kojima") had visited Sendai University Cricket Club
Local TV program for Tohoku (TBC) had came to Sendai University for an chance to get to know the newly establish cricket club and the sport, Comedian "Yoshio Kojima" had a taste of cricket and interacted with the club members. This was broadcast-ed in Tohoku region and boosted the awareness of the Cricket club and cricket.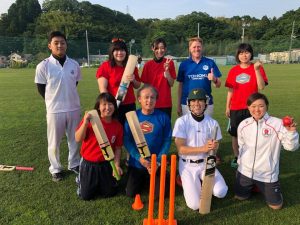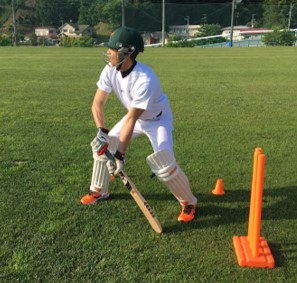 "Yoshio Kojima" did his trade mark dance performance with the girls !
2018-5-18 New Release of the start of Sendai University Cricket Club
With the new Sendai Cricket Club was officially approved by the University, the club players had a news release to the public to explain the establishment of the club, there were a lot of press and media coverage for the day of the release.
<JCA had asked for a comment to newly appointed Captain Kano Akari>
To be appointed the first Captain of the Sendai University Cricket Club is an honer and would like to develop my club as well as myself as an cricket player, Would like to promote our club and cricket as it is the first university cricket club in this Tohoku region, my personal goal is to be a world class Women's National player.
By Akari Kano (Captain of Sendai University Cricket Club )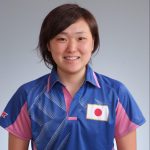 Related News
https://www.kahoku.co.jp/tohokunews/201805/20180519_13010.html
http://www.yomiuri.co.jp/local/miyagi/news/20180521-OYTNT50150.html
https://headlines.yahoo.co.jp/hl?a=20180519-00000002-tbcv-l04
2018-05-5 Sendai University Girls got selected and had their first taste of National group training
National Academy and Squad selected girls had a trip to Sano for their first National training on 5th and 6th of May, Sendai University girls showed good energy and enthusiasm during the training days, Still new to the game and learning, the training provided a lot of game type activity that they had benefited a lot. Coach from Cricket Victoria (Tom Huf) and teammates were happy to provide their knowledge of their cricket.
<Selected for National Academy & National Squad>
(National Squad & National Academy)Akari Kano、Yuna Kosasa
(National Academy)Miku Ito, Minami Kobayashi, Hina Minakawa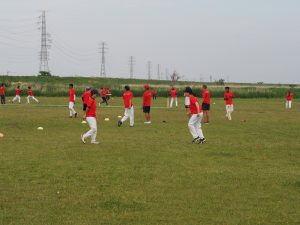 Practice of National Academy
(Three players in 2018 National Academy and two players National Squad ! )
2018-03-21 National Trials
On the 21st of March, five students from Sendai University attended the Women's National Squad Trials. The students, after only one training session, travelled 350 km from the University to Fussa City in Tokyo.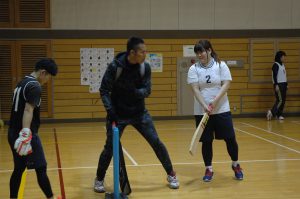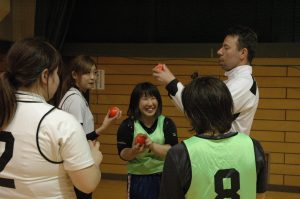 All five of the students from Sendai University have played baseball and, although initially struggling to hit the ball after it bounced, their batting and fielding skills impressed the selectors. They seemed to thoroughly enjoy the day and learn from the other players as well as the coaches.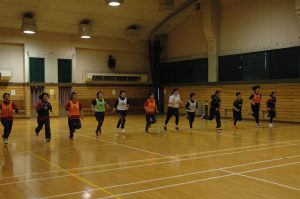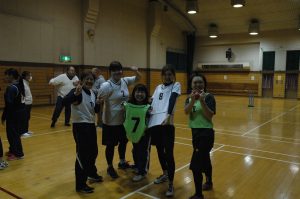 The results of the trials will be announced by the end of March.
2018-03-12 First Training Session
On the 12th of March, the first training session was held at Sendai University with students who showed interest in the initiative. After a short introduction, the students had a go at batting, bowling, and fielding for the first time. The students, most having had played baseball or softball previously, showed exciting potential especially with strong arms and powerful hitting. They were all given a bat each and some equipment to train before the trials on the 21st of March.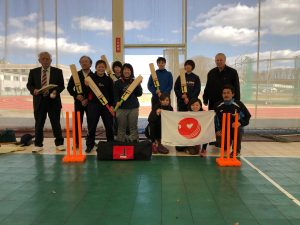 2017-12-21 Partnership with Sendai University
On the 21st of December, the JCA and Sendai University agreed to start the Sendai University Women's National Team Challenge.