Interning with the JCA: University of Tsukuba students in Sano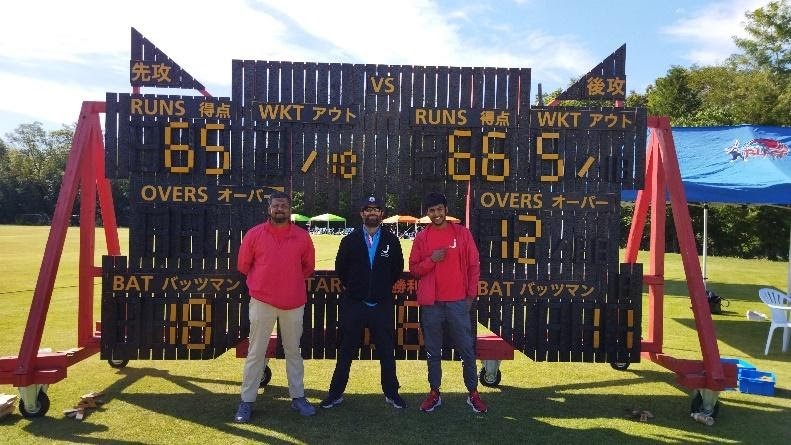 2021-12-21
Blog
Visitors From Abroad
At the Japan Cricket Association we are fortunate to regularly have guests from abroad working alongside us to help improve cricket in Japan. Over the years we have had people from a range of backgrounds, but especially Australia, England and New Zealand.
In this section of the website you will be able to read about why each person is visiting and what it is they are actually do here. We hope you find it interesting and if you ever have any questions about these placements please feel free to contact us.
---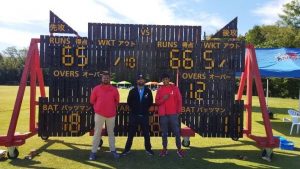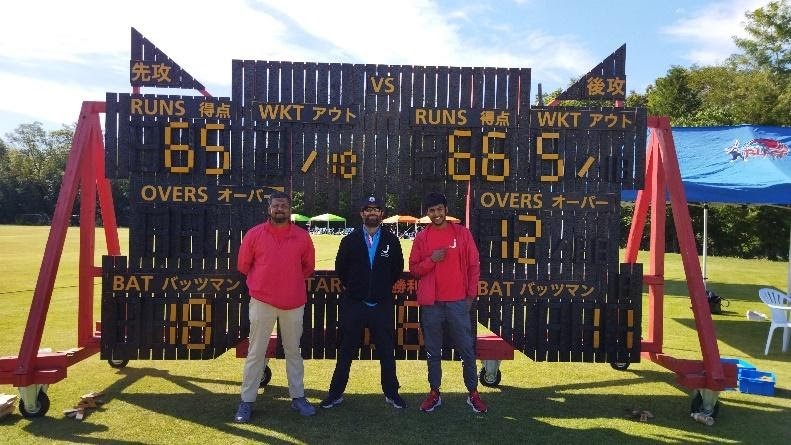 Tanmoy Mookherjee tells us all about his time in Sano.
It is remarkable how this sleepy little town nestled between the mountains of Gunma and Tochigi comes alive with the sound of bat hitting ball every weekend.
Sano has been a home away from home ever since I moved to Japan to become a student again. The University of Tsukuba, where I'm doing a Master's in Sport and Olympic Studies, is well-known for its sporting legacy, thanks to producing several Olympians across various sporting disciplines. But I knew that one of my first loves will be hard to pursue once I made this move from the cricket-mad surroundings of New Delhi.
I was ready to switch over to baseball, or yakyū as it is locally known. I did fancy playing badminton and tennis, but it still left me feeling a bit incomplete, until I stumbled onto the Japan Cricket Association website and thus began my search to find a cricket club. And while I began playing for the Chiba Sharks, I managed to renew my weekend fixation even as coursework piled up back 'home'.
The University requires the students to do internships and the JCA came calling to Tsukuba, where I naturally showed an interest, largely because my fluent Hindi couldn't really work in a Japanese organisation. The international make-up of the JCA convinced me to get this internship done, and thus ensued a long mail trail over deciding the details. The month-long period was decided towards the closing of the cricket season in Japan, which would culminate with the Embassy Cup and Japan Cup finals, and a chance to work at events, which I have enjoyed working in the past as well.
Head of Cricket Operations Alan Curr, and Community Cricket Manager Dhugal Bedingfield (also my Sharks captain), though, had to contend with two more Tsukuba students (the football-mad Christian Okoye from Nigeria and Suraj Bhandari, also from India). While Christian's internship wrapped up before Suraj and I could get there, it set the tone for the descent of the interns on the greens of Sano.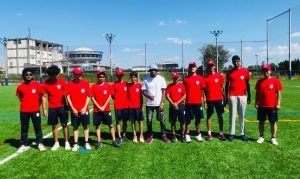 "My consideration and finally choosing the JCA was on the basis of understanding the promotional activities and operations of the organization in their goal to promote cricket in Japan," Christian writes of his time at the JCA HQ. "Developing a sport locally requires various stages and different methods of approach as well as considering crucial variables such as environment, human resources, techniques, population and government for an effective implementation of efficient and effective outcome/results."
"I am particularly attached to the sport management module of my program, currently working on national level sport development; understanding issues and challenges organisations may face during development of both existing or new sports, and develop a model to grow and popularise it," he says. "I needed the experience, ideas and thoughts from sport organisations engaging in such operations, which is why I did my internship at the JCA – it suits the objectives of my work and career goals."
A solid centre midfielder with business management coursing through his veins, Christian promptly discovered a football pitch close to the Karasawa lodge where he would terrorise local defenders every other day of the week, shortly after completing his work hours learning about an alien sport. His two Indian classmates haven't been able to convert him into a cricketer as yet, although he remembers his time spent with the JCA staff fondly.
Suraj, on the other hand, found the perfect opportunity to showcase his skills in IT, which is short for the other stereotype attached with my kind.
"This internship helped me understand how a sports organization is run and gain as much experience as possible, benefiting my career and future growth," he says with a straight face, not seen at least for the duration of the internship. "Having attended the meeting with the management for a day, I realized there is a lot to learn. My objective throughout this internship was to take up as many tasks as possible and finish them by utilizing the skills I have. Tasks such as database and inventory management were significant to get hands-on experience."
Suraj also created a database containing historical records of all Japan cricket played until now, officially. "Collecting and managing the historical scores of the Japan national cricket team helped me understand their progress and learn about their players. It led me to create a local database for the organization for more control and transparency of their data. Inventory management was also an excellent opportunity to learn about cricket's dress codes, get a better idea about the sponsors, and manage a warehouse."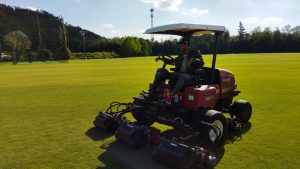 "I also got involved in meetings learning about PR and media strategies, about the promotional events such as social cricket, ground management, and the cricket promotion in Akishima," he writes. "I was also part of the Japan Cup Finals committee, the premier domestic T20 competition, a great way to learn about management skills and contribute in any way possible to run the tournament smoothly."
All three of us were surprised with not only the facilities that are there at the JCA HQ, but also how well the operations are run despite being a small organisation. Just picking the brains of CEO Naoki Miyaji and Alan gave a great insight into cricket in Japan, and the challenges the JCA has had in these years, but it seems to be coming together with new talent coming through the various training programmes scattered across the country.
Spending time with Simon Dart, the High-Performance Manager, gave me the chance to understand the different coaching methods he has, and to just observe the differences in the coaching styles I have experienced back in India to those here in Japan (albeit from an Australian perspective) was a pleasure. And to simply not have to travel the long hours to get to Sano (a 10-minute bicycle ride was all it took) was just perfect to arrive for a game of cricket.
From learning the social cricket format with an impromptu game of cricket, getting on the lawnmower and roller to prepare the ground for the games (thanks to the No. 1 groundsman in Japan, Yoshi Uehara), to gearing up for the matchday weekends, as well as finding some time to visit Karasawa Mountain to play with the numerous cats added to the time spent in Sano. A quick day trip to Nikko was also realised in this short span of time.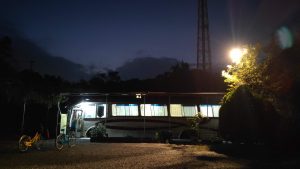 Working the events during the Embassy Cup as well as the Japan Cup Finals gave me the chance to see the sheer quality of talent that is here in Japan, and the passion among the people to travel great distances for a game of cricket, is just what it needs to know that cricket is in safe hands here. It will take time, but it will get there.
Hosting the Sharks teammates over weekends, Sano ramen, trips to the 7/11s on either side of the JCA, the bus-restaurant parked outside the SICG and the starry skies of Sano are fresh in the mind. I can't wait to get back out there next season.