JCL Round 9: Young Sharks Show Strength in Depth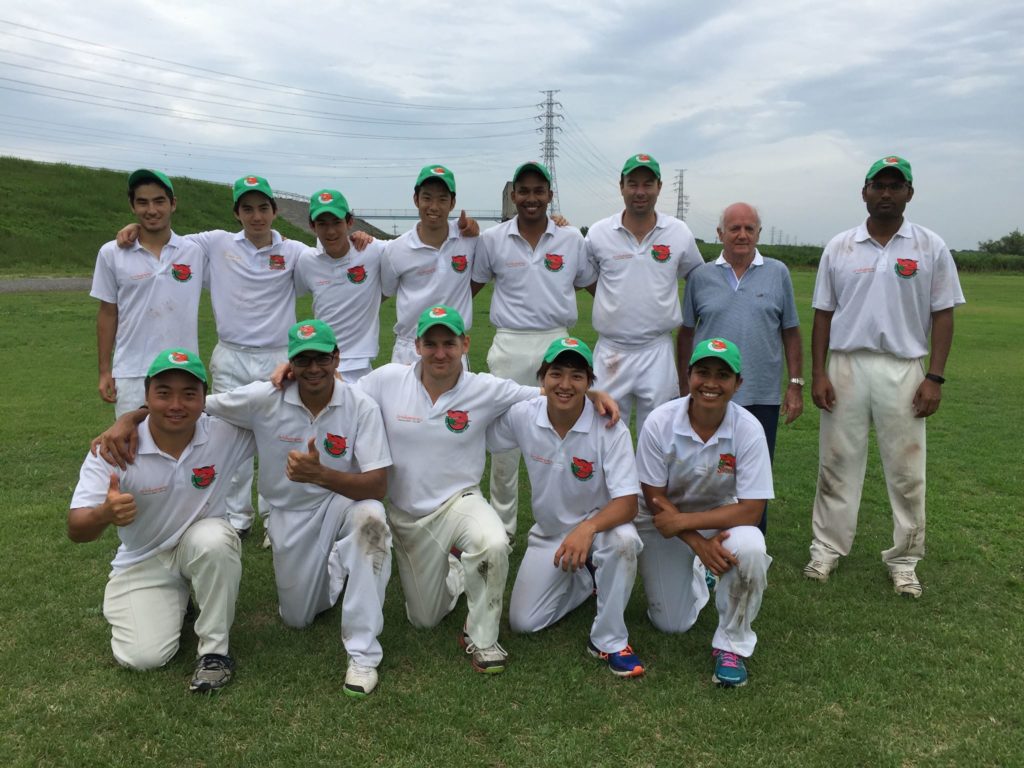 2016-07-02
One Short - Cricket Reports
ブログ
The Chiba Sharks have long been admired for their junior programs and smart recruitment policy, and these were evident once more as their younger players stood up in a one-sided match against Sano Cricket Club.
Making their Sharks debuts were the Reynolds brothers, Nick and Dan, who reside in Australia but have played in Sharks Junior teams for a number of years, and it was Nick who made the decisive contribution.
Winning the toss and batting first Dhugal Bedingfield and the newly promoted Vivek Singh put on 53 for the first wicket, before six wickets fell for just 61 runs leaving them in a sticky patch.
Reynolds, coming in at 85/5, steadied the ship first in partnership with Yosuke Higashimoto and then with the youngest player in the current Japan squad, Marcus Thurgate. These two gave a glimpse of the future with a dynamic partnership of 63 in double quick time as Reynolds blasted 67 from just 50 deliveries and Thurgate a run-a-ball 28*.
Ultimately the Sharks were all out in just 33.5 overs, but a total of 211 always looked like a testing one for Sano, and it was a test they failed dismally. Vivek Singh, opening the bowling as well as the batting, dismissed their entire top four and finished with figures of 5/19 as Sano crumpled to 55 all out and a crushing defeat by 156 runs.
Another bonus point win for Sharks gives them breathing room at the top, while Sano, after an improvement in recent weeks, must now regather themselves as they aim to hang on for a top four finish and the play-offs.
The defeat for Sano opened the door for the Tigers to move into 3rd place, and they proved up to the task with a battling win against Wyverns.
As the Sharks had done, Tigers won the toss and opted to bat; marching to 212/8 from their 40 overs. Tigers were heavily indebted to an innings of 93 from 89 balls from Sabaorish Ravichandran, who was able to cut loose after some initial tight new ball bowling from Satoshi Nakano (3/52) and Shodai Yamada (2/24).
Wyverns looked determined to take up the chase and despite some early wickets, Koji Iwasaki played a gem of an innings to keep them right in the hunt. Ably supported by Yoshi Uehara (30) he made his way to 79 from 67 before Manoj Bhardwaj got one through him.
That dismissal signified the end for Wyverns as their last six wickets fell for just 20 runs as Bhardwaj (4/35) destroyed the lower order, leaving them 182 all out as the Tigers earned a 30-run victory.
In the other fixture of Round Nine there was a setback for the Tokyo Wombats as their very winnable match against Paddy Foleys, due to be played at the Fuji grounds, became the first match of the season to fall foul of the weather, meaning the teams shared the points.
There will be a break from JCL fixtures this weekend but a full complement will take place on the 9/10th July.