Inaugural JCA Champions Trophy to be Held in Sano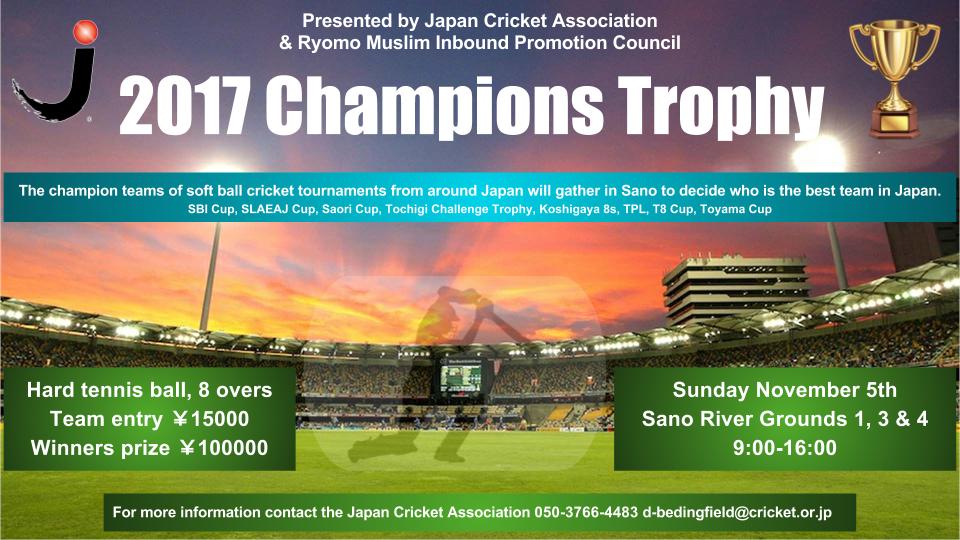 2017-11-01
Other news
News & Articles
The first ever JCA Champions Trophy will be held on Sunday November 5th at the river grounds in Sano.
The Champions Trophy brings together the best teams from modified soft-ball tournaments around Japan. Teams qualify by winning modified tennis ball or taped ball tournaments such as the SBI Cup, the SLAEAJ Cup, the Tochigi Challenge Cup.
The eight participating teams at the Champions Trophy will come from as far as Nagoya and Toyama to crash the hard tennis ball to all parts of the Sano grounds in a tournament that will consist of 8 over matches to be completed in less than an hour.
The JCA recognises that cricket in Japan can be quite a diverse sport, with a lack of space and access to playing facilities, as well as time, financial and travel restraints leading to many different forms of the game being in existence. The Champions Trophy seeks to bring these tournaments together and promote modified forms of cricket in Japan.
The event is co-hosted by the Ryomo Muslim Inbound Promotion Council, whose aim is to promote cultural diversity in the town of Sano. In addition to the trophy, prize money of ¥100,000 will be awarded to the winning team.