Fans' Guide to the 2017 JPL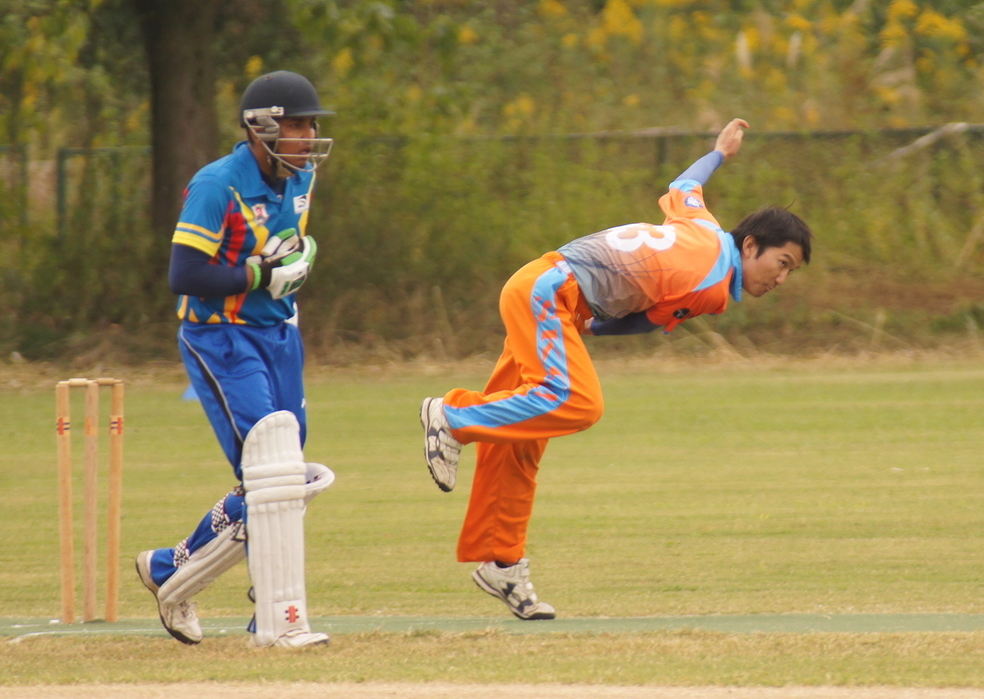 2017-05-24
Other news
News & Articles
JPL action is back for another year, with the best players in Japan ready to take the field on Sunday May 28th for what promises to be the most hotly contested JPL season to date.
Match day 1 sees last years winners, the South Kanto Super Kings travel to Sanmu to take on the East Kanto Sunrisers while the imperious North Kanto Lions host the West Kanto Hurricanes at the Sano International Cricket Ground.
Which team will finish victorious at the end of October is anyone's guess but to help you follow all the action please read on!
South Kanto Super Kings 
Home Ground: YC&AC, Yokohama.
Colors: Sky blue, orange.
Manager: Manoj Bhardwaj
Captain: Vinay Iyer
Summary: The Super Kings swept all aside last year with their attacking game style, depth in batting and wily bowling. They are expected to set the pace again this year but they may not be able to pull as many surprises as last year so will have to be on their game to win back-to-back titles.
Player to watch: Sabaorish Ravichandran. The classy leg-spinner/middle order batsman had great success in all forms of cricket last year and may be the key to the Super Kings' fortunes this year.
Quote: "With the Tokyo Wombats returning to South Kanto we've been able to strengthen our squad by adding their top performers. We have a balanced squad which includes a lot of all rounders. We need to use our pool of talent wisely, stick to our basics and handle the pressure situations well. We need to respect our opponents equally and play every match as a final." Vinay Iyer, Super Kings captain.
Squad: Vinay Iyer (C), Kengo Aoki, Ash Asghar, Manoj Bhardwaj, Richie Bracefield, Devendra Dhaka, Joe George, Prashant Kale, Masaomi Kobayashi, Rahul Koul, Naoto Matsunaga, Nigel McKay, Yasufumi Nakama, Alex Patmore, Sabaorish Ravichandran, Rajneesh Shukla, Gurman Singh, Pavethy Velusamy, Karthik Vellingiri, Anthony Winston.
North Kanto Lions 
Home Ground: Sano International Cricket Ground, Sano, Tochigi.
Colors: Royal blue, yellow.
Manager: Mumtaz Alam
Captain: Hanif Khan
Summary: There is no doubting the talent and fire-power of the Lions squad, which is the envy of all other regions in Japan. The challenge for the North Kanto team is to bind all of the big names into a cohesive unit. Expect the Lions to post some mammoth totals as they look to cash in on their home ground advantage. Will this be the year the Lions roar?
Player to watch: Hanif Khan. The veteran opener is still one of the cleanest hitting batsman in Japan. On his day he can take the game away from the opposition in just a few overs with his powerful striking. He will be called upon to unite the Lions squad this year as captain.
Quote: "We have a younger squad this year with the addition of three teenage players from the North Kanto Braves. We believe they are the future and they will be given opportunities. We will do our best to play positive cricket and respect the opposition. We have a lot of fire power in our top 4 with players like Hanif, Rodrigo and Nawarathna. We think we can make big scores if we bat the 20 overs. We think the Super Kings may be the strongest team we'll face so are looking forward to playing them." Mumtaz Alam, manager.
Squad: Hanif Khan (C), Chathura Aravinda, Umair Bhutto, Oshantha Buddhika, Prabath Liyanagunawardana, Tilina Mendis, Supun Nawarathna, Shu Noguchi, Arosh Perera, Vikum Perera, Sahan Prabodha, Uddika Pradeep, Rashid Rana, Chula Rodrigo, Buddhika Rohana, Pradeep Roshan, Sujan Sandamal, Reiji Suto, Kazumasa Takahashi, Muhammad Talha.
East Kanto Sunrisers 
Home Ground: Sanbu No Mori Ground, Sanmu, Chiba
Colors: Green, yellow.
Manager: Kazi Murad
Captain: Navin Jinasena
Player to watch: Tsuyoshi Takada. The Japan international was the big name signing for East Kanto during the off-season and the Sunrisers will be hoping that after a season in Australia the  off spinner can rip through a few top orders. Takada will also be called upon to score quick runs in the Sunrisers middle order.
Quote: "We have made nine changes to the squad this year. We believe the new additions will strengthen the squad and lead to better overall performances by the team. Our team has better balance in both batting and bowling departments this year and there is a good mixture of youth and experience. I believe all the teams in this competition will be hard to beat. Our key is to focus on our game and deliver consistently. If we can do that, we have enough depth to win the league." Navin Jinasena, Sunrisers captain.
Squad: Navin Jinasena (C), Dhugal Bedingfield, Kuldeep Bisht, Ashik Chowdhury, Sameep Dawar, Dilshan Jayaratne, Kavin Jinasena, Pushkar Kaushik, Prashant Manvi, Mustafa Nasiri, Sanket Pandhari, Ubaidus Sayeed, Muneeb Siddique, Vivek Singh, Tsuyoshi Takada, Aditya Tallapragada, Rony Taluqdar, Marcus Thurgate, Takuma Yamashita, Sanjaya Yapabandara.
West Kanto Hurricanes 
Home Ground: Showa Athletic Ground, Akishima
Colors: Black, pink.
Manager: Bebe Miyaji
Captain: Tomoki Ota
Player to watch: Rinsei Sawada. The young Wyverns batsman has burst onto the scene and turned plenty of heads with his hard hitting. From a baseball background, Sawada possesses a fluent bat swing and is capable of hitting boundaries from ball one.
Quote: "We have several young players who have broken into the national squad, including some explosive batsmen like Sawada. We have a young squad but see that as a strength. We think we can bring a lot of speed and energy onto the field. Our focus will be on teamwork. We need all eleven players working together to execute our game plan. We're not focusing too much on the other teams but have a goal to beat the South and North Kanto teams this year." Bebe Miyaji, Manager.
Squad: Tomoki Ota (C), Zainal Amanullah, Takahiro Aoki, Kakeru Ebisui, Shun Hashiba, Koji Iwasaki, Raheel Kano, Manazir Mohamed, Rui Matsumura, Bebe Miyaji, Wataru Miyauchi, Ken Okoshi, Rinsei Sawada, Masaru Shionoiri, Tatsuki Takahashi, Makoto Taniyama, Nozomi Tomizawa, Yoshi Uehara, Asala Wickrama'arachchige, Shodai Yamada.