JCL Round Nine: Sharks Top as Tigers Quashed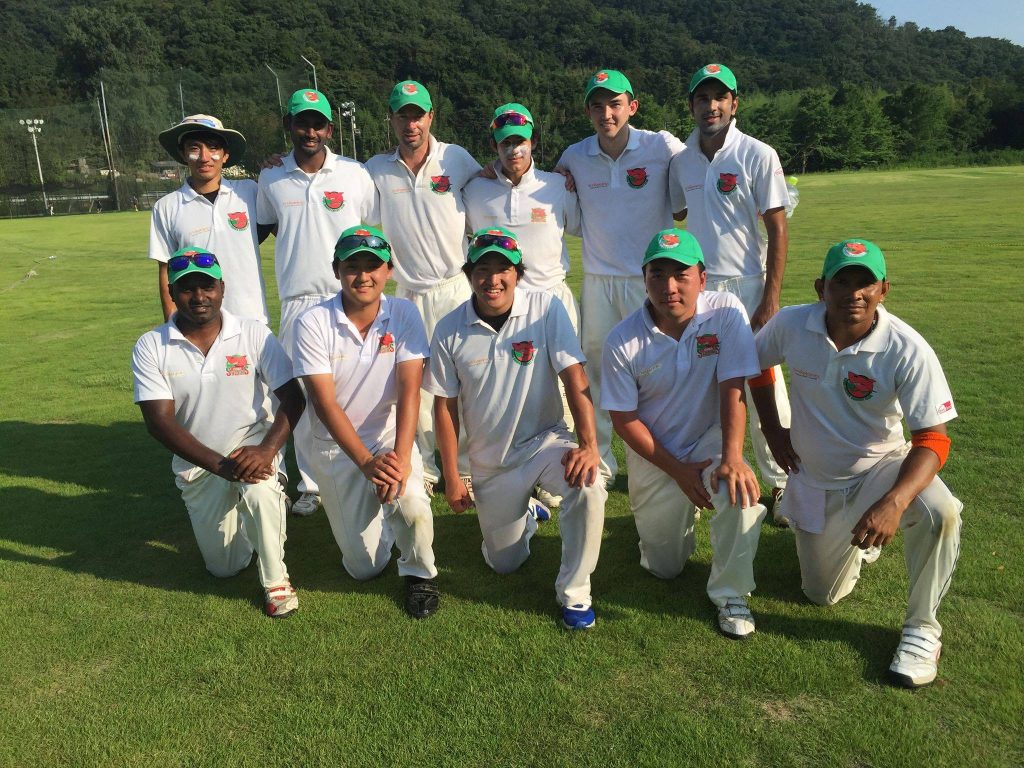 2018-08-08
One Short - Cricket Reports
Other news
Two significant individual performances set up memorable wins for the Chiba Sharks and Alpha Quashers which will have both believing 2018 could be their year.
The Sharks have not sat atop the table since 2016, and have not won the league since 2010, but a crunching 177-run win over Tokyo Wombats leaves them looking down on the rest and confidence growing after six wins in succession.
Their latest victory was based on a sublime 146 from debutant Kendel Fleming. Japan born but Queensland based, Fleming has been on the Sharks books for two years but had to wait patiently for a chance to take the field, and seemed intent to make up for lost time.
It was not all plain sailing however, as Sharks slumped to 72/5 before another half-Japanese/ half Australian Marcus Thurgate (14) joined Fleming in a partnership of 56 to steady things and then Nozomi Tomizawa (28) added 83 to the total before Fleming was eventually caught on the boundary. Sharks ended up all out for 246 in 36.1 overs.
As if scoring all the runs wasn't enough, Fleming then grabbed 3/3 as Sharks defended their total with consummate ease, whipping out the Wombats for just 69 to give them the bonus point that takes them top.
Speaking later on Fleming said: "I was pretty nervous making my debut as there were a lot of people around, but once I hit four sixes in a row I believed I could get a big score. I probably should have got closer to 180, but can't complain. The wickets were a nice bonus too."
For the Wombats Augustine Jacob top scored with 18 and returned the best figures of 2/28. Their hopes of a top four finish now rest firmly on beating MAX and the Quashers in the next two rounds, for which they hope to have Alex Patmore back after missing this match.
The Alpha Quashers Rohit Kumar became the first man to score a hundred for his club in the top division, his 117 was well supported by Nilesh Kanugo (40) and Nirmal Prasaath whose 41 from 23 at number nine boosted the total to 306/8 after 40 overs.
For the first time this season Sabaorish Ravichandran was unable to produce any fireworks as Ranjith Mouli's 64 provided the platform only for Devendra Dhaka to take centre stage in taking 4/17 as Tigers fell all out for 168 inside 32 overs to give Quashers a win by 138-runs  and welcome bonus point to all but guarantee their place in the Semi Finals for the first time.
Wyverns lost ground on the rest by making the strange choice to call off their Sunday clash with Sano CC on Friday night because of the weather forecast, only for it not to rain which helped Sano double their points tally for the season.
MAX CC had no problems playing their fixture on the same day as they tore out Paddy Foley's for just 76; Vinay Iyer grabbing 3/7. The chase was over in a flash as Supun Nawarathna carved 37* from 26 balls to take MAX to a much needed win by nine wickets in just 8.4 overs.