JCL Round Five: Record Double Century Stand Inspires MAX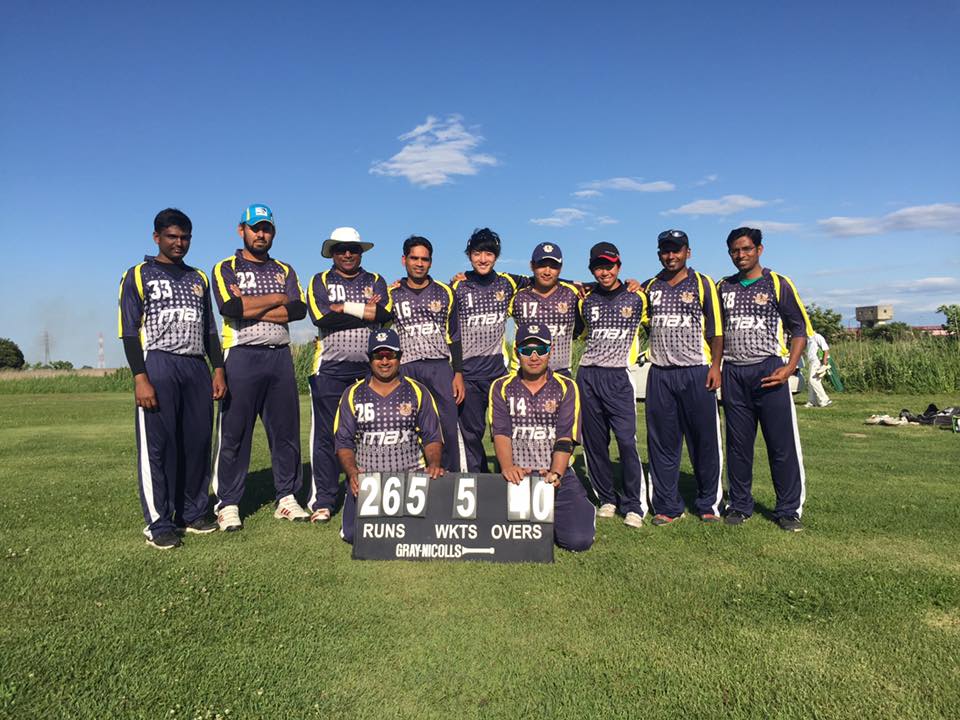 2017-06-12
One Short - Cricket Reports
Other news
In most normal weeks our team of writers at One Short would generally be in agreement that the featured match in our report should be the contest between the top two sides in the league. Yet this was no normal week.
When a team has an opening partnership of 237 in a 40-over match, smashing the record for the previous highest opening stand in JCL history, it deserves attention. So with that in mind we bow reverently to acknowledge Japan Captain Masaomi "Amigo" Kobayashi and Vinay Iyer, who both cracked enterprising centuries against Paddy Foleys.
Runs have flown off the bat this year, with five hundreds already compared to six last year and just two in 2015. For Kobayashi (118), this was his first hundred since 2014 (also against Paddy's), and the seventh of his career.
Speaking afterwards he was quick to pay tribute to his partner Iyer (108*): "It was tough conditions early because of a strong wind. We took it easy for the first 10 overs and by the time we reached 25 and were still batting together we became much more aggressive. Vinay supported me throughout my innings and really helped me."
Their partnership set the platform for a total of 256/5 as batters came and went at the end, but Paddy Foleys could not match the heroics, dismissed for 130 to give MAX a win by 126 runs. Iyer grabbed the Man of the Match award with two wickets and a run out, while Kobayashi also stayed involved, snaffling four catches.
The big match of the round was of course Sano vs Wyverns at the Sano International Cricket Ground, where the winning team would be top. Batting first Sano struggled to impress, scratching to 168 all out thanks to 35 from Chathuta Aravinda at the top of the order, and 34 from Prabath Sankalpa coming in at seven.
Raheel Kano finished with figures of five for 22 from his eight overs, all wickets falling to catches on the boundary. Kano had less luck with the bat holing out early as Uddika Pradeep proved difficult to get away, before Salman Khan removed the rest of the top five to earn figures of four for 30.
The only defiance came from diminutive opener Wataru Miyauchi (22) although Koji Iwasaki went down fighting with 29* at the end. Wyverns were all out for 129 in 29.3 overs to send Sano back to the top with a 39-run win and bonus point.
Elsewhere the Tigers earned an 18 run win over Alpha Quashers in a low scoring contest. Despite posting just 130 with wickets shared between six different Quasher bowlers, they defended admirably as Manoj Bhardwaj took three for 26 on the way to dismissing AQCC for 112 despite a fighting 40 from Nilesh Kanungo.
In the final match of the round, hosted a week later down at Mount Fuji, Chiba Sharks continued their run of close encounters as they scraped to a two-wicket win against Tokyo Wombats.
Alex Patmore returned to the form of last season with a steady 79 in a partnership of 103 with Jarrad Shearer (32). No other Wombat made double figures as Sharks opened with the off spin of Tsuyoshi Takada who finished with three for 30 as Wombats ended their 40 overs on 161/7.
Patmore's innings briefly took him to the top of the run scoring charts for the season, before Dhugal Bedingfield passed him during his knock of 33 at the top of the Sharks order. His dismissal by Yusry Mohideen (three for 41) gave the Sharks a wobble, but contributions all down the order got them home with two wickets and a couple of overs to spare.