JCL Round Ten: MAX Secure Top While Others Still Scrapping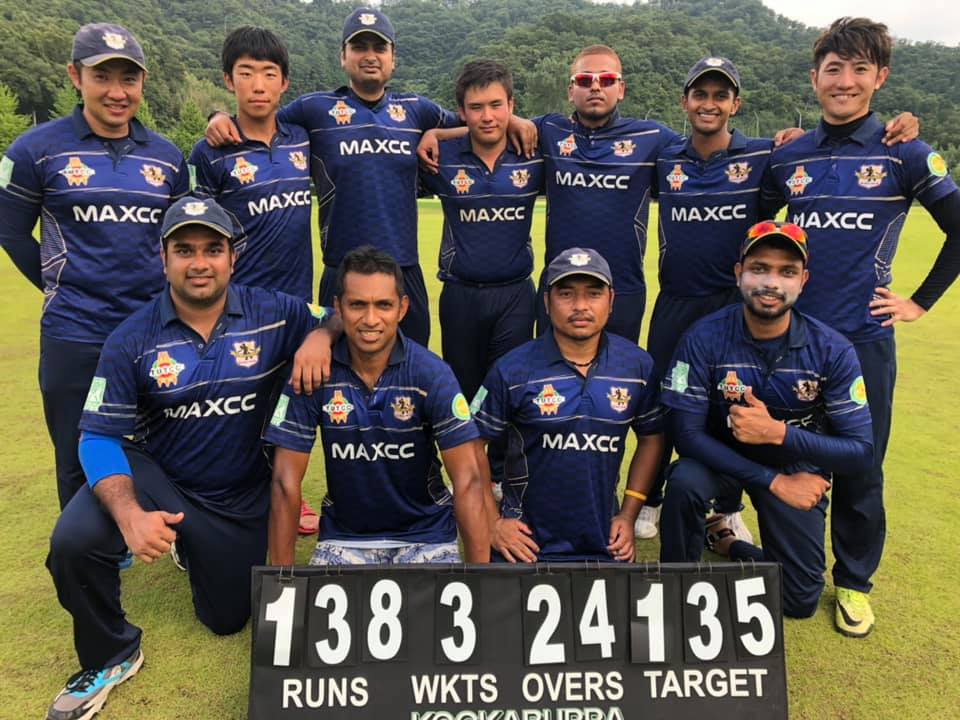 2019-08-30
One Short - Cricket Reports
Other news
MAX CC registered their sixth successive victory to guarantee them top spot in the league standings for 2019. 
Japan Under 19 star Kazumasa Takahashi (2/14) got things rolling for MAX in their contest with bottom club Tokyo Falcons with two early wickets as five bowlers shared the scalps around. Only Kuldeep Bisht (39) showed any resistance as the Falcons were dismissed for 138. 
Supun Nawarathna made sure of the victory with a typically boisterous 69 from 56 deliveries, ably supported by Vinay Iyer (31*) as MAX eased home by seven wickets to earn a bonus point and lock in top spot. 
While MAX can afford to rest easy, they will still have a big part to play in who reaches the Semi Finals as their final match is against Wyverns, who are clinging to fourth spot by the finest of margins. 
Wyverns are in this position after coming out on the wrong side of a tight tussle with the Chiba Sharks, who will now feel confident of a place in the play-offs. 
Batting first the Sharks took regular wickets and were looking easy victors with Wyverns 68/6 with all their big names back in the hutch. However Kohei Kubota knuckled down for a career best 31, more than he managed all of last season, and built an innings saving partnership of 94 with Buddika Nanayakkara. 
The burly Sri Lankan was not so much knuckling down as punching the Sharks with all his might. His innings of 93 came off just 57 balls and included a surreal nine maximums as he propelled the Wyvners to a total of 203/9 and did a little damage to the figures of Muneeb Siddique, who finished with 3/62. 
Wyverns took the momentum from the end of their innings into the defence with Kubota (2/43) to the fore again, dismissing both Sharks openers cheaply. However a solid 86 from Kendel Fleming, well supported by Tsuyoshi Takada (23) and Marcus Thurgate (30), enabled the Sharks to get home with just two wickets to spare after 38 overs. 
Wyverns must now either defeat MAX in their final match, or hope that Alpha Quashers are unable to get passed the so far win-less Tokyo Falcons. The draw is certainly favourable for the Quashers, who need the victory after coming unstuck against the resurgent Tigers. 
It was a must-win match for the Tigers, who still have a potentially tricky contest against Men In Blue to come, and batting first they had contributions all the way down the order. Piyush Kumbhare (33) finished as top scorer, coming in at number eight, after Rony Tanwar (3/57) knocked over both openers in the second over of the match. 
Nikhil Chhajed took regular wickets as well, finishing with 3/29, as the Quashers kept Tigers to below 200, but 198/9 was a reasonable target to set on a hot Sano day. 
Tigers made a fantastic start with the ball and had the Quashers deep in the mire at 85/7, Kumbhare (3/23) doing the damage before that man Chhajed did his utmost to drag his team from trouble. His 57 came from 38 balls at number eight and while he was in hope remained. 
Ankush Mahasaheb, who had also dismissed both openers, was the man to dismiss Chhajed and finished with 3/33 to bowl the Quashers all out for 171. The win by 27 runs moves Tigers third in the table and puts their fate in their own hands. 
Two teams out of the running are Wombats and the Men In Blue, but neither will want to finish in the bottom two as the top two teams in Division Two (Rising Stars & Sano) are both first XIs and pushing for promotion. Two teams were relegated in 2018 and the same could still happen in 2019 if those two make the Division Two Final. 
This match thus took on great significance, and it was Wombats who came out on top after a frantic morning in the hire car offices led to a rush to the train station. MIB batted first and were destroyed by Vignesh Bandi whose 6/11 are the best figures of the season so far and the best ever by a Wombat. 
Prashanth Manvi gave the Blues some hope with his 43, after a typically aggressive 33 from Sarfraz Petkar, but a total of 142 all out was somewhat under par. 
Alex Patmore (30) and Richie Bracefield (33) gave the Wombats a steady start with an opening start of 61 and although Hitesh Akabari took 3/31 to cause a slight wobble, the Wombats made it home with six wickets and five overs to spare. 
The Wombats will know they cannot rest however, and a win against their old rivals the Chiba Sharks in the final round will secure their survival in Division One for another season. 
There is so much up for grabs in the final round of JCL Division One this season the tension is almost unbearable for us in the One Short Tower, only top and bottom are guaranteed with the other six teams all still battling for wins that could define their season.