JCL Round Eight: Wyverns Find Form in Sano Furnace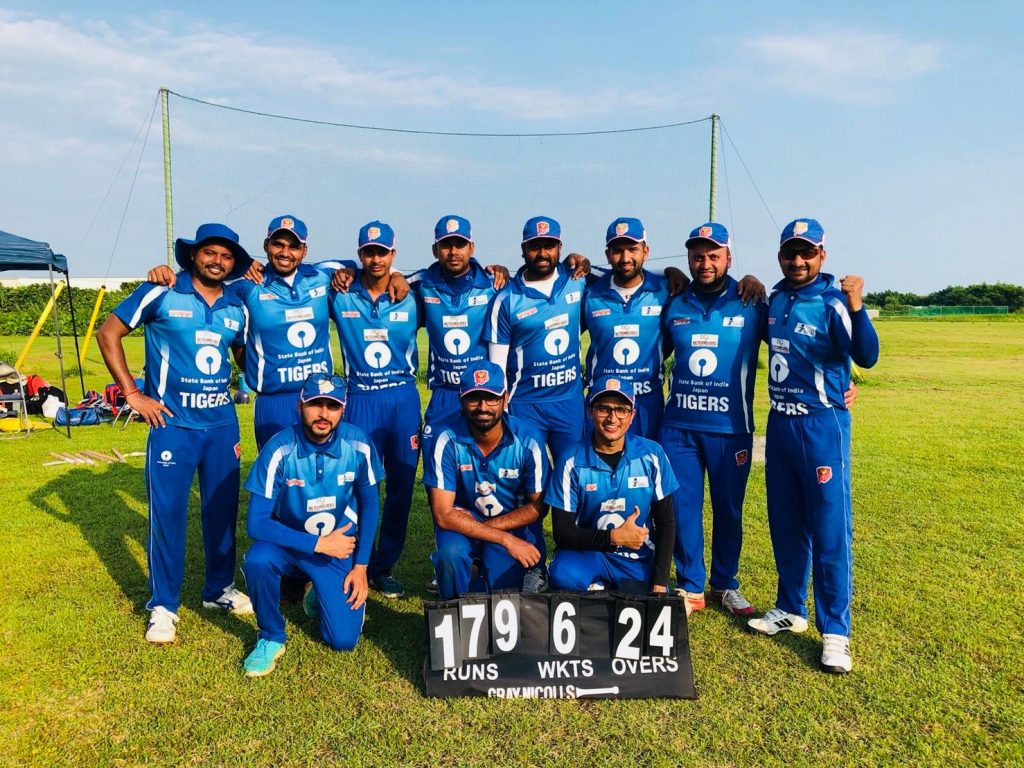 2018-07-24
One Short - Cricket Reports
ブログ
As the temperatures in Sano continue to teeter near boiling point, so the race for the top four in the JCL causes many a team to sweat.
In Round Eight Wyverns were the latest team to benefit from the MAX CC free fall. A comfortable 96-run win for last years Runners Up keeps their slim semi hopes alive while the form of their Japanese National Squad players is also a boost ahead of some big tournaments later in the year.
Wataru Miyauchi continued his breakthrough season with a third half century at the top of the order, and this time his partnership with Shogo Kimura was not all boom and bust. Kimura made a career best 47 from 42 balls to put on 77 for the first wicket. Miyauchi then combined with Bebe Miyaji (51) but the hot weather got the better of the little keeper who eventually retired with heatstroke.
Miyaji's dismissal, one of five for Sachin Sererath (5/63), precipitated a steady tumble from 151/2 to 230/9, although Miyauchi returned at the fall of the 9th wicket to finish unbeaten on 59* and see Wyverns through to 40 overs.
Early wickets in the chase from ex international Shinya Yagura (4/44) made the task difficult and when star batsman Supun Nawarathna (38) was seventh out with the score on just 93 the writing was on the wall. Dismissing MAX for 134 gave Wyverns a valuable bonus point and MAX are looking cooked after four losses in a row.
Tigers CC have suffered just one defeat this season, also at the hands on Wyverns, but their form continues to look imperious as Sabaorish Ravichandran scales new heights of personal achievement.
Not content with being the runaway leading run scorer in Division One, with an average more than twice as high as the next best (128), his leg-spin claimed the best figures of the season so far and shot him to the top of the wicket-takers table as well. Oh, and he has eight catches this season as well, the most of any player…including wicketkeepers.
Tokyo Wombats were the latest victims of the Ravichandran Rampage, their 177/9 based around another half century from Alex Patmore whose 57 laid foundations that the rest of the team were unable to build upon.
After finishing with 6/27 Ravichandran then blasted a 46-ball 69 to put the result to bed and earn a bonus point in a convincing four-wicket win. Afterwards the MVP was able to ruminate on six half centuries and one century from eight innings this season. Insane stats.
The Chiba Sharks are emerging as genuine challengers for the title as they completed a fifth successive victory, matching what Tigers achieved earlier in the season. A win over Paddy Foley's is no longer celebrated as it used to be, but it further builds confidence for a young side with plenty of emerging talent.
Rui Matsumura led the charge grabbing three wickets with only seven runs on the board. He finished with seasons best figures of 4/36 as only Raman Tanwar offered serious resistance scoring 41 in a total of 107 all out.
Sharks made light work of the chase, knocking off the runs just two wickets down in only 12.1 overs to claim a bonus point and leave Pavethy Velusamy smiling his pearly white teeth after a 38-ball 50* earned him a second JCL career half century.
No report on the Alpha Quashers vs Sano match as the latter forfeited for reasons yet to become clear. A bonus point win for Quashers keeps them in the hunt, while trouble swirls around last years Champions. Sano may be the hottest place in Japan right now, but their cricket club seems to be fighting a different kind of fire.