JCL Round Eight: Trouble at the Top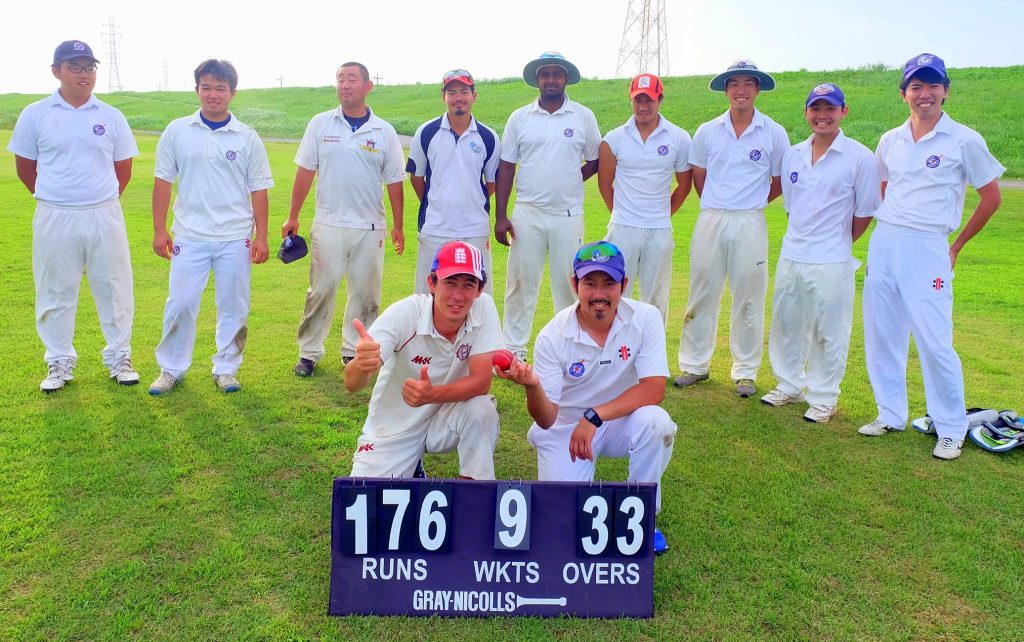 2017-07-13
One Short - Cricket Reports
The latest round of fixtures in the Japan Cricket League is perhaps most significant for a match that did not take place. Sano CC, league leaders and the only JCL team with a home ground, were unable to field a team for their only away fixture of the season against the Tokyo Wombats.
On current form, what would have been a banker for Sano has turned into a two point deduction for them, with Wombats taking all five points on offer. This result reignites the Wombats hope for a Semi-Final spot, while Sano face an anxious wait to find out if they will face further sanctions.
All of that meant that Wyverns had another chance to go top of the table if they defeated Paddy Foleys, who would return to the bottom if they lost. It was a chance that Wyverns gleefully accepted, thanks to a return to form for Tomoki Ota.
Ota anchored the innings with a mature 71, which almost doubled his run tally for the season, and was well supported down the order by another Japan stalwart Tatsuro Chino (18) who made a much anticipated return to Division One.
A score of 176 all out was no more than par, and with Prashant Kale in form it was obvious Paddy's hopes depended on him. After Oshantha Nanayakkara (4/24) got amongst the top order, Kale stood alone and his 46 was the only real resistance as Bebe Miyaji (3/30) mopped up the tail with Wyverns taking all ten wickets for 139 to win by 37 runs.
Elsewhere MAX CC made sure that their place in the Top Four remained secure by sneaking passed their closest challengers, Tigers CC. Batting first and posting 192/8, thanks to a combative 54 from Sabaorish Ravichandran and 4/39 from Sujith Dharmasina.
Tigers would have been aware that a similar score was chased down with eight wickets in hand when these two teams met earlier this season, but in a sign of their marked improvement in recent weeks, MAX were pushed hard and only scraped over the line by two wickets this time.  
While Hanif Khan was blasting his way to 73 from 52 deliveries, including six maximums, Tigers would have feared the worst, but his dismissal brought about a collapse of five wickets for 27 runs and it was left to Talha Tanveer (19*) to edge MAX to victory.
Alpha Quashers have found life pretty tough in the JCL, with their batting often letting them down. Against Chiba Sharks however, they made sure they had a very small target to chase as Karthik Vellingiri (4/9) and Devendra Dhaka (3/4) bowled Sharks out for just 69 in 32 painstaking overs. Just two Sharks batsmen managed double figures in a low point of the season for them.
Quashers romped home with seven wickets and almost 24 overs to spare, Dhaka contributing again with 28*, to give AQCC a bonus point win which keeps alive their hopes of making the Semi-Finals.
*One Short would like to apologise for the last three reports all using Wyverns Team photos as the lead image. This is not through any bias, but because they are the only club who post useable pictures on their social networking sites where we can access them.